A number of critics of China's authorities are accusing Microsoft of carrying out pro-Beijing censorship on its LinkedIn platform.
One of them is Budapest-based Adam Laszlo Rocska, CEO of the 21Gram Technology startup, who said on Twitter that his post, a joke at the expense of China's communist rulers referencing "Kung Flu fighting" had been censored.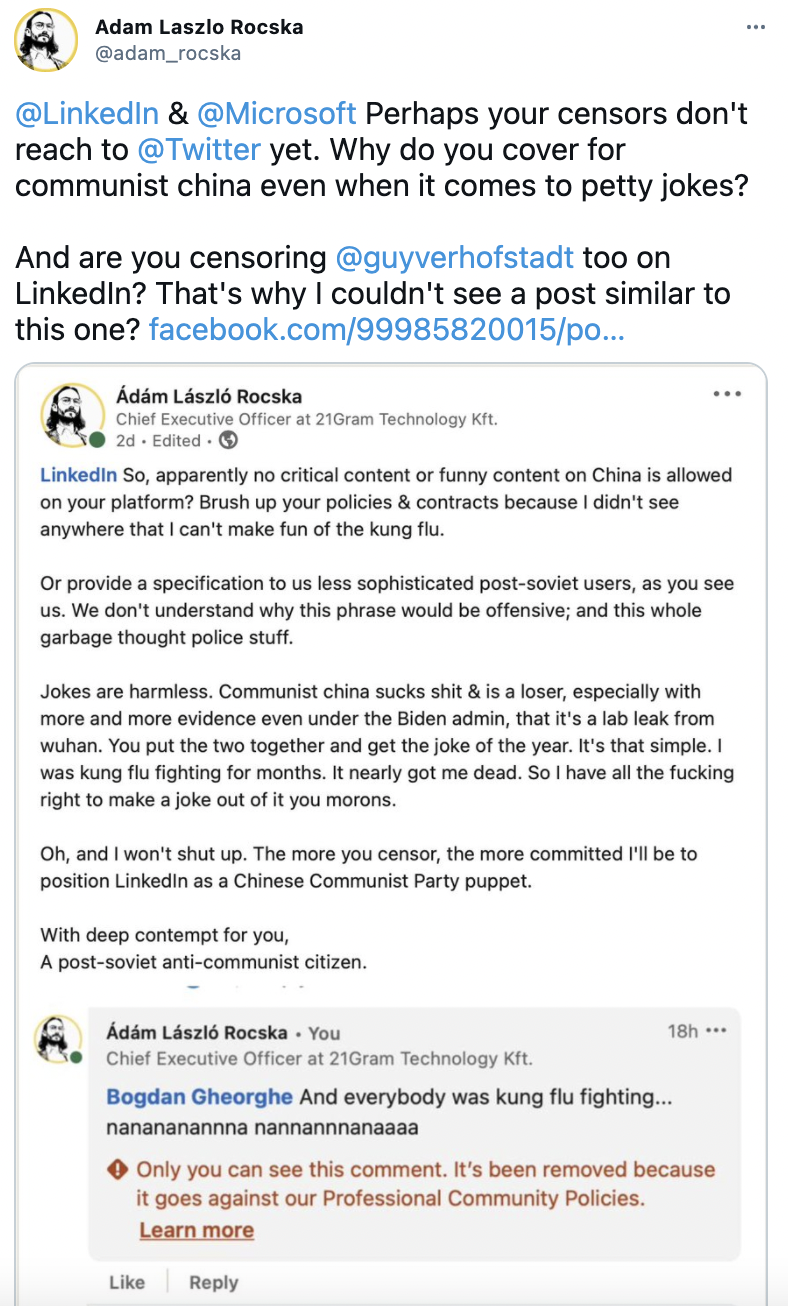 A screenshot attached shows that LinkedIn removed the comment for falling afoul of its professional conduct rules.
In a post on Facebook, Rocska, who says he is a post-Soviet and anti-Communist citizen – and therefore ostensibly more sensitive to this type of free speech suppression than his western peers – called out LinkendIn of imposing censorship of topics like humor that he said aren't even mentioned in its policies.
Rocska is not alone in having his content suppressed on the networking platform, as several similar reports have surfaced in recent days and weeks. LinkedIn has the distinction of being the only major US social media company still allowed to operate in mainland China.
Microsoft seems eager to maintain that presence in the massive and lucrative market and to that end comply with unspecified content restrictions imposed by the authorities in Beijing, that concern domestic users. But now these policies seem to be spilling over beyond China's borders and affecting users worldwide.
There's also the case of England-based Chinese government critic and corporate investigator Peter Humphrey, who said he was informed by LinkedIn in late April that his account was suspended and content critical of Beijing removed.
The comments that LinkendIn found unacceptable – even though they were posted from outside of China – referred to that country's government as a repressive dictatorship and the state-run media, like CGTN, as propaganda mouthpieces. LinkedIn said Humphrey had violated rules around bullying and harassment as well as spam and scams.
It took an inquiry for Microsoft's company to restore the account and republish some of the comments, calling this act of censorship "an error."
But Isaac Stone Fish, CEO of Strategy Risks, a company he founded that specializes in corporate ties with China, said LinkedIn "pretends that what happens in China stays in China and that the policies that its China-based operation has don't bleed into global policies," adding:
"But this is a pretty clear example of LinkedIn's China policies hurting its global commitment to freedom of speech and expression."