A leopard never changes its spots, as Microsoft's recent behavior that saw the tech giant aggressively promote its own product, Edge, when people search for other browsers, seems to prove.
Microsoft has a long and inglorious history of anti-competitive behavior, particularly in the early years of personal computing when it absolutely dominated both desktop and server markets with the Windows operating system, and was in the habit of bundling its now discarded browser, Internet Explorer (IE), with the OS, which regulators both in the US and in Europe saw as anti-competitive behavior.
Related: Microsoft blocks EdgeDeflector, a tool that stops Windows users being forced to use Edge browser
A lot of time has passed since, and Microsoft has changed focus from Windows to other lucrative segments of the tech market, cozying up to the free and open source companies and communities that it once tried to destroy, and is now "merely" using them to generate more profit.
But despite the PR push over the past several years, meant to convince the world that the old Microsoft no longer exists and has been magically replaced by one embracing open source, collaboration, and social responsibility – when it came time to promote Edge, IE's replacement, Microsoft showed that the company's true nature has not gone anywhere.
Darkpatterns.org – a project dedicated to exposing tricks used in websites and apps "that make you do things that you didn't mean to, like buying or signing up for something" – posted on Twitter that when users search for Brave browser on Microsoft's Bing – the top of the results page prominently features a large banner inviting them to try – Edge.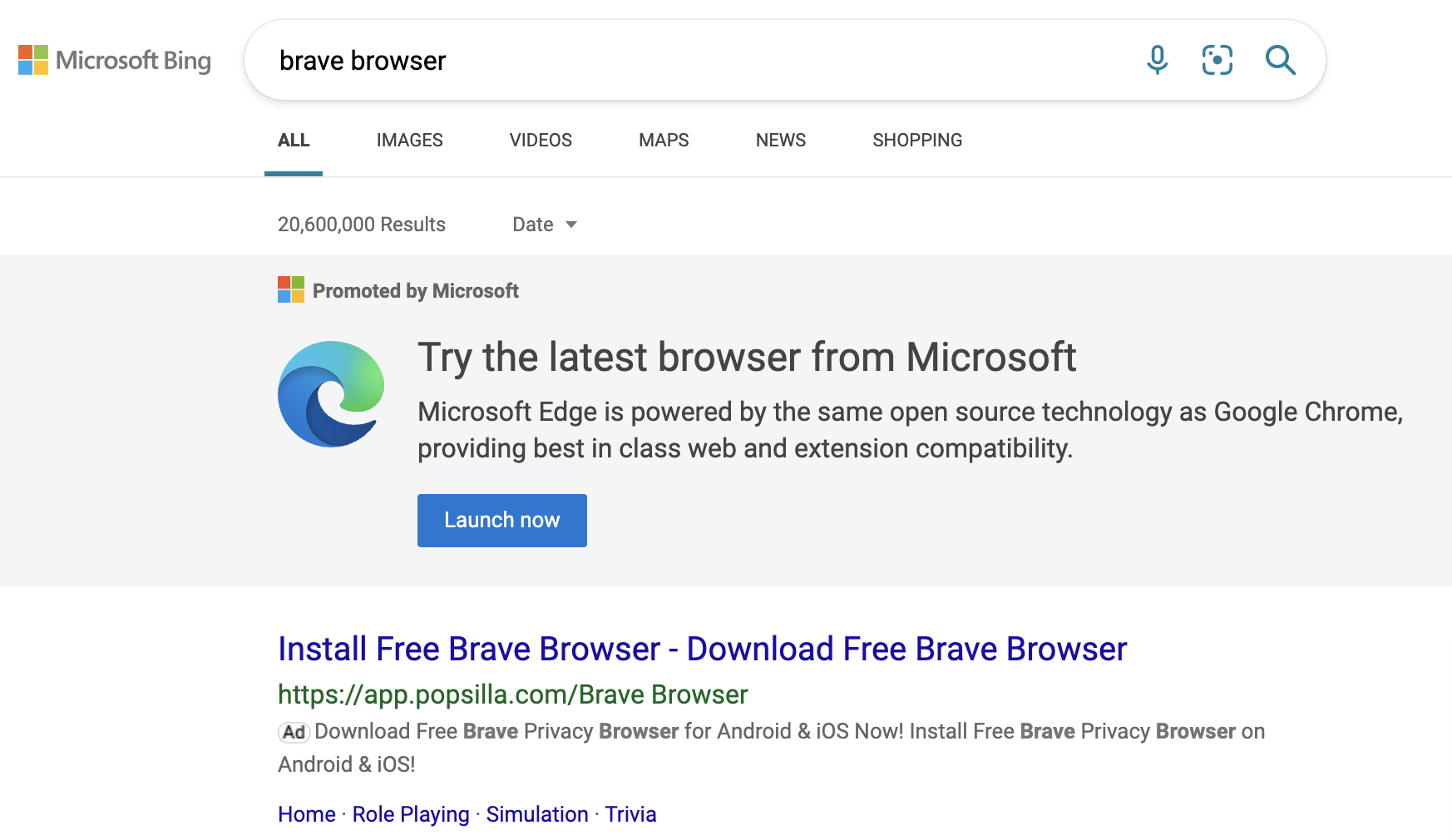 The same is true of Bing search results for Firefox, Tor, Chrome, and other mainstream browsers, we've noticed.
And Microsoft is not shy to include the fact that Edge is based on "the same open source technology (Chromium) as Google Chrome" – while actively trying to undermine the chances of Google Chrome being installed on the computer of a person performing the search.
On the other hand, Google itself is no stranger to promoting its products in search, for which it is being investigated on antitrust grounds.
In addition, Dark Patterns notes, there is a sticky overlay at the bottom that prompts users to switch to the browser the company "recommends" – i.e., Microsoft's own.