A middle school teacher in Leicester, Massachusetts, is suing the school and district for free speech violations and defamation for termination over politically-charged Facebook posts from the summer of 2020.
According to the lawsuit filed on November 11, Leicester Middle School fired math teacher Joseph Lioji in retaliation after he was reinstated through an arbitration process by the state. In August, the school told him that a position of a middle school math teacher had been eliminated, and, due to seniority, he would lose his job.
We obtained a copy of the lawsuit for you here.
Lioji's lawyer, Mark Gagliardi said his client was eliminated in retaliation and that a former staff at the school testified that was true.
"I don't think they liked his sort-of conservative speech and the reasons why they fired him were exaggerated, and that's illegal," Gagliardi said.
The posts in question were made in the summer of 2020, amid the racial justice protests sparked by the death of George Floyd while in police custody. His posts criticized the idea of "white privilege" and "outward racism."
In one of the posts, Lioji shared an article from 2019 published by Quillette titled "Why White Privilege Is Wrong – Part 1." Lioji wrote:
"Anyone who says or writes white male privilege again is a RACIST. I will not condone that kind of racism. So unfriend me if you don't like it because I am going to unfriend you when I see it. DONE."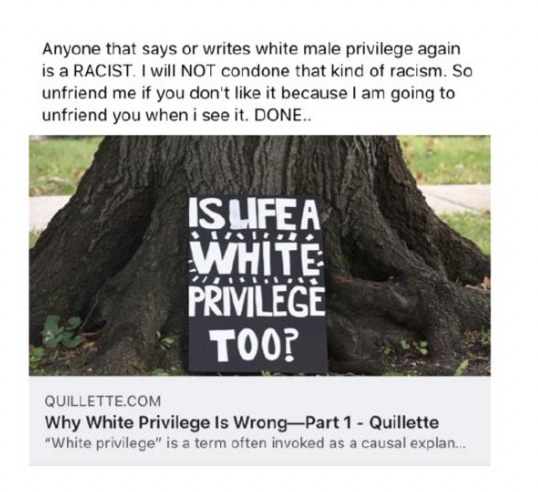 In the other post, he mentioned systemic racism.
"Systemic Racism? I will stay out of that one. People of color have their own difference of opinion on that," the post read.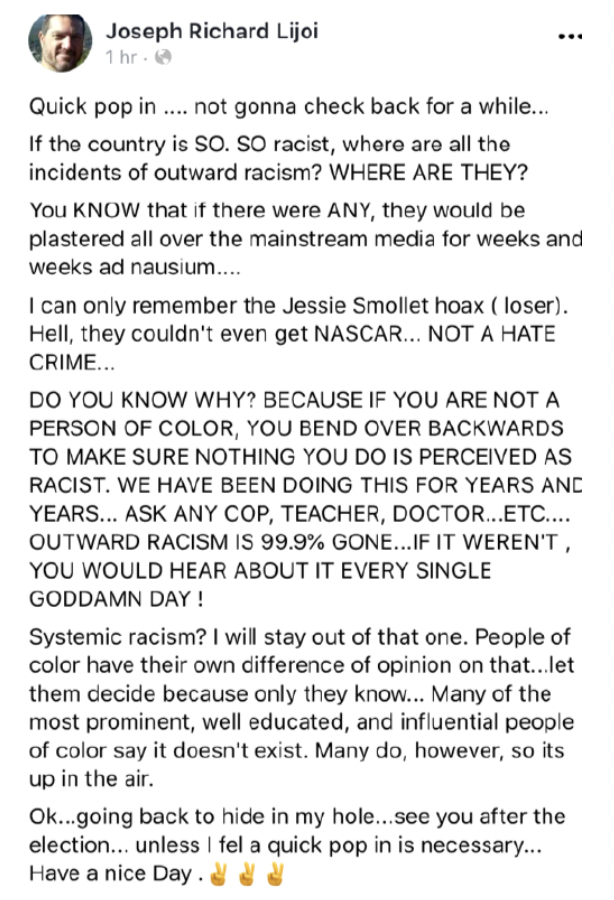 The posts were only live for one day before Lioji deleted them. However, someone had already taken screenshots and sent them to the Leicester Middle School principal Christopher Fontaine. Lioji was then summoned for a meeting. He did not deny making the posts, but he rejected the notion that they were racist.
The lawsuit notes that no parent, teacher or student complained about the posts.
The suit claims the school and school district defamed Lioji by claiming he was racist. It highlights previous posts where he showed support for Black Lives Matter and acknowledged the existence of racism.
The state arbitration process reinstated him after the school district fired him. However, the school eliminated a position for a math teacher, and told him his services were no longer needed.
Lijoi is seeking a payout of $1,052,440 for damages, which includes $500,000 for emotional suffering, $500,000 for damage to his reputation and $52,440 for the cost of the arbitration.
Lioji has secured a job at Leicester High School that will start next year. His lawyer said that if he didn't get that job, the suit would be seeking $2 million in damages.