Leftist investigative news outlet Mother Jones claims that Facebook implemented "Big Brother" tactics that resulted in it losing about $400,000 in revenue.
Somewhat ironically, since the outlet has in the past supported and praised Big Tech censorship, in a post, Mother Jones' editor Patrick Caldwell claimed that the Big Tech company implemented news censorship policies that resulted in the publication losing about $400,000 in revenue over the last three years.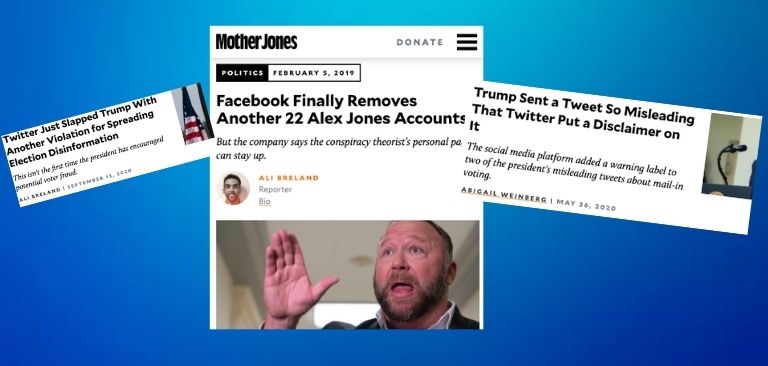 The article came shortly after a report by the Wall Street Journal that claimed Facebook changed its algorithms to limit traffic to left-wing publications. This policy was implemented in 2017.
The day after the WSJ report, the editorial director at Mother Jones, Ben Dreyfuss, accused Facebook of undermining the effect the changes would have.
"In late 2017 and early 2018, I had multiple meetings with Facebook executives about algorithmic changes. They were making adjustments, they said, and all publishers should expect traffic and engagement to go down a bit, but not in a way that favored or disfavored any single publication or class of publisher (unless that organization engaged in various bad behaviors)," Dreyfuss said.
Mother Jones has since had to lay off six of its employees, mostly due to the pandemic. But things would have been different if they had not experienced the $400,000 loss, – at least, that's what Caldwell claims.
"That $400,000 inevitably meant real hardship," Caldwell wrote. "When we sat down to discuss the budget with Mother Jones' management, the options were stark: If we couldn't find agreement on pay cuts affecting the majority of staff, we could be forced (after factoring in severance) to lay off as many as six people."
According to Mother Jones' CEO Monika Bauerlein and editor-in-chief Clara Jeffrey, Facebook specifically picked on their outlet.
"Facebook used its monopolistic power to boost and suppress specific publishers' content—the essence of every Big Brother fear about the platforms, and something Facebook and other companies have been strenuously denying for years," they said.
Caldwell expressed the same sentiments in his post.
"It's thanks to those dual roles of editor and union rep that I was so enraged when it was revealed that Facebook had changed its algorithm in such a way that it boosted conservative outlets like Ben Shapiro's Daily Wire at the expense of progressive outlets, specifically us," he wrote. Caldwell's post was an urgent call on readers to donate to the publication.