The Mount Holyoke College Office of Diversity, Equity, and Inclusion has now released a "guide" on social media that redefines several compliments as forms of something they call "fatphobia."
Everyday phrases such as "you're so brave," "you have such a pretty face," and "I'm so bad for eating this" are now going to be considered fatphobic by the college.
"Although it's still not common to see fat bodies living loud and unapologetically in our thin-first world, this implies there's a reason we shouldn't show off our bodies or be proud of them. No one should be considered 'brave' for simply existing in their fat body," read a slide from the social media guide the Mount Holyoke College released on Instagram.
Even the phrase "that's so flattering on you" should apparently be off-limits, as it implies that a dress makes someone appear thin and that there is no need to appear thin. What's more, calling someone pretty is not okay because it suggested that one's face is the "only redeeming or acceptable feature."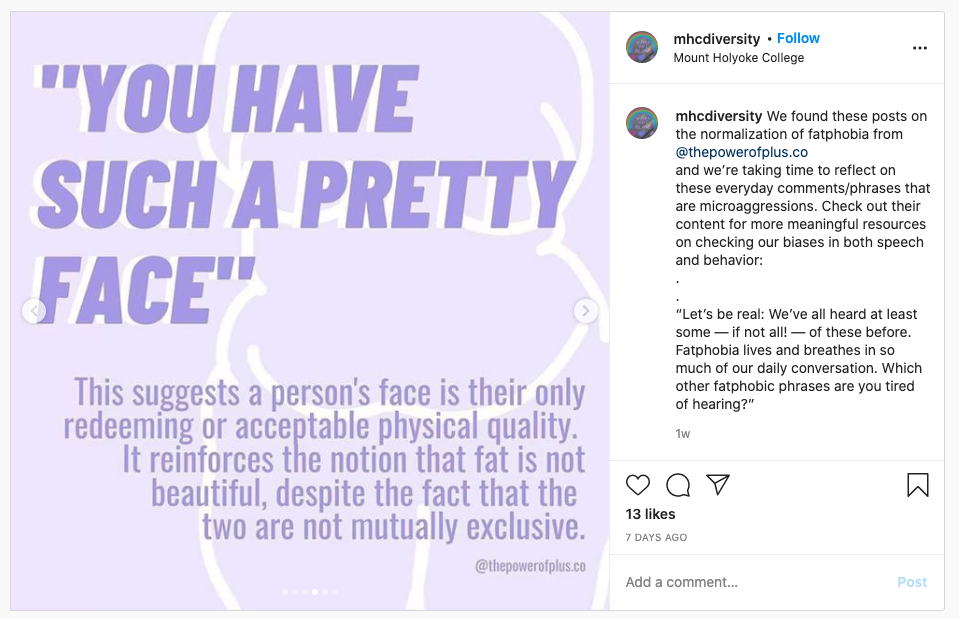 While the phrase "carrying yourself well" is generally used to express the fact that an individual is appearing elegant, the college says that it would reinforce a "negative stereotype" that says obese, or rather plus-sized individuals are "lazy, sloppy, and not well-kept."
It goes without saying that the diet we consume largely influences our body size and shape, because of which people are asked to cut back on certain foods. Sugar is one such food and most people, when eating sugary dishes that aren't good for their bodies, often exclaim saying, "I'm so bad for eating this."
But according to The Mount Holyoke College, saying so is "incredibly triggering." The social media post by the college said: "Not only is this phrase incredibly triggering, but it also feeds into a harmful narrative created by diet culture that teaches 'good' foods versus 'bad' foods."