The UK's War on Comedy is picking up the pace and is, with the latest controversy involving comedian Jimmy Carr and his joke about the Romani people ("Gypsies") and the Holocaust, revealing a flurry of outrage and arbitrary judgement as to what is and isn't comedy, – all alongside good old hypocrisy.
Carr told his offensive joke in a Netflix special, subsequently describing it as "edgy" – having first warned his audience that it would be "a career-ender" and issuing "a trigger warning."
The comedian was ostensibly trying to play on the current oversensitive (some would say, "snowflake") cancel culture climate when he prefaced his joke in that way.
He then said that most people talk about the Holocaust terms of the suffering of millions of Jews, but that "thousands of Gypsies" also got killed by the Nazis.
"No one ever wants to talk about that, because no one ever wants to talk about the positives," was Carr's punchline made towards the end of the special called "His Dark Material."
In the War on Comedy, Carr also attempted to position himself as one of those fighting on the side of comedy, particularly it would seem as a champion of gallows humor, when he said that his act of the evening contained "jokes about terrible things."
"Terrible things that may have affected you and the people that you love," continued the British comedian. "But these are just jokes. They're not the terrible things."
Judging by the reaction from UK officials and MPs, as well as Romani and Holocaust societies and a number of Twitter blue checkmarks, this explanation fell on completely deaf ears.
Leading the pack in her condemnation of Carr was Culture Secretary Nadine Dorries, who quickly came up with the idea to have the government ban comedians whose jokes are "offensive" from appearing on Netflix.
This despite the fact that Dorries in the past tweeted things like, "left-wing snowflakes are killing comedy" and "suppressing free speech."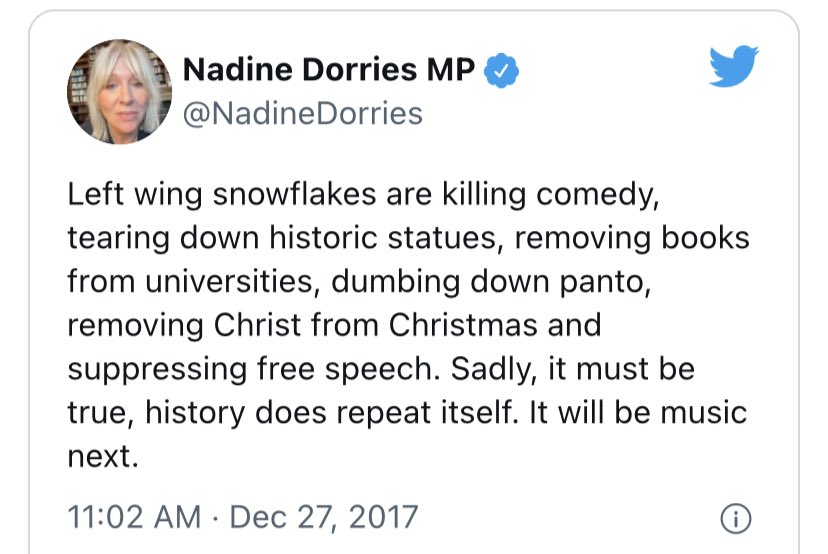 Dorries, who is now busy promoting and pushing the highly controversial Online Safety Bill that critics say would, if passed, open the door to serious ramifications on free expression online, announced more legislation that would bring more restrictions.
This time, UK's Media Bill would be the vehicle to get Netflix and other streaming on-demand platforms to censor the type of comedy Dorries finds "abhorrent, shocking, and unacceptable."
There's no accounting for taste, the old saying goes, but in the "Brave New World" shaping up, Dorries and the like-minded bandwagon clearly think there must be.
Carr's joke, which she consistently referred to as "comments" as she spoke for the BBC, is "abhorrent" and it "just shouldn't be on television," was this government official's verdict.
As for her previous opinion about snowflakes killing comedy, the politician had another verdict to pass: "What Jimmy Carr did last night is not comedy," she said, though the Netflix special has been on the platform since December.
Dorries later told Times Radio that the UK at present can't make Netflix censor content or "hold it to account" – but ominously threatened that, "very shortly we will."
A chorus of MPs agreed with Dorries' outrage, the likes of members of parliament Nadia Whittome, David Lammy, and Zarah Sultana, who said they were pressuring Netflix to remove Carr's material, bring this and similar platforms under Ofcom regulation in the UK, describing the show as "an utterly despicable attack" on Romani and Traveler communities, and "disgusting beyond words."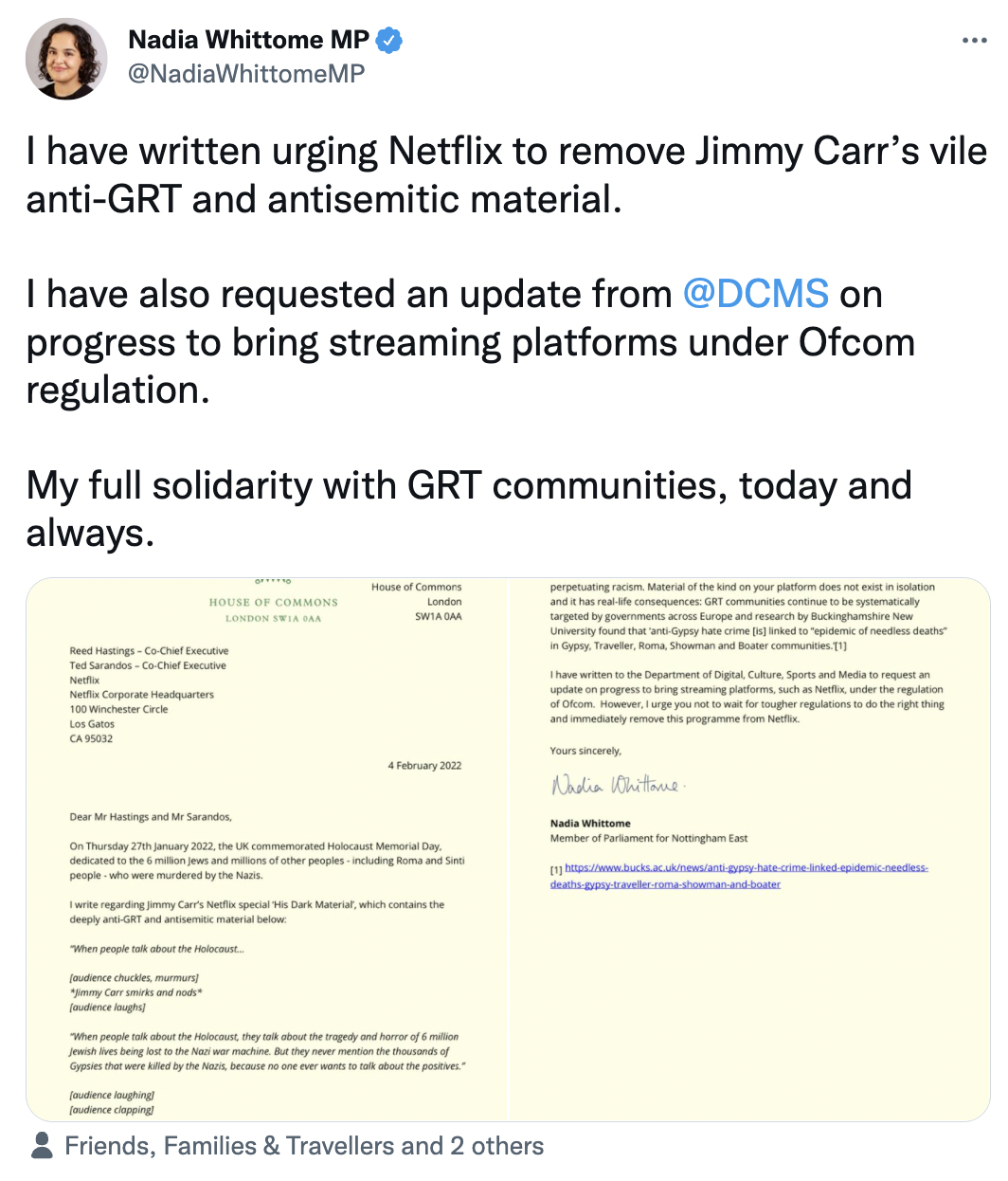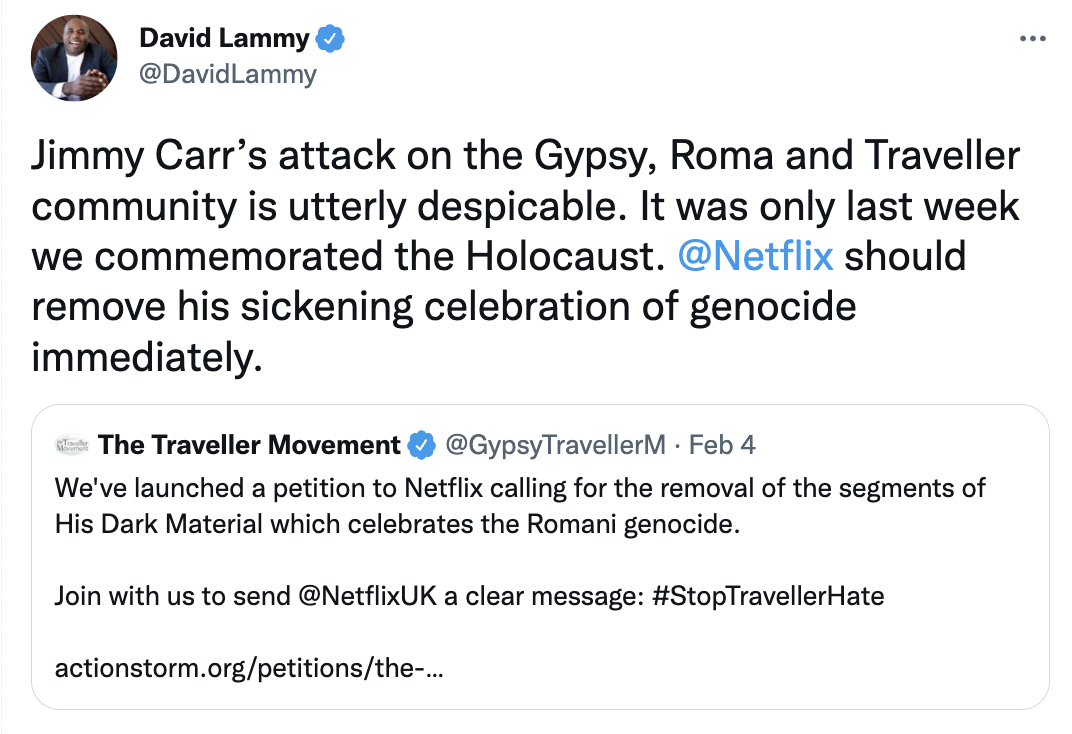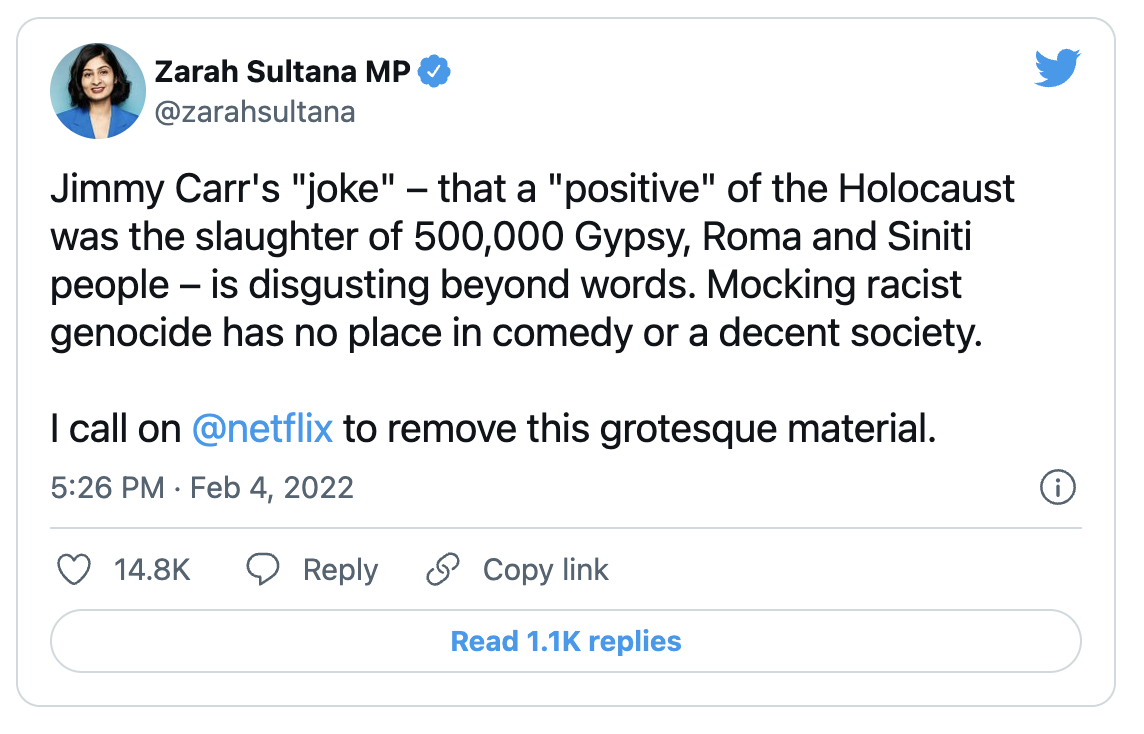 Holocaust Education Trust meantime tweeted that "the targeting of Sinti and Roma people during the Holocaust is not laughing matter," and rejected Carr's joke as "tasteless and offensive."
Holocaust Memorial Day Trust said they were "absolutely appalled" and urged people to get better educated about the plight of the Romani/Roma/Sinti/Gypsy/Traveler communities – as this minority is variously known in different European countries – during the Second World War and beyond.
The Traveler Movement said on Twitter that they had launched a petition to Netflix "calling for the removal of the segments of His Dark Material which celebrates the Romani genocide."
But Carr received support from a number of other comedians, who oppose him getting canceled for doing his job – namely, telling jokes. Among them are Scotland's Count Dankula and Leo Kearse, who told Breitbart being offensive for the sake of comedic effect is a right that should not be questioned.
Dankula remarked that as a comedian, he understood Carr's intent was to tell a joke rather than "actually mean what he said."
"That is how stand-up comedy works, but that basic understanding of comedy is something that society seems to have lost over the past five years," said Dankula, who has seen his share of controversy and even legal trouble because of his brand of humor.
Kearse believes that Carr's joke "doesn't diminish the Holocaust" but rather "relies on the absolute horror of the Holocaust for its impact, and in doing so, reinforces it."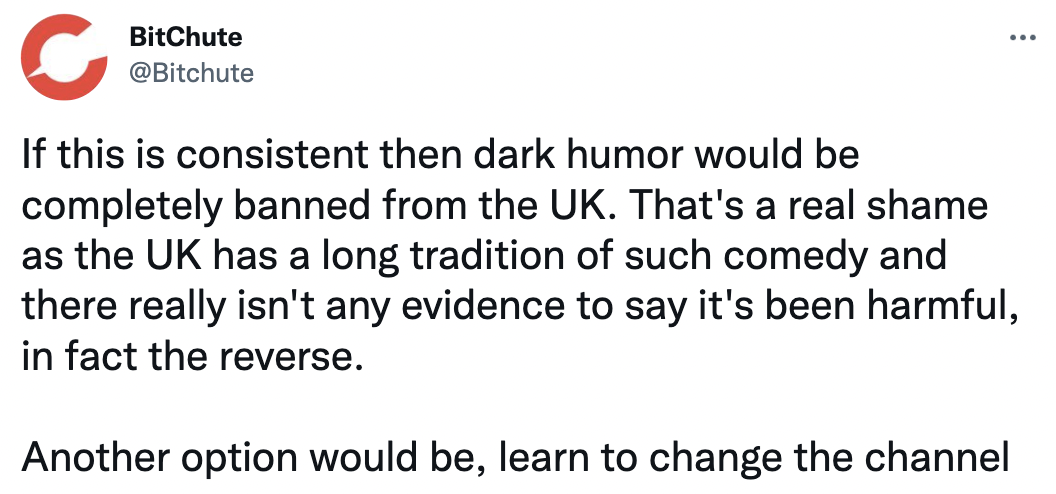 And YouTube alternative BitChute also weighed in on the controversy, tweeting, "If this is consistent then dark humor would be completely banned from the UK. That's a real shame as the UK has a long tradition of such comedy and there really isn't any evidence to say it's been harmful, in fact the reverse. Another option would be, learn to change the channel."