Chinese internet personality and DIY maker Naomi Wu is accusing journalists of lacking accountability and putting her in danger with their reporting about her. Furthermore, she says social media giants are protecting these outlets' actions by deplatforming and defunding her.
The controversy started last year, when VICE ran a feature about Wu – who goes by the name of SexyCyborg on YouTube – and who made a name for herself online as a member of the creator community and a product reviewer, and also with her often outlandishly augmented appearance.
After the VICE interview came out, Wu accused the US publisher of going back on an agreement they had, and of exposing her personal information that she wanted to keep private for the sake of her safety in China. But when VICE refused to remove the contentious parts of the article, Wu proceeded to detail the ongoing issue with a reporter and created a video that contained personal information about a reporter.
The video was posted on Patreon, and the move got her banned from the crowdfunding platform – thanks to VICE's legal efforts. In a post on Medium this month, Wu refers to the VICE episode as an attempt by a number of other outlets to deprive her of her income and remove her online presence.
The Shenzhen-based YouTube star writes that she has also been treated recklessly by comedian Hasan Minhaj, who used clips of her to illustrate a feature in his Netflix show, the Patriot Act, that was critical of the Chinese government. And, according to Wu, this was done "without her permission and completely out of context," putting her in danger.
"It was not simply dangerous, it was also deceitful," Wu said. "Hasan took a quote where I spoke to the Wall Street Journal about financial privacy (the government being able to see online payments) and took it out of context to make it look like I was defending online censorship."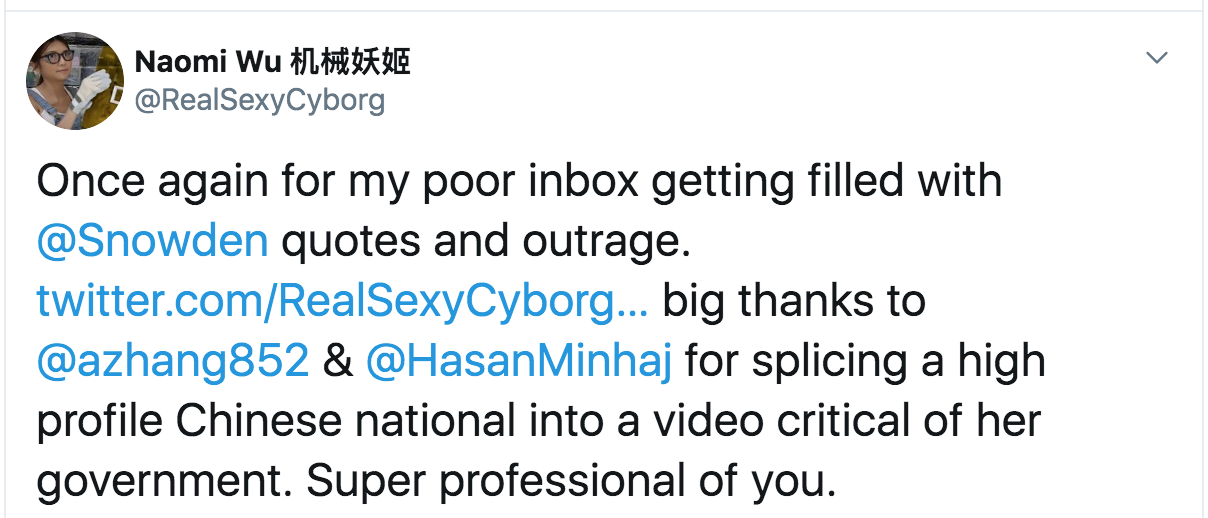 Wu writes that this move was harmful to her, considering the nature of China's authoritarian government. But as during the VICE incident, she continued, journalists focusing on China and knowledgeable of social and political mores in that country showed no desire to speak up on her behalf.
"Even if the relevant people and agencies understood I was not a willing participant, I can't continue to be placed against my will adjacent to issues that are potentially embarrassing to China and not suffer consequences for that," Wu writes, adding that she was eventually detained. And even though she was released after questioning – the fact that she had been detained was once again ignored.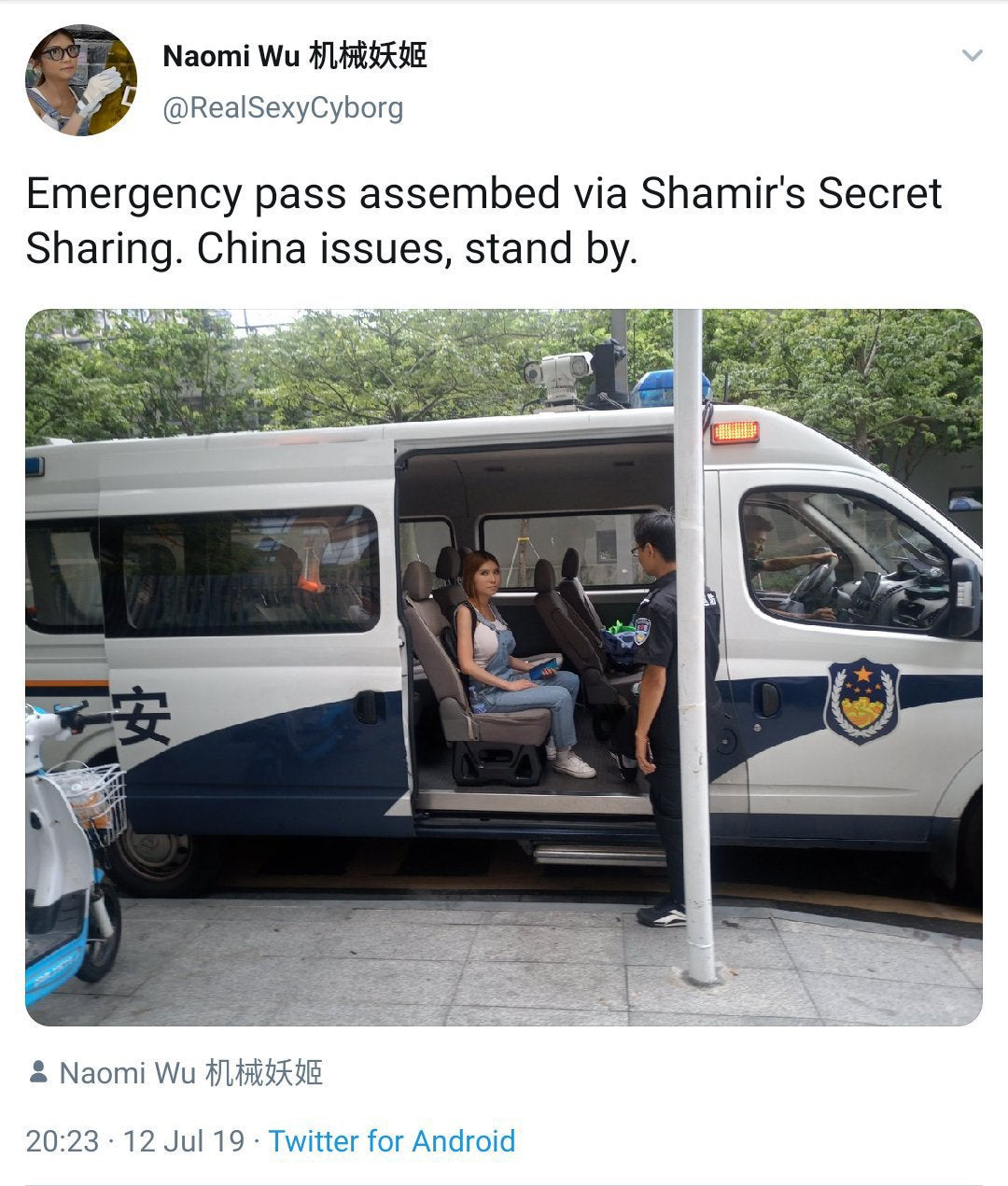 Wu takes issue with journalists deciding not to report about her case and the reasons behind it, accusing them of being unwilling to help because of her previous skirmishes with their colleagues. She sees this as proof of their hypocrisy, given the habitually enthusiastic reporting about other violations of human rights and freedoms occurring in China.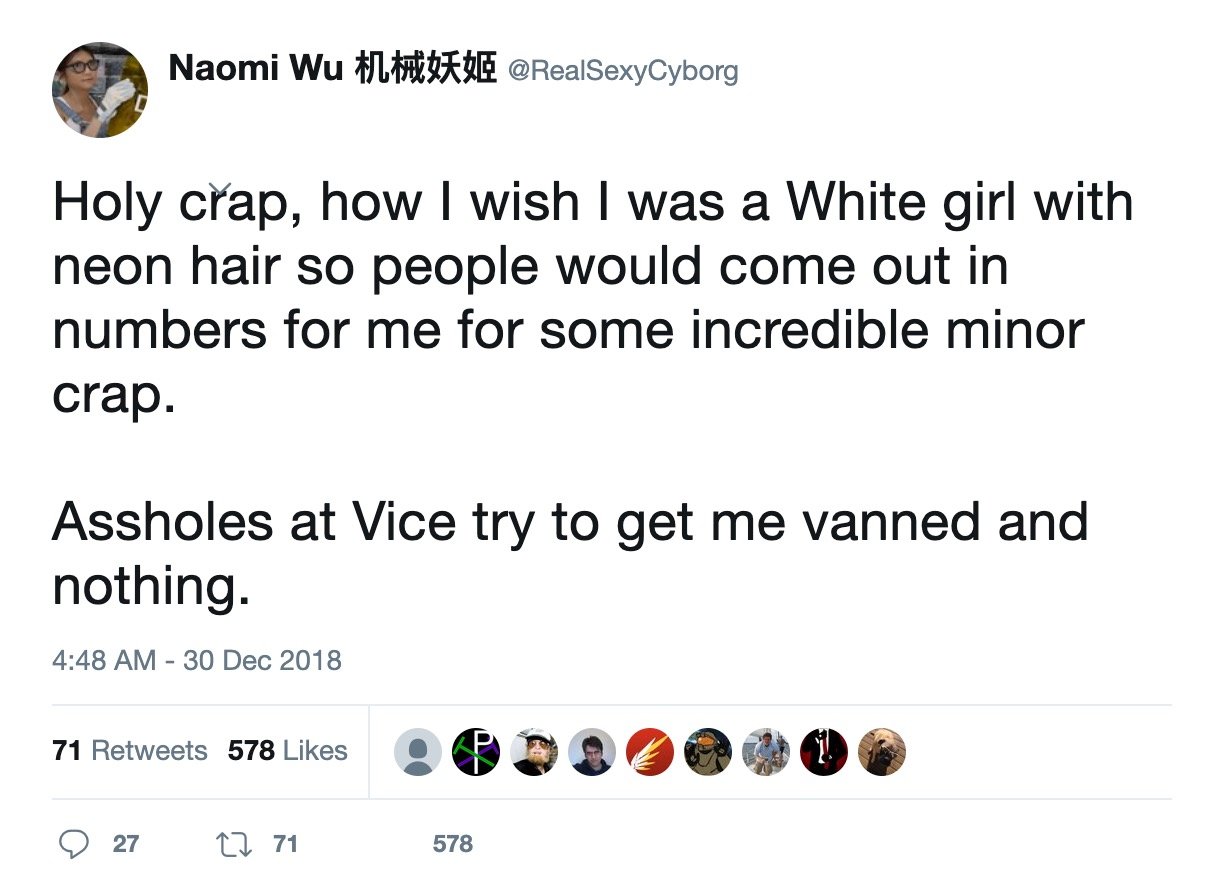 What puts Wu – who has one of the largest Chinese online presences on Western social media platforms – in danger is the implication in the reporting about her that she might be influenced by foreigners who are seen hostile to China – while in the West, the actions of VICE successfully "deplatformed" her, i.e., cut off her Patreon revenue stream.
"If the larger Chinese social media sphere decides your conduct and values are against Chinese tradition or an embarrassment to China – this is a terrifying thing with very real consequences," she writes, accusing VICE of exposing her to this danger through its reporting that revealed personal information allegedly in breach of a written agreement.
Wu seems to imply that this has to do with her sexuality – and that VICE went back on its word not to refer to this subject directly, in order to protect her. This would have been in stark contrast to the publication's policy of "advocating for Western women under these circumstances" – and also betrayed a lack of understanding or care for cultural, legal, and political differences between China and US society.
When she in December decided to continue speaking out on the topic instead of "ignoring the haters" – i.e.. Western media outlets who she believes are attempting to sabotage her online career – she experienced "drastic throttling" of her YouTube channel, including a sharp drop in view numbers, while the giant also removed her videos from recommendations.
Wu says that YouTube can manually throttle a channel accused of spreading "fake news" – something she adds they are doing to anti-vaccine activists and those opposing the climate change narrative. And, she says, it is happening to her when she criticizes big media outlets, including the New York Times, whom she accuses of using one of her videos without permission while attempting to smear her.
"YouTube's 'black box' algorithm meant I could not contest the throttling since I could not definitively prove it. Just shows that like clockwork – it always happened when I posted about my treatment by Western media," Wu writes.
In addition to this, her Twitter account was first shadowbanned and then outright banned. Wu claims that the reason was her comments about the New York Times.
"Yes, my Twitter account got terminated for talking about @nytimes stealing my content and using it without attribution. No, there does not seem to be a way to get it back. Woke Twitter only steps up – and speaks up for Women in Tech who conform and we all know I'll never do that," Wu said on Instagram.