Public service broadcaster C-SPAN's April 2nd White House Coronavirus News Conference video was recently blocked on YouTube after a bogus copyright claim from NBC Universal.
These coronavirus press conferences are broadcast live from The White House, streamed on The White House YouTube channel, and carried by several broadcasters including C-SPAN.
According to The White House copyright policy, government-produced materials appearing on its site are not copyright protected.
However, C-SPAN's video of the April 2nd Coronavirus news conference was inaccessible in many countries because NBC Universal had blocked it on copyright grounds, despite not owning the rights to the footage.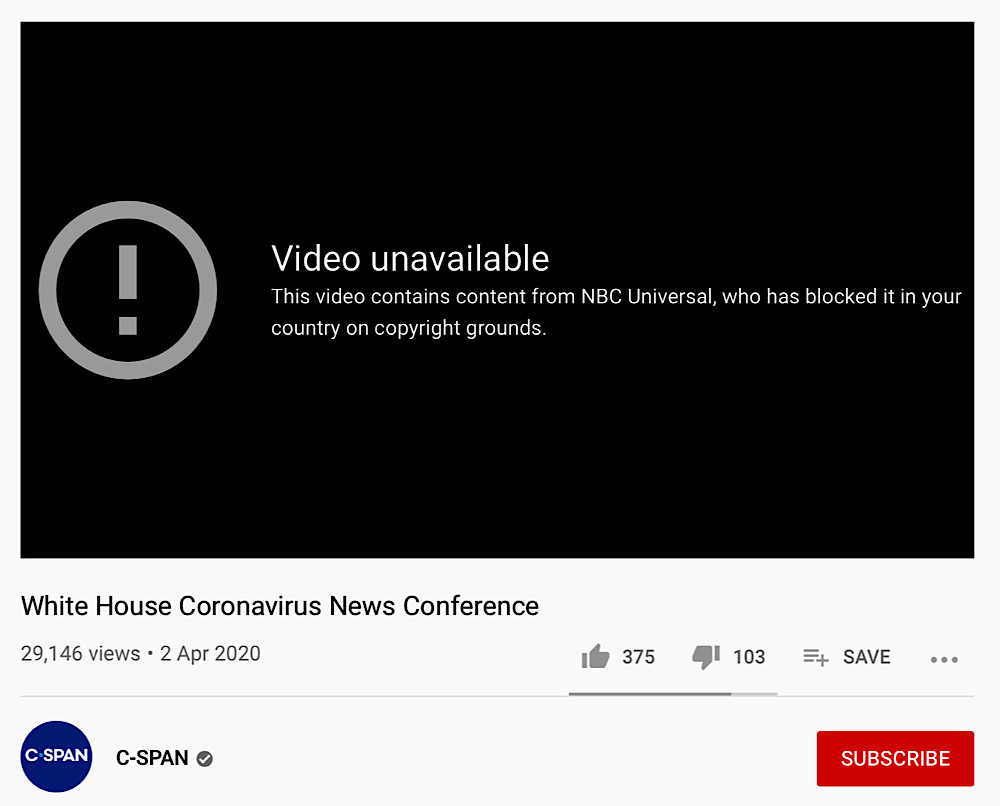 While the claim was recently lifted, it resulted in C-SPAN viewers being unable to watch the video during some of the key hours after the press conference had finished.
This isn't the first time NBC has claimed footage from C-SPAN's YouTube channels.
Last year, political commentator David Pakman was hit with a bogus copyright claim from NBC News on a YouTube video containing public domain footage from C-SPAN 2.
With Pakman, the copyright claim was made via YouTube's automated Content ID system and the algorithm appeared to mistakenly flag NBC News as the copyright owner of C-SPAN's public domain footage.
Something similar may have happened this time around but regardless of the cause, it's resulted in this April 2nd coronavirus press conference video being made temporarily inaccessible to C-SPAN viewers.
YouTuber lawyer Leonard French has also faced similar issues with YouTube's Content ID system when using public domain footage from C-SPAN in his videos.
In December 2019, his video on former special counsel Robert Mueller's congressional testimony was demonetized via this system after Content ID's algorithm flagged Univision as the copyright owner.