The online streaming war had a landmark moment this weekend as it was revealed that AirPlay is no longer available for Netflix use on iPhone, iPad and iPod touch among other iOS devices. AirPlay is the feature that allows you to push content from your Apple device directly to your Apple TV so you can view it on the big screen.
Netflix revealed it discontinued support for AirPlay on iOS devices because of the "technical limitations" attached to its use.
However, Apple fans are somewhat suspicious that Netflix has decided to end support for AirPlay a couple of weeks after Apple announced their own competing TV streaming service Apple TV Plus.
After Apple recently declared itself as a competitor and not a neutral platform, Apple users are suggesting that Netflix is being obstructive on purpose and that this is just a taste of what's to come now there are more companies than ever competing for that streaming revenue.
Users had always been able to use AirPlay on Netflix app since 2013 – until a few days back. Several attempts to do so on the app resulted in frustration. There was an error message saying "please try again later."
While AirPlay can still be accessed on iOS devices, it fails to play any Netflix content. The real reasons behind this development were largely unknown until a Netflix spokesperson gave insight into the issue. According to the official, the company decided to withdraw AirPlay on iOS devices because its availability on third-party devices was creating confusion.
"We want to make sure our members have a great Netflix experience on any device they use," the Netflix official said. "With AirPlay support rolling out to third-party devices, there isn't a way for us to distinguish between devices (what is an Apple TV vs. what isn't) or certify these experiences. Therefore, we have decided to discontinue Netflix AirPlay support to ensure our standard of quality for viewing is being met."
The spokesperson added that subscribers will still be able to use Netflix on Apple TV's built-in app as well as other devices. And while it may be convenient to watch Netflix content on iOS devices with AirPlay, it is not necessary.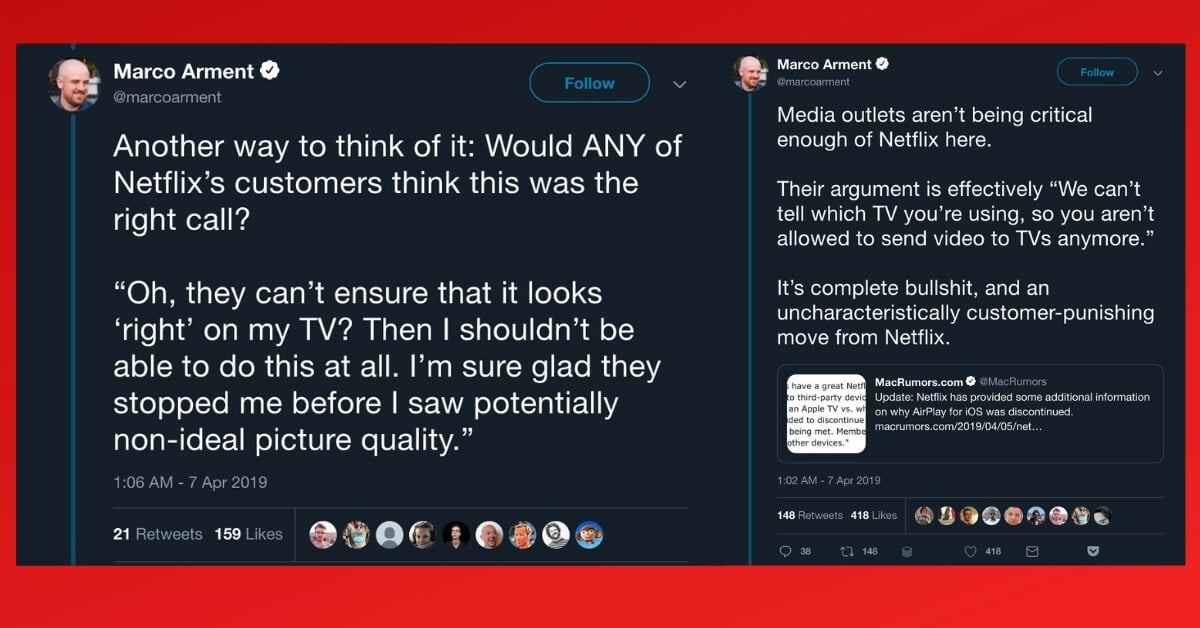 In a tweet, tech podcaster Marco Arment said:
Media outlets aren't being critical enough of Netflix here. Their argument is effectively "We can't tell which TV you're using, so you aren't allowed to send video to TVs anymore." It's complete bullshit, and an uncharacteristically customer-punishing move from Netflix.
Another way to think of it: Would ANY of Netflix's customers think this was the right call? "Oh, they can't ensure that it looks 'right' on my TV? Then I shouldn't be able to do this at all. I'm sure glad they stopped me before I saw potentially non-ideal picture quality."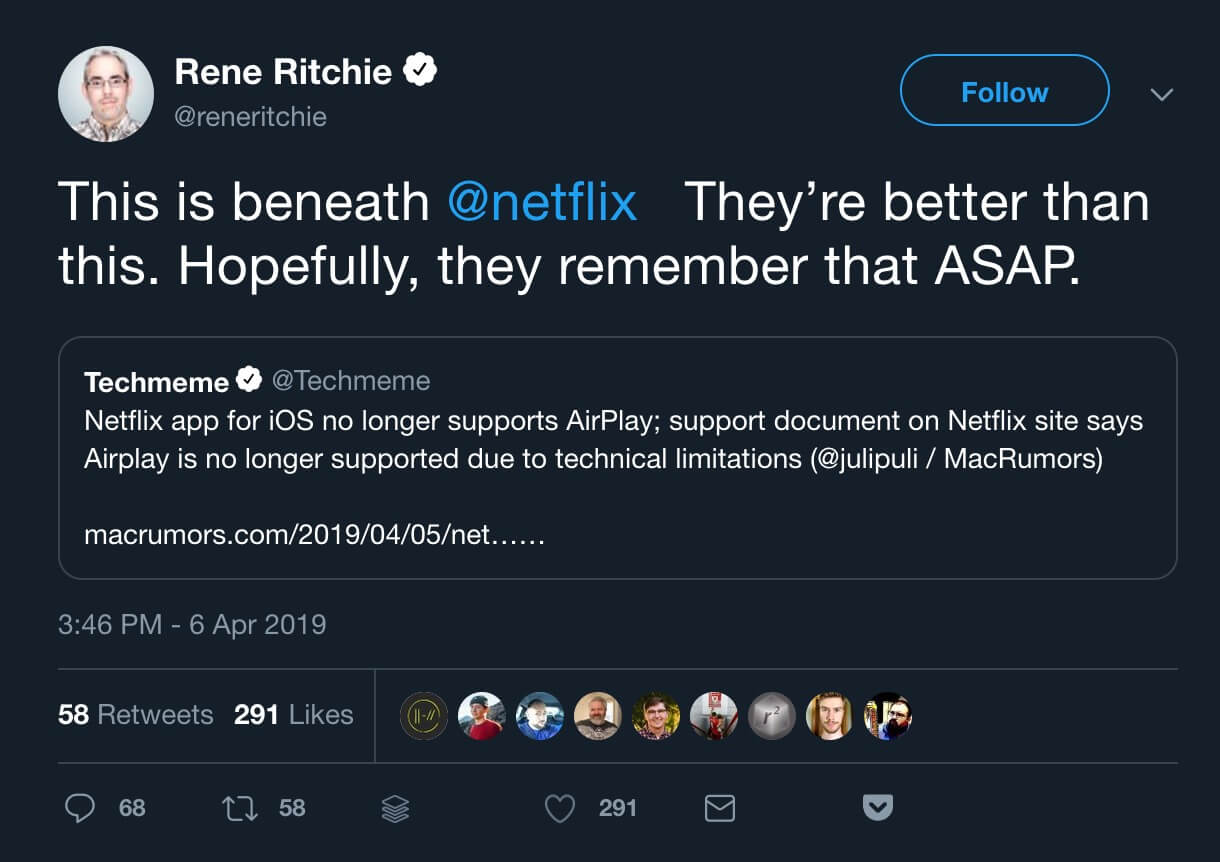 Rene Ritchie of Vector for iMore said:
This is beneath @netflix They're better than this. Hopefully, they remember that ASAP
John Gruber for Daring Fireball stated:
I don't really blame them for calling it a "technical limitation", but it's a bit frustrating that they're throwing out something that already works and has worked for years. And it makes it sound like it's something they can't do, rather than the truth, which is that they've chosen not to.
In December 2018, Netflix, in a bid to increase revenue for its content, made it impossible for new customers to sign up for their service via the iOS app, thus bypassing Apple's 30% cut of Netflix's revenue.
The company has never hidden the fact that it is not interested in taking part in Apple TV's app, with Netflix CEO Reed Hastings saying they will not provide their services on alternative channels, including Apple TV subscription plans. He said Netflix members will only access their programs on Netflix services and apps and no other.

How Apple will respond to Netflix's discontinued use of AirPlay on iOS devices remains to be seen. Apple's representatives are not immediately available for comments.