The Digital Millennium Copyright Act (DMCA) is one of those US legal solutions passed all the way back in 1990s to regulate what was then an emerging internet, and has not aged well.
The DMCA can be used to attack any attempt to circumvent digital rights management, DRM, that's put in place as a means to protect copyright. But this rule has been prone to outright abuse, in addition to accidental removal of legitimate content that can result in financial damages to smaller players in the game.
(MEMBERS: Check out our deep-dive on the? DMCA being used for censorship here)
Speaking about outright abuse, it's not unheard of for posts on Twitter or elsewhere on social media to be hit with false DMCA strikes simply for reporting about piracy.
It's a messy scene, in other words, and the case of a Netflix impostor abusing the system on a mass scale only proves this point.
Google was the recipient of this huge and sudden spike in the number of takedown notices targeting offending URLs in its search result, allegedly sent by Netflix. These went from several thousand to over a million a week.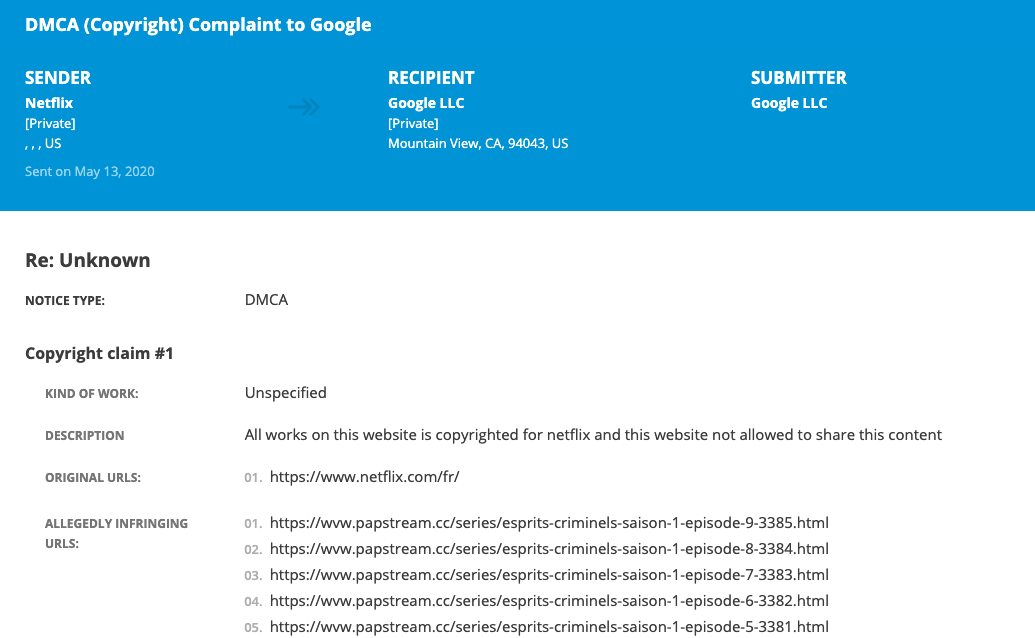 This type of activity got Google's attention and that the giant, suspecting the surge might be the work of a third party abusing the system, is now increasingly rejecting these requests – while at the same time, flagging some of them as abusive and suspecting they are sent by Netflix impostor(s), Torrent Freak reports. At this point, it doesn't even matter to Google that some of the flagged URLs do provide links to pirated content – the giant seems to be interested in stemming the chaotic tide of requests.
What makes these DMCA's suspicious – other than their sheer and sudden volume – is, among other things, the fact they sometimes list content that Netflix doesn't actually own, and are written in poor English.
So – who and why might be throwing a wrench in the proceedings now, demonstrating once again how broken the whole system is?
The report speculates that a pirate streaming site or sites might be going after their rivals by abusing the DMCA and trying to put Google to work in order to eliminate competition.