In 2018, free speech social network Gab was deplatformed from the Apple App Store and the Google Play Store for "objectionable content" and "hate speech," even though other social media apps on these stores are filled with content that many people would find "objectionable" or "hateful." These two app stores collectively control almost all mobile app distribution so by being banned, Gab was effectively prevented from distributing its app on iOS or Android devices. Yesterday that all changed with the launch of a new open-source, decentralized version of Gab.
Gab launched this new version on July 4 to declare its digital independence and give all its users the power to reclaim their digital sovereignty.
https://twitter.com/getongab/status/1146240085605703685
This new version of Gab is built on the ActivityPub protocol which powers Mastodon along with other decentralized blogging and social networking projects. There are dozens of existing apps on both the App Store and Google Play Store that support this protocol which means Gab users can now use Gab through a social networking app on their mobile devices.
The decentralized nature of this new version of Gab and the ability of users to host their own Gab servers also makes it much more resistant to censorship and cyber attacks. In fact, Gab describes this new version as "unstoppable" and "impossible to shut down."
Here's everything you need to know about what's changed in this new version of Gab:
Mobile app support on iOS and Android
Since Apple and Google have both rejected free speech in favor of arbitrary and subjective "hate speech" restrictions, one of the biggest challenges Gab has faced is finding a way to distribute a mobile version of its app.
This new version of Gab solves that problem by using the ActivityPub protocol which is already supported by many existing iOS and Android apps. Gab users can now find an app that supports this protocol, install it on their device, and then log in to Gab through that app. Not only does this allow Gab users to access the service through a mobile app but it also means they can enjoy all the features a native mobile app brings including notifications and simple, integrated, one tap sharing of content to Gab.
Some of the developers of these ActivityPub/Mastodon apps have similar ideologies to Apple and Google which means that their apps will unfortunately block connections to Gab servers. However, there are still many ActivityPub/Mastodon apps that allow connections to Gab so as long as you choose the right app, you can connect to this new version of Gab on your mobile device.
Tootdon for Mastodon is a great iOS app that works on both iPhone and iPad.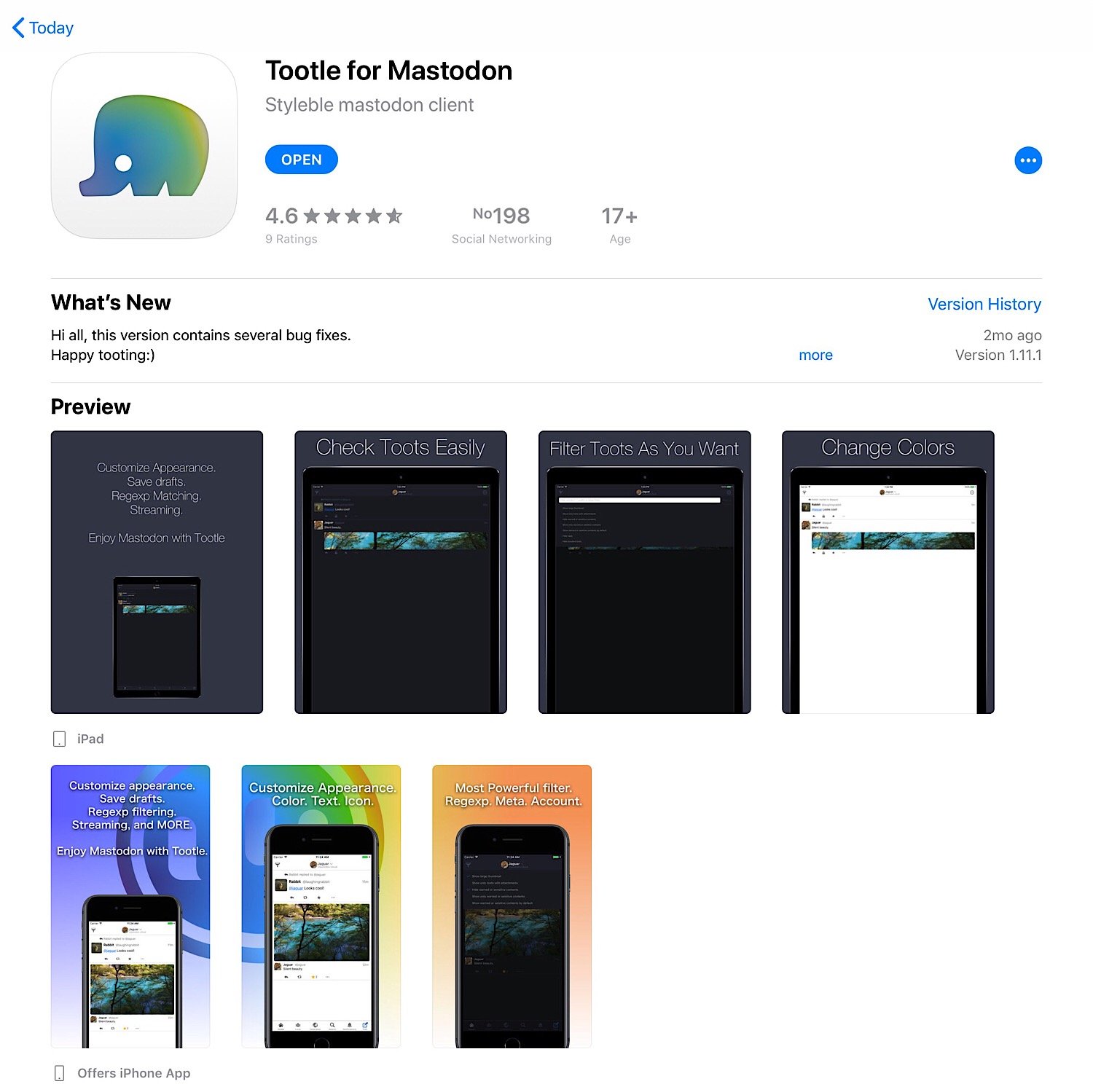 Roma for Plemora and Mastodon is a great option for Android and it also has an iOS app that works on both iPhone and iPad.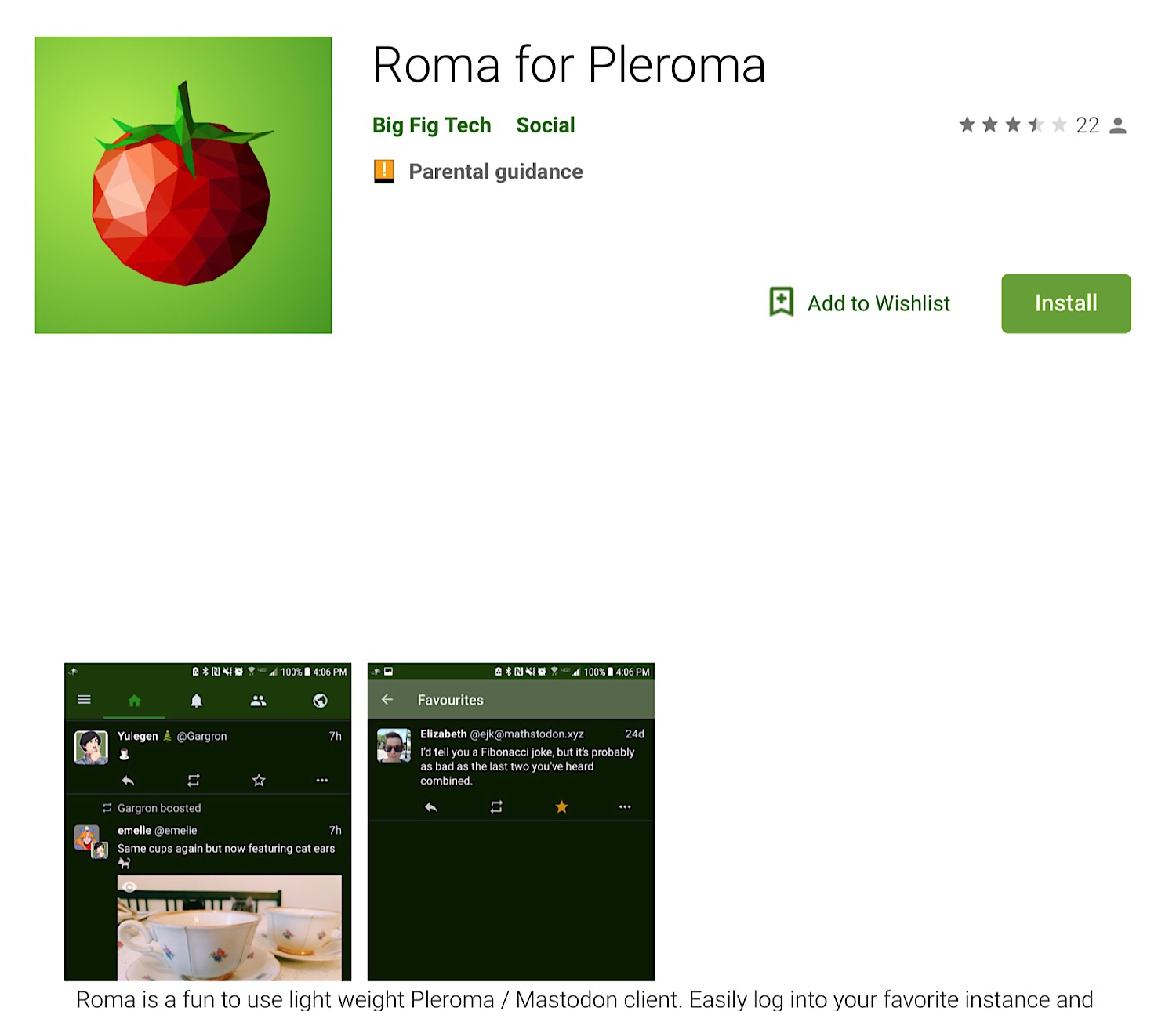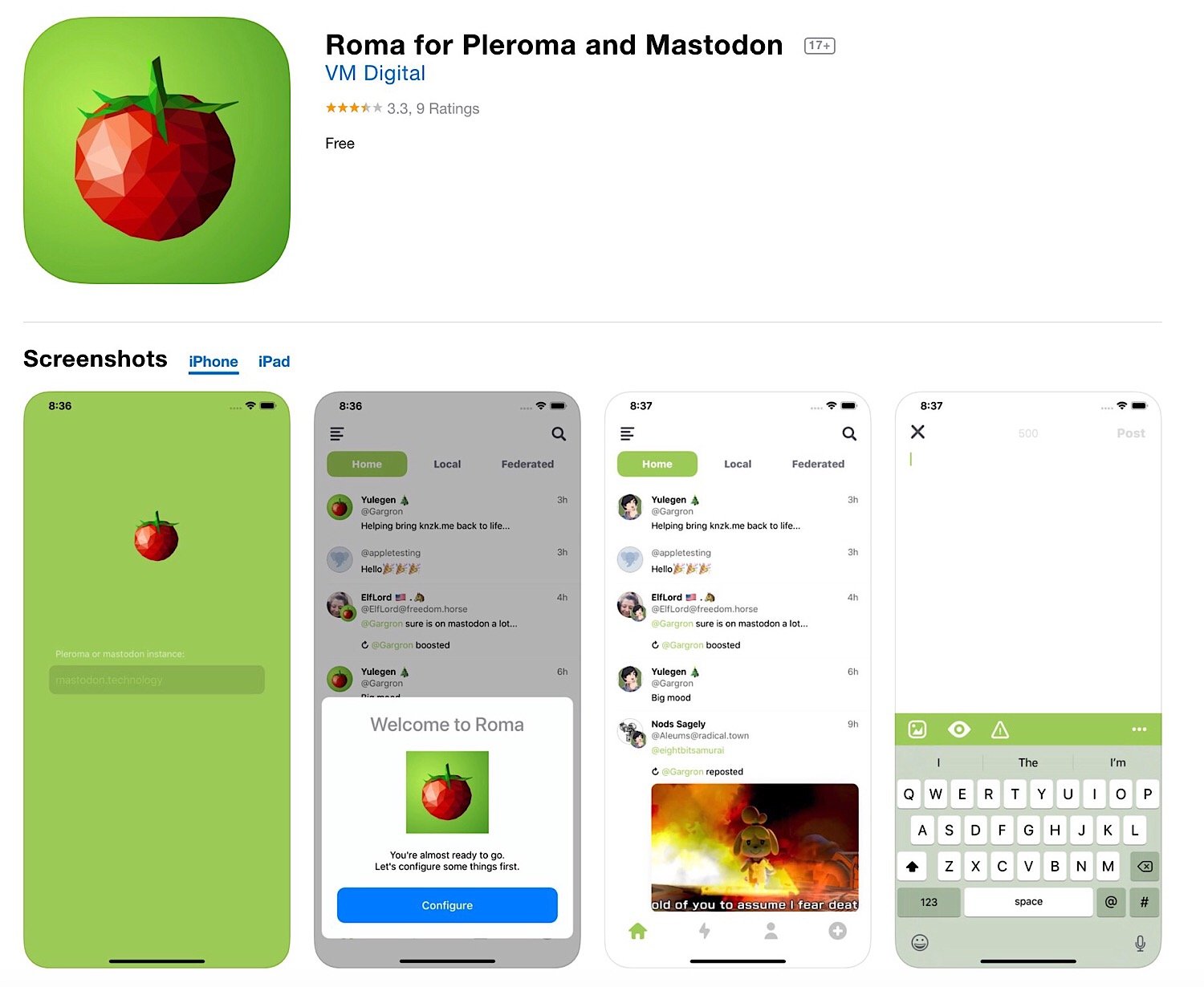 To start using the new version of Gab through these apps, simply download your preferred app, open it up and follow these steps:
1. When you open the app for the first time, you'll be presented with an "Add Account" page and asked to "Enter an instance domain."
2. Enter "gab.com" as your "instance domain" and select "OK."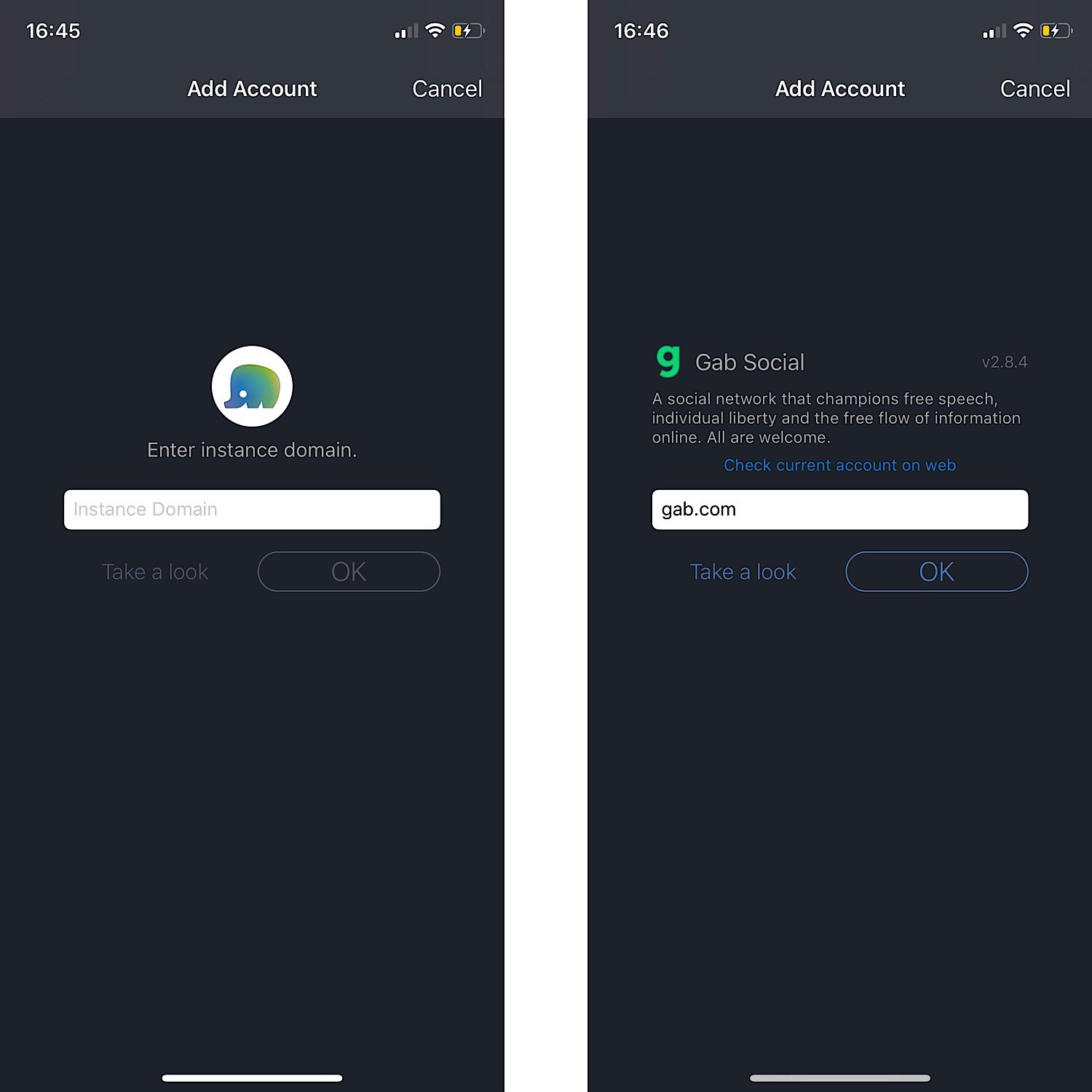 3. You'll then be directed to gab.com and asked to log in. From here, use your Gab credentials to log in.
4. After logging in, you'll be asked to authorize the app. Select the "Authorize" button to complete this authorization.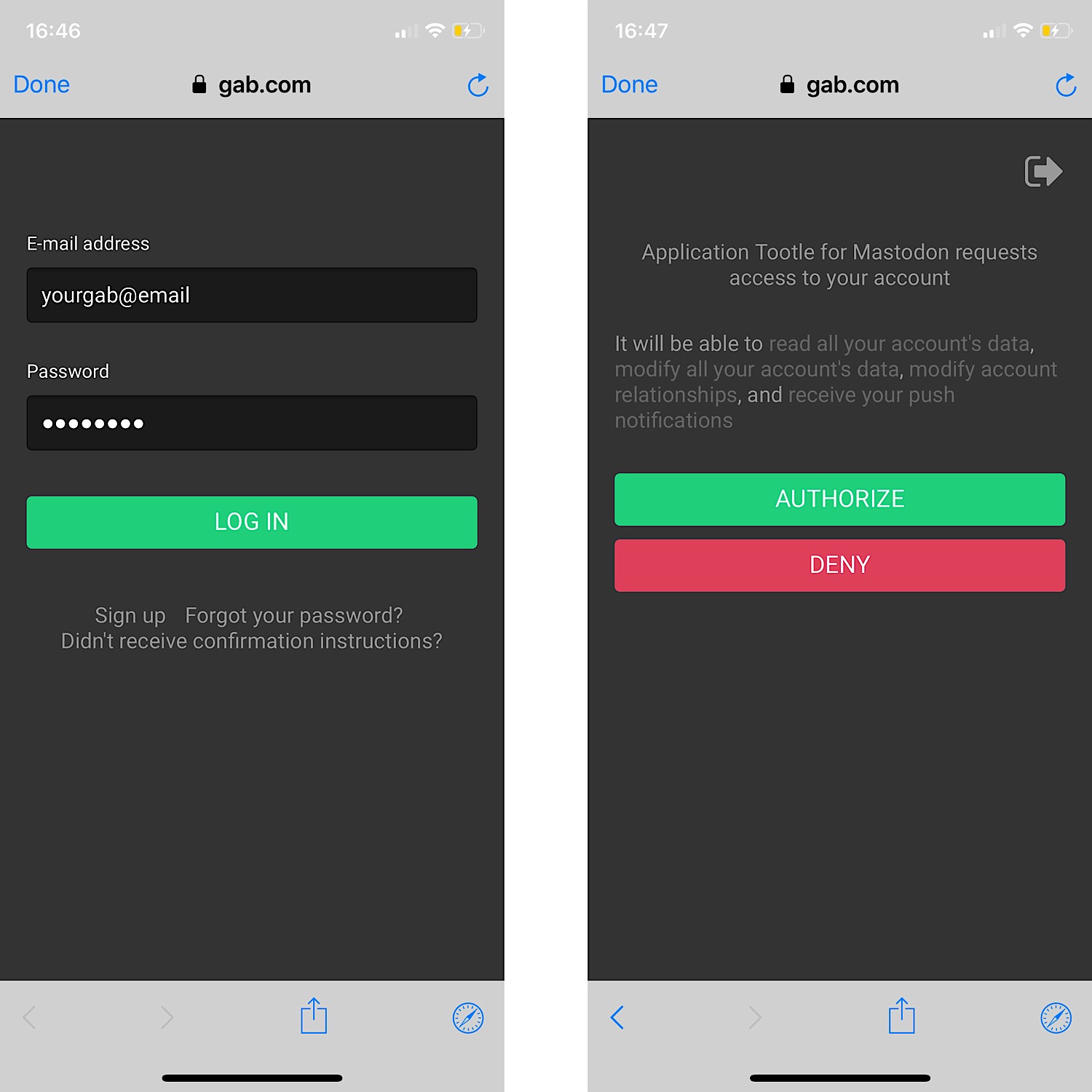 5. Once you've authorized the app, you're all set and you can start posting to Gab and browsing Gab through the app.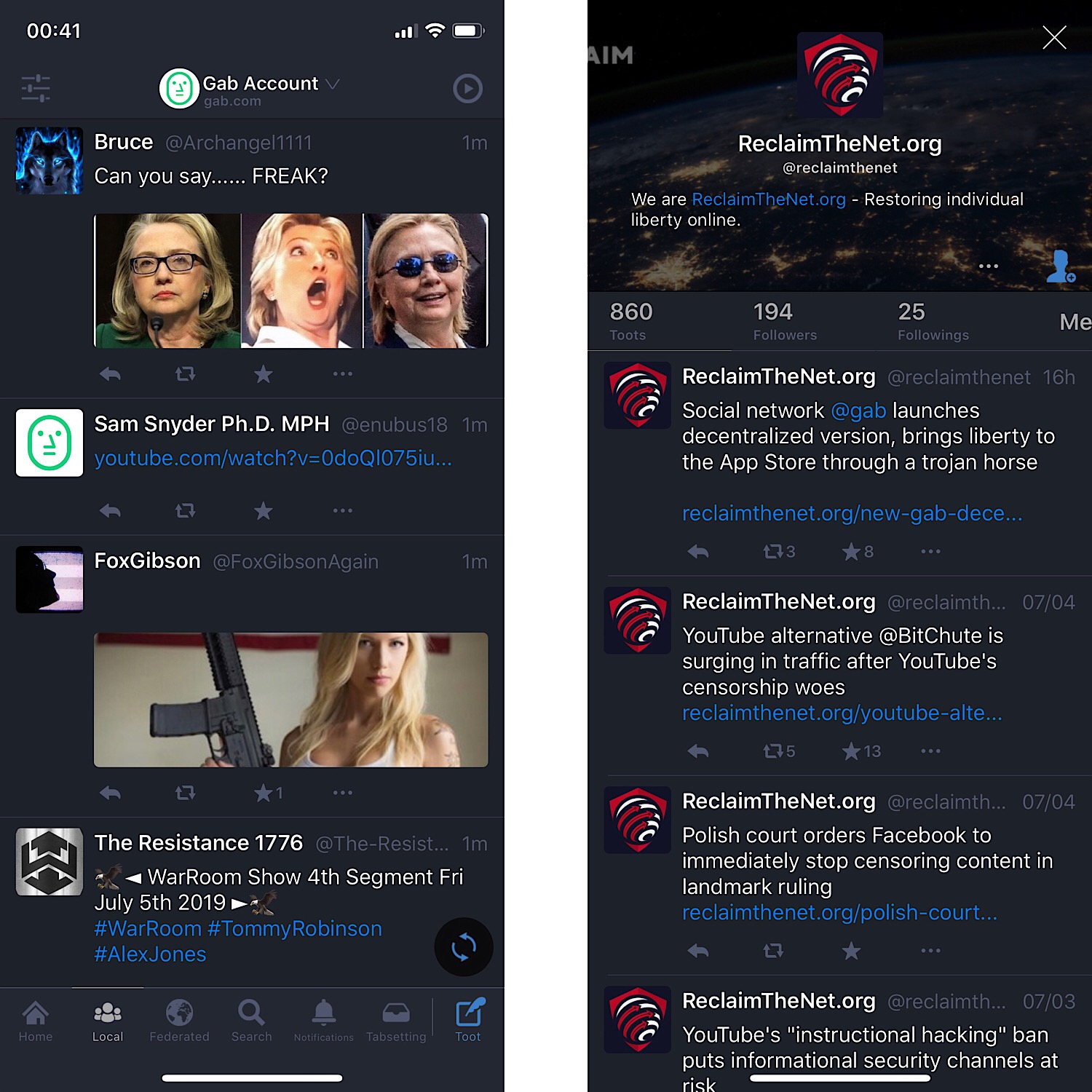 Decentralized protocol
Another huge benefit of this new version of Gab is that it's decentralized and allows anyone to host their own Gab server. This makes it much harder for Gab to be censored or shut down because there's no longer a single, central point of failure. If Gab's core server goes down, the other self-hosted Gab servers remain unaffected so there's minimal disruption to the network as a whole.
Not only does this decentralized setup make it almost impossible for Gab to be shut down but since Gab is using the AcitivityPub protocol, Gab users can also connect with a global network of other servers in the Fediverse. The Fediverse is a collection of decentralized blogging and social networking projects which currently have about 3 million total users. The addition of Gab brings the total Fediverse user base to around 4 million users.
https://twitter.com/getongab/status/1143710275348107264
While some servers are choosing to block Gab, others are not and since the Fediverse is decentralized, there are lots of servers Gab users can connect to.
Self-hosted servers
Unlike most social networks where you have to use their servers and abide by their rules, Gab allows you to optionally host your own server with your own rules. In addition to being able to choose the types of content that are allowed on your server, self-hosting also gives you full control over the data and means you can't be banned by Gab.
If you do choose to host your own server, it's fully compatible with other self-hosted Gab servers and Gab's core server. This means you and other Gab users that are on your server can still interact with Gab users on other servers, follow people from other servers, and vice versa. In other words, the user experience is the same regardless of which server is being used.
Self-hosting is completely optional so if you prefer to use Gab's core servers which are governed by the First Amendment of the United States Constitution you can. However, for those who want full digital sovereignty and prefer to control their data, the self-hosting option is there.
Gab says that in the future it will be offering a paid service where it sets up and hosts a Gab server for you.
Gab also plans to reach out to some of the top content creators on the internet and encourage them to set up their own Gab servers going forward.
https://twitter.com/getongab/status/1145442443703332866
Video uploads
Another great addition to this new version of Gab is video uploads. This means that text updates, image updates, and video updates are now all natively supported on Gab so you can share content in whichever medium you prefer.
To share a video update:
1. Compose a new Gab.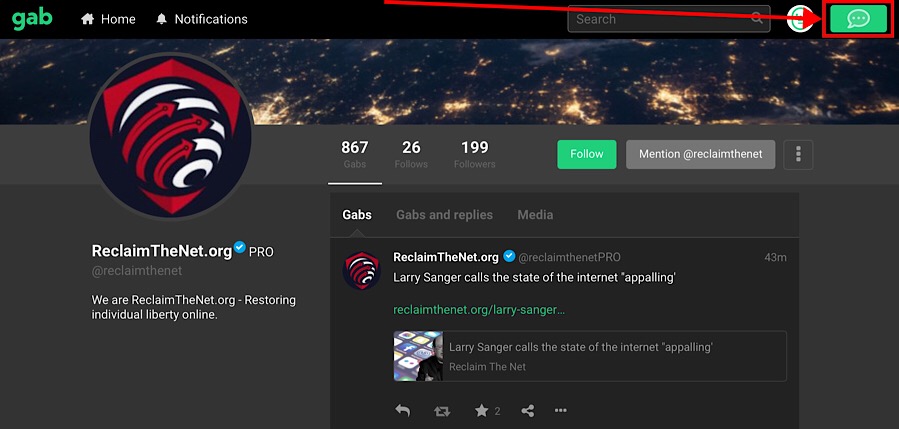 2. Select the camera icon.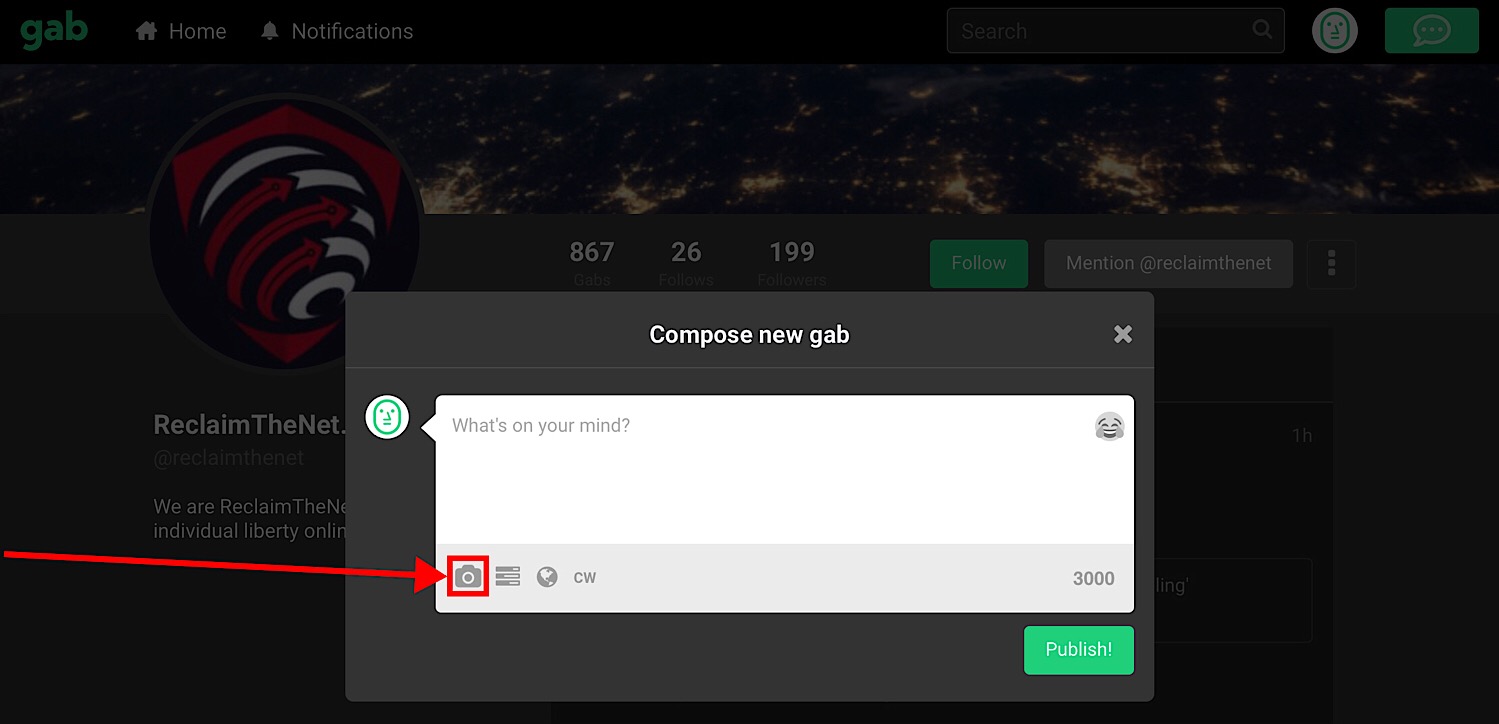 3. This will then allow you to record a new video or choose a saved video to upload.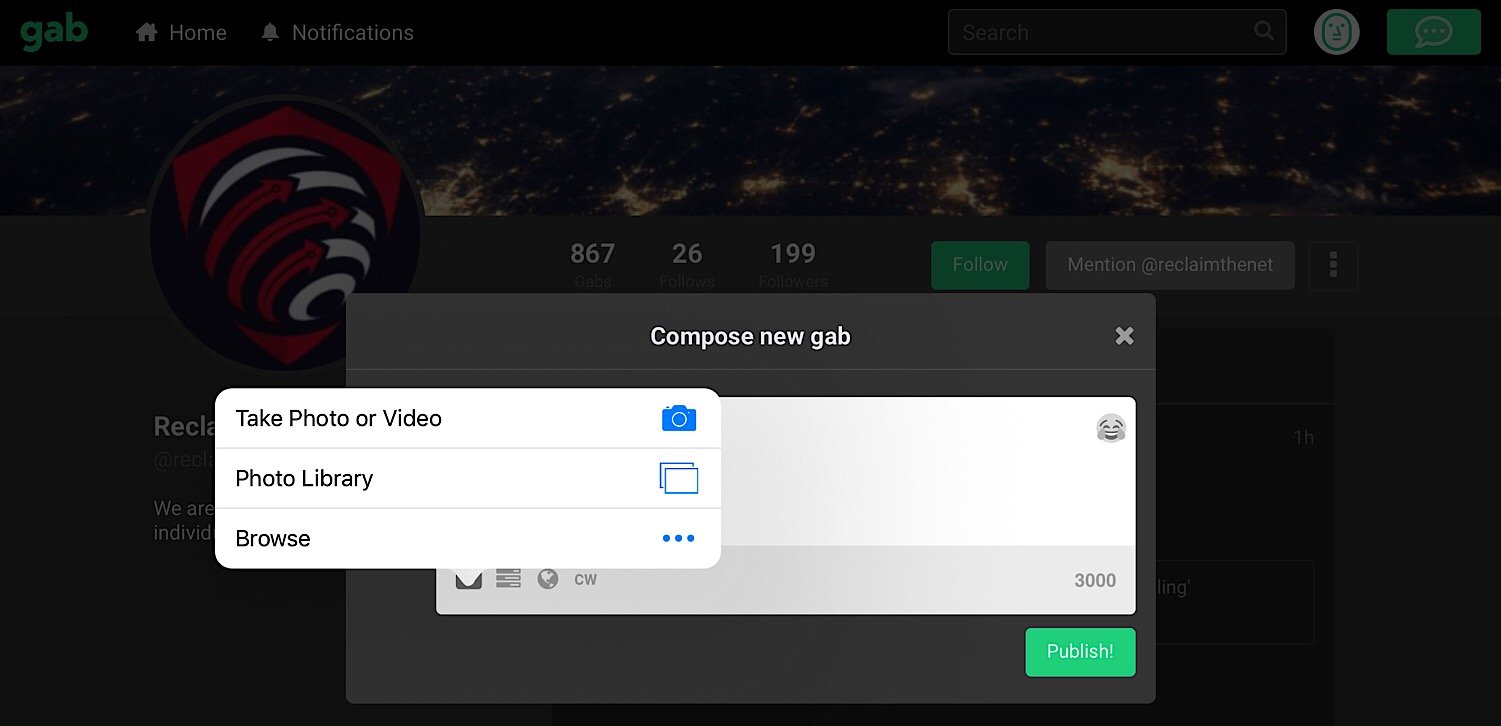 4. Once uploaded, the video will be embedded in your Gab post.
Two-factor authentication
This new version of Gab also brings with it a welcome security feature – two-factor authentication. This allows you to secure your account with an authenticator app like Authy and means that even if your password is compromised, this second authentication layer will prevent unauthorized parties from accessing your account.
To set up two-factor authentication:
1. Open up your Gab settings by selecting the three dots on your profile page.

2. Select "Edit Profile."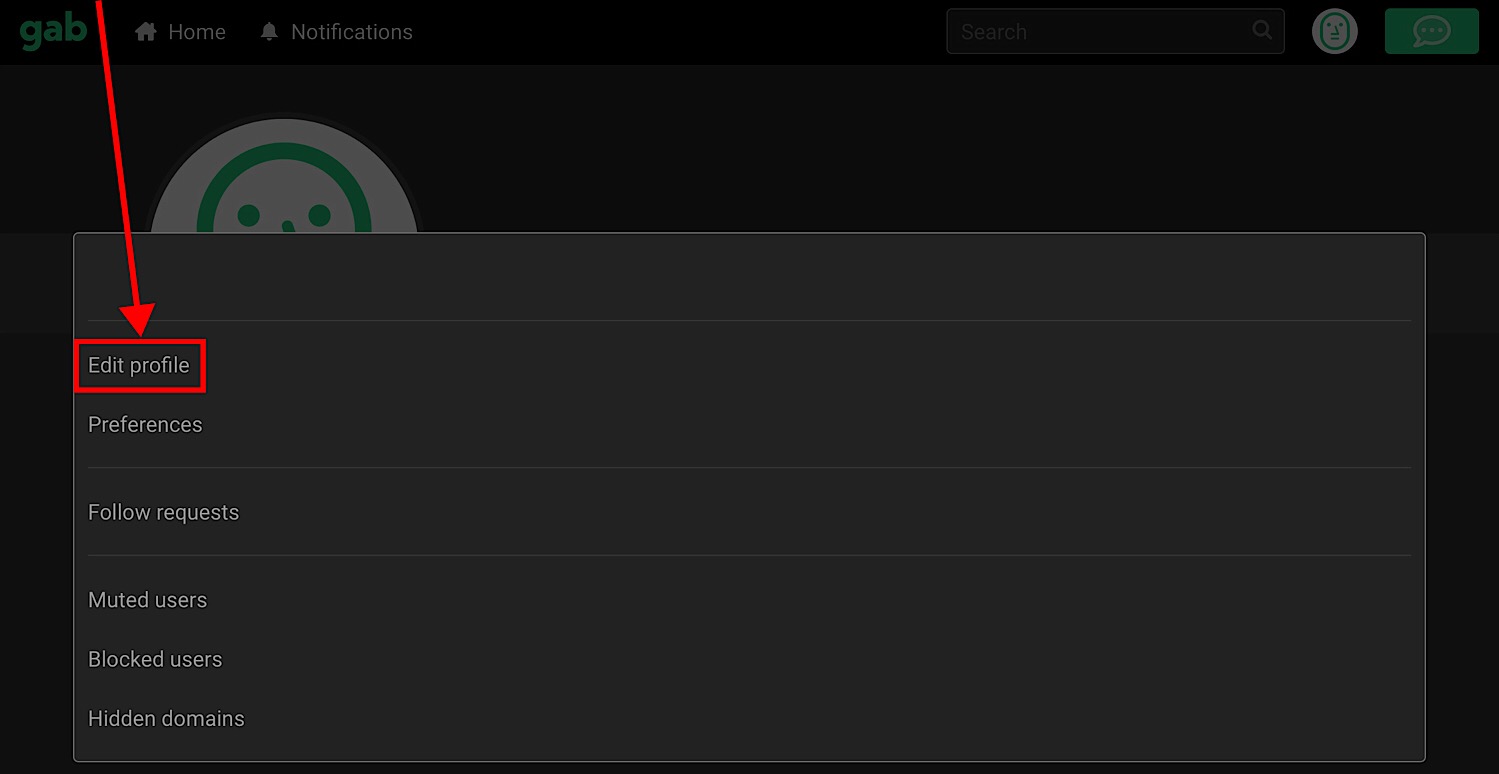 3. Select "Account."

4. Select "Two-factor Auth." From here, select the "SET UP" button and it will guide you through the process of securing your account with two-factor authentication.

Open source code
As with most of Gab's other products, this new version of Gab is open-source. This means you don't have to trust Gab because you can look at the code and audit it yourself, as can anyone else. The open source nature also allows anyone to contribute to the code and make it better.
Coming soon – editing, groups, quote posting, direct messaging, and bitcoin payments
Since this new version of Gab has been completely rebuilt, some features from the old version of Gab are currently missing and being worked on. These features are:
Editing and deleting posts
Groups
Quote posting
Direct messages (DMs)
Gab CEO Andrew Torba says that the first three features are being worked on right now. DMs are being completely rebuilt and Torba says that the Gab team will start working on them next week.
Gab also says it plans to integrate BTCPay Server in the future. This open-source, self-hosted bitcoin payment processor will allow Gab users to monetize their self-hosted servers with bitcoin payments.
Removed – scores and downvotes
While this new version of Gab has lots of new features, scores and downvotes are going away. This is to ensure that Gab works with the ActivityPub protocol and can take full advantage of all the features in the various ActivityPub/ Mastodon mobile apps.
How to use new Gab
If you already have a Gab account, you can log in via the web interface at gab.com or through any of the apps mentioned in this article.
If you don't have a Gab account and want to sign up, simply head over to gab.com and create a new account. When you have your account set up, you can use your credentials to log in and start using Gab on the web or through a mobile app.
Gab user Bill Tux has also put together a YouTube playlist which goes through how to use Gab's main features so if you need further guidance, you can check out those videos here.