A new YouGov survey conducted among US and UK respondents shows their trust in big tech companies to be very low – almost hitting rock bottom where handling of their personal documents and photos is concerned.
Tresorit, a cloud storage service with strong emphasis on security and data encryption, commissioned the poll and is reporting about the findings on its blog, to note that more 40 percent of users don't trust the intent of tech companies themselves, while over two-thirds fear their data entrusted to them might be compromised by hackers.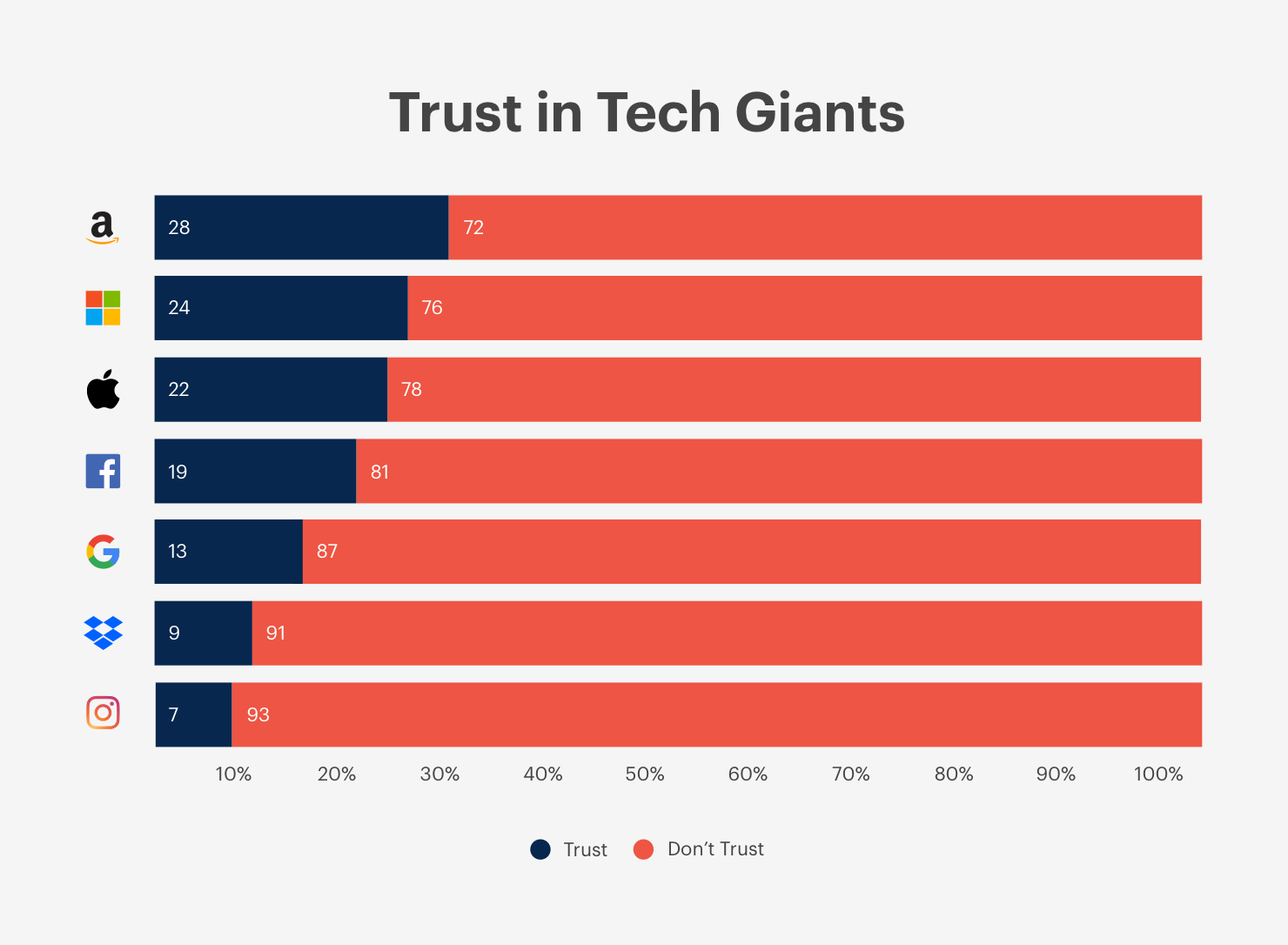 Thus, 28 percent of respondents said they trusted Amazon – with Instagram at the opposite end, with only seven percent. Ranked in between, from higher to lower, are Microsoft, Apple, Facebook, Google, and Dropbox. The latter, a widely used cloud-storage service, is trusted by only nine percent of those who took part in the survey. Neither Instagram nor Dropbox uses end-to-end encryption, and the fact they fare so poorly suggests that users are very sensitive to the possibility of having their personal files directly compromised.
End-to-end encryption certainly remedies this concern, as it secures data stored by third parties, protecting it from intrusive and unauthorized actors – anything the service itself, ISPs, to hackers and governments – instead allowing access only to those involved in the communication or owning the data.
Facebook, the owner of Instagram, has been guilty of negligent security practices and an unethical business model. Aware of the backlash, the company now says it plans to focus on privacy and encryption. And with only 13 percent trust, Facebook has little to lose; but it remains to be seen if CEO Mark Zuckerberg makes good on his promises.
However, as Tresorit warns, the tech giants' business model means that users' privacy can still be compromised as metadata is collected, correlated and sold to the highest bidder.
One good piece of news from the survey is that instead of getting desensitized to privacy violations, users are becoming more aware of both the risks and the options to mitigate them, and are increasingly turning to secure, encrypted services.