The NFL is cracking down on anything vaguely linked to unauthorized streaming of its content, by targeting URLs tied to VPNs.
According to TorrentFreak NFL wants Google to remove these URLs from its search results – but most of these URLS remain there.
VPNs are vitally important in those parts of the world where internet users have limited access and online freedom due to political decisions, and also by providing users with extra privacy and security online.
The fragmented world of internet streaming is made further complicated for users of services like Netflix, who provide different content based on geographical location – which users then try to bypass using VPNs.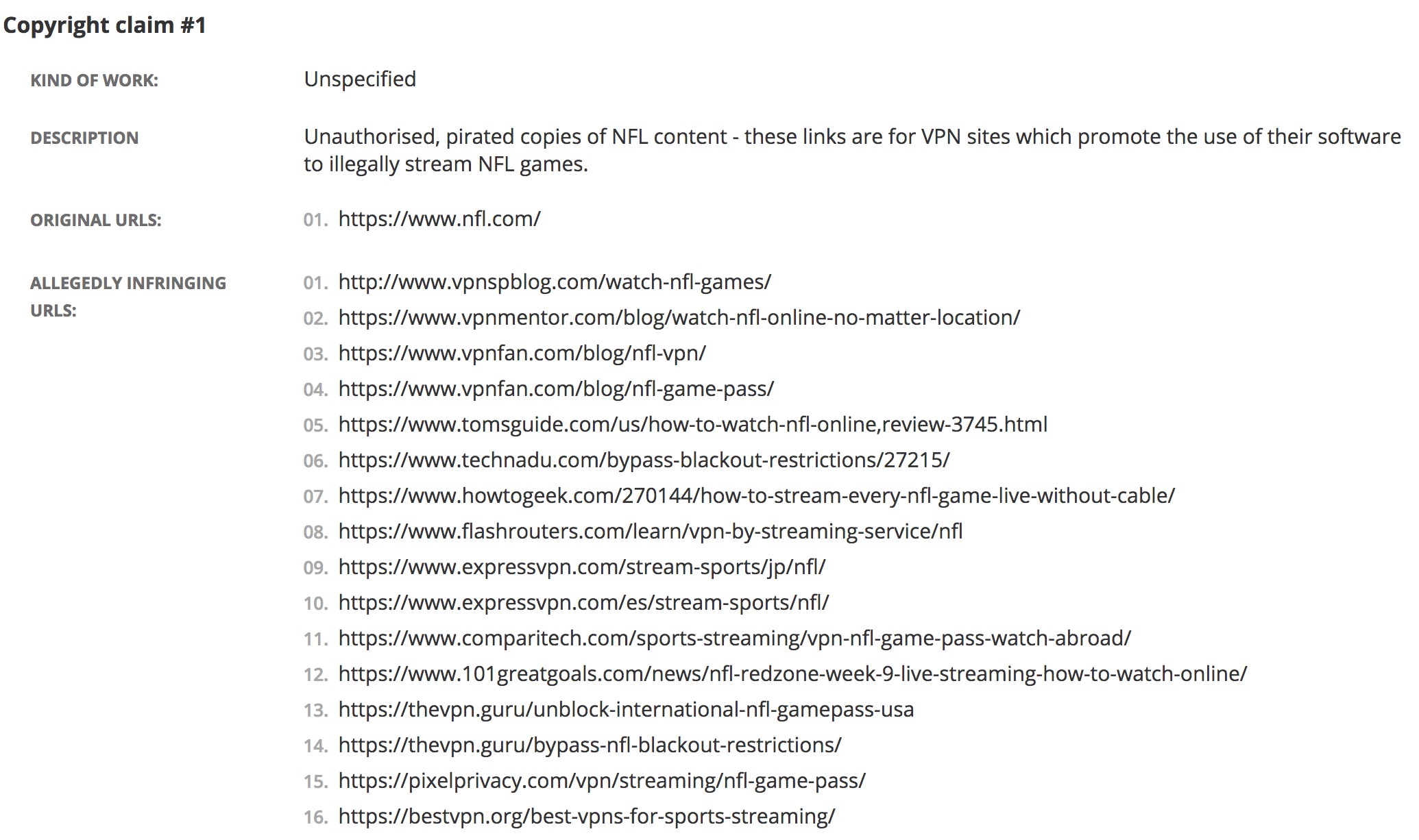 Companies push back against this, but according to the report, NFL is approaching this practice more meticulously than most. In order to reduce the visibility of the streaming method it disapproves of, the sports giant is serving DMCA takedowns to Google to remove VPN-linked URLs rather, than targeting sites with pirated content.
The notices accuse VPNs of being complicit in illegal streaming by allegedly "promoting" it. TorrentFreak said that while the URLs mention NFL, instead pointing to pirate streaming services they actually lead to pages explaining to users how a VPN can be used to access official streamers. What users who pay subscription may be violating here by using VPNs is NFL's policy to impose geographic restrictions even against legitimate subscribers.
While NFL's terms of service may prohibit, for example, streaming an NFL game in a European country that the league doesn't cover, using a VPN and logging in with your paid subscription while in that country is still a far cry from "piracy."
Google is for now among those who seem to disagree that NFL's DMCA complaint is valid in such cases, and continue to keep most of the links listed in the complaint – removing only three from the search results.
The article specified that VPNs cited in takedown notices include ExpressVPN and several sites posting news and tutorials about VPN services.
TorrentFreak, however, remarks that the number of VPN-linked notices from NFL is still small – and could even be the work of "imposters" rather than the organization itself.