Rep. James Spillane is now being investigated by the New Hampshire Department of Justice for his joke on Facebook about the BLM movement.
"Public Service Announcement: if you see a BLM sign on a lawn it's the same as having the porch light on for Halloween. You're free to loot and burn that house," reads the Facebook post by Spillane, who is Republican and is currently serving in his fourth term representing Deerfield, Nottingham, and Candia.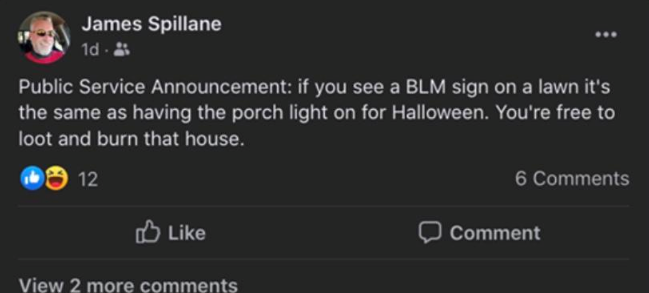 With several instances of looting and riots that surged during recent months, what Spillane posted seems like a satirical take on the current turn of events. But the backlash and investigation against him, however, seems to have had its effects as Spillane has deleted the post.
Some either didn't get the joke or decided not to see it as one. The Director for the Department of Justice's Civil Rights Unit, in a letter to the House Speaker Steve Shurtleff, wrote that "members of the public who support the Black Lives Matter movement have expressed fear that they may become targets of violence as the result of Rep. Spillane's post."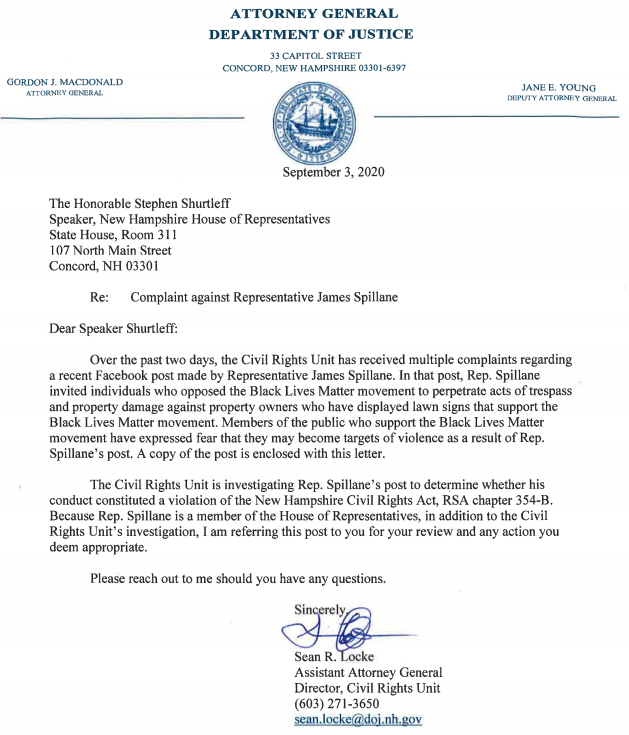 Calling the post "inexcusable" and "incitement of violence that put the lives of Granite Staters in jeopardy," Shurtleff called for immediate resignation from Spillane.
"Remarks like these indicate a total lack of decency and respect for Black lives. This is yet another example of what we mean when we say New Hampshire is not innocent. It is incumbent on all of us to be honest about the reality that white supremacy exists in the Granite State," said Jordan Thompson, a racial justice organizer for the ACLU of New Hampshire and also a founder of the BLM Nashua division.
Today, the Deerfield Board of Selectmen also called for Spillane to resign over the post saying his post is "incongruous" with his lawmaker role.
Dick Hinch, the House Minority leader, however, defended Spillane and said that he trusted that Spillane meant "no harm" and that Shurtleff's statement was a "public partisan spectacle" as he hadn't consulted him before releasing an official statement to the press.