Politico recently had five questions for Meta President of Global Affairs and former British politician Nick Clegg, but unfortunately, none of those was, "Do you even know what the open internet is?"
It's highly likely that the reply would have added even more hypocrisy and mental gymnastics to the article, given that Clegg appears to be under the impression that the open internet is something select governments should be "defending."
This was his response when asked what the government could be doing when it comes to tech that it currently isn't. This high-ranking executive of a company that censors millions of posts each quarter and works with US government to censor content that the White House flags, talks about "the largely free internet" that is under unprecedented threat – but, of course, in his opinion, not from the likes of Meta, or from governments it collaborates with.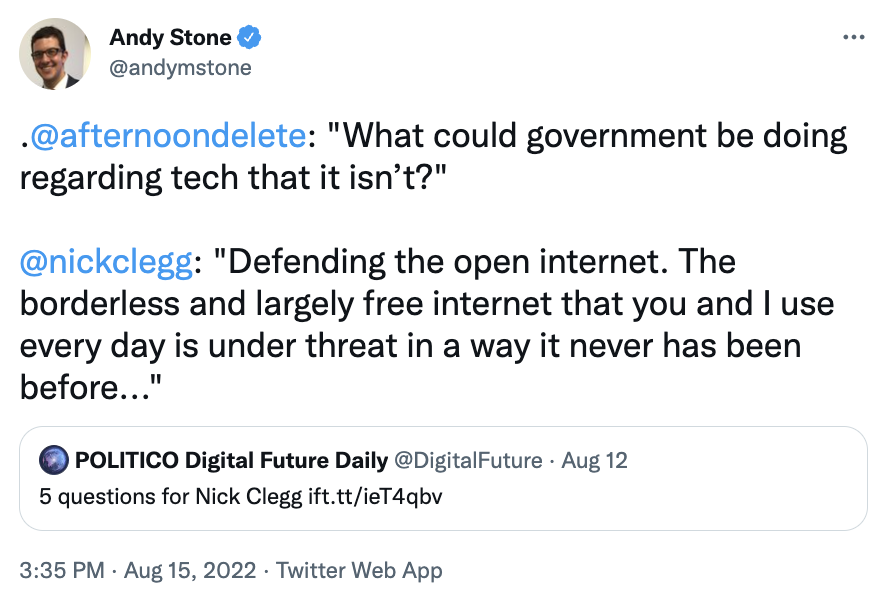 Instead, Clegg laments the fact China has effectively created its own internet, and claims that he is opposed to that because of its authoritarian nature, surveillance, and for "segregating" users from the global internet. But it's a fair assumption that what really bothers Meta and its ilk is far less noble: could it be the inability to access a market of more than a billion people to further feed their morally corrupt business models based on mass harvesting of personal data?
And now other large internet markets are moving in this direction, like Russia and Turkey, Clegg notes, presumably with a straight face and seemingly unaware that the behemoth he works for carries out censorship and mass surveillance affecting billions of people around the world each day.
And Clegg doesn't want "democracies" to idly sit by as the personal data market shrinks for Facebook and others – but this former politician frames this as his concern over "digital nationalism" and a fragmented internet that is not only "weaponized" toward cyber warfare, but also – heavily censored.
Clegg, however, fails to mention what exactly "democracies" should do about this, and in what way governments should proceed with the "defense" of the open internet – as he understands it.