One of Reddit's most popular subreddits has now gone from being public to private, in an effort to raise awareness about copyright infringement attempts.
"r/nosleep" is one of Reddit's most famous communities where people post their personal accounts of mostly fictional scary stories.
Known to be widely enjoyed by the site's users, the subreddit has garnered millions of followers to date.
While the subreddit was previously "public", meaning that any Reddit user could consume the content posted in the forum, it has now been changed to "private".
Based on what the user community of the subreddit had to say, it was found that the content posted on the subreddit was frequently being plagiarised and reproduced elsewhere on the internet. As a result, the subreddit decided to shut its door to new users.
"In a move to support our authors, r/nosleep has been set to private to protest content theft and unfair crediting and compensation practices by those who share/narrate the stories found here," read the message posted by the community.
As of now, users visiting the subreddit will be displayed a message saying that the community can only be accessed by users with an invite.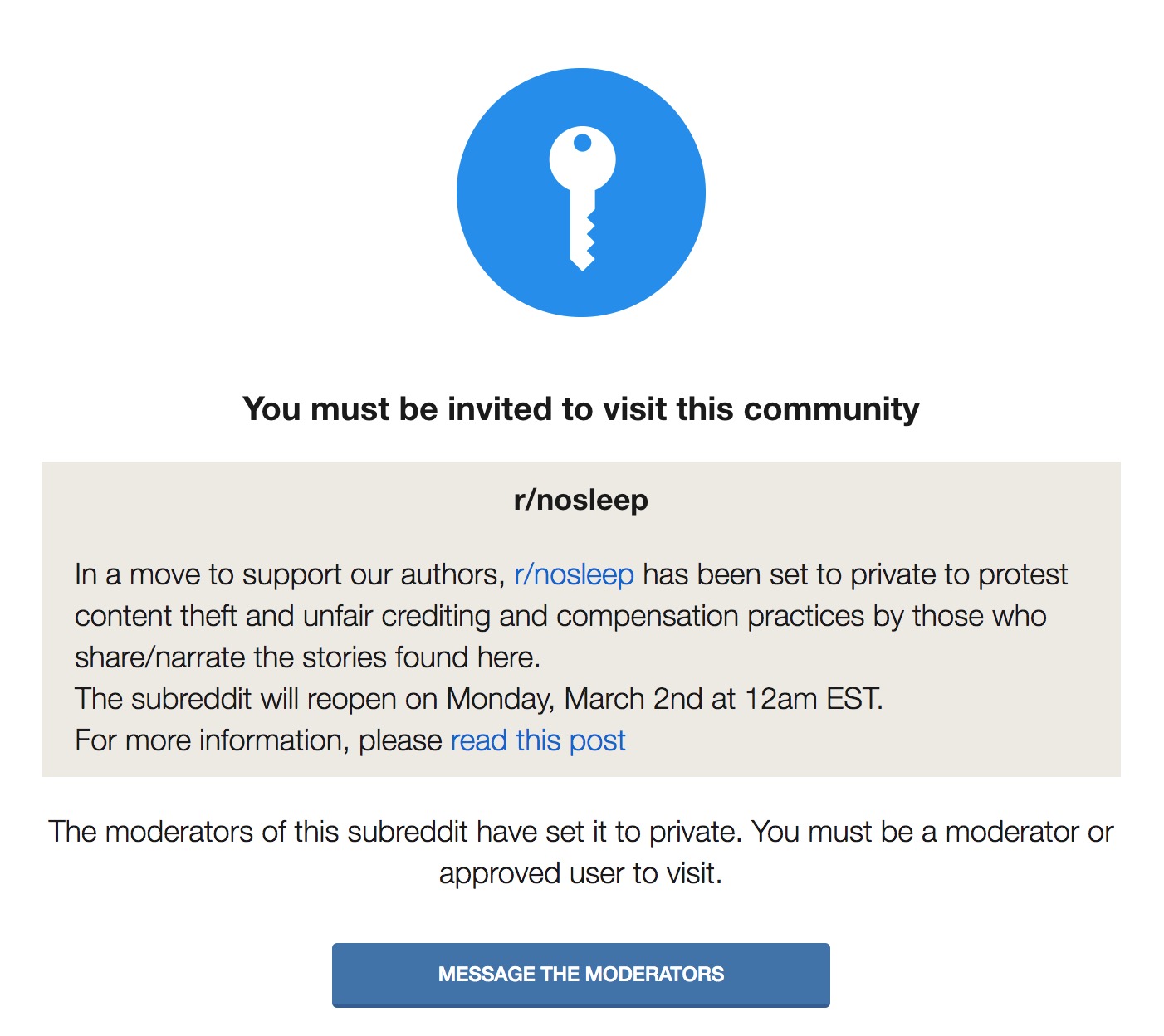 The subreddit also stated that the new changes were not only made to protest copyright infringement, but also to establish the fact that writers will stop posting their content on the platform when subjected to unfair treatment.
"We hope that, during our time away, our community will do their best to learn and understand our authors' rights and what they have gone through to exercise and protect them," read an announcement.
The thread doesn't say how hiding the subreddit temporarily will prevent infringers, who already neglect rules and customs, from continuing.
What's more, the administrators of the subreddit also said that they would be rewarding their authors as well as readers for tolerating their protest by relaxing the rules around posting stories on the subreddit.
It was revealed that the forum will return to normalcy from March 5th.
The authors on the subreddit have their own "No Sleep Writers Guild" that assists fellow writers in the process of licensing and selling their stories.