A campaign against mandatory vaccine passes launched in Northern Ireland by UK civil liberties and privacy group Big Brother Watch and a number of other organizations has come under criticism from politicians from the Alliance party.
The ad part of the campaign, which appeared on billboards and advertising screens in Northern Ireland over a period of four days, ended on Sunday, ahead of Monday's introduction of vaccine passports in some hospitality venues.
These passes are yet to become enforced, though, and a vote in North Ireland's Legislative Assembly, Stormont, is expected in the first week of December. In the meanwhile, Big Brother Watch has sent a letter to every member (MLA) of the Assembly and is inviting Northern Ireland residents to do the same.
The letter outlines what the group sees as serious rights and equality concerns around Covid passports, and urges MLAs to vote against mandating this form of ID.
Meanwhile, the messages displayed in several shopping malls in Belfast had some Alliance politicians, like Councilor Danny Donnelly and MLA Stewart Dickson, up in arms. Local press said that they accused those behind the campaign of undermining public health, "putting lives at risk," and calling for the displays to be turned off "ASAP."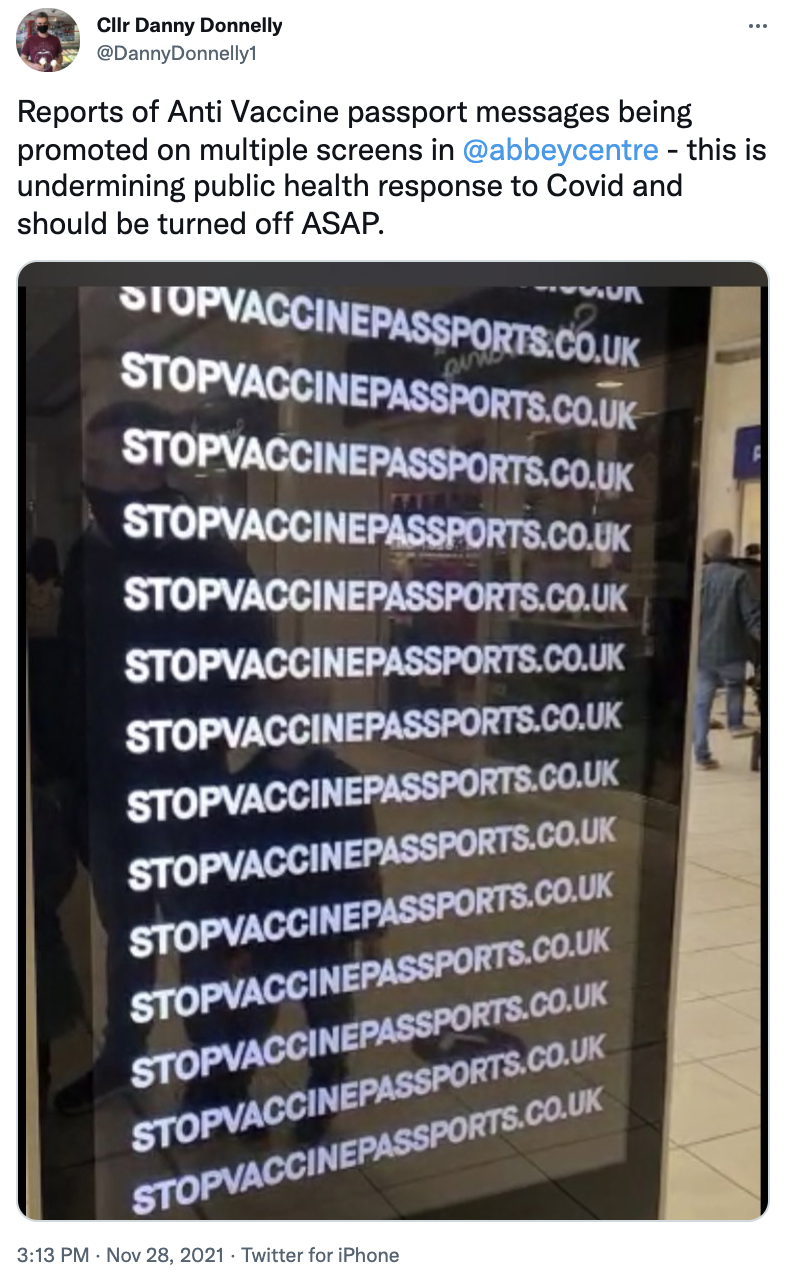 The billboards and displays include messages such as, "They want a checkpoint society, we want a free future," along with the stopvaccinepassports.co.uk URL.
Big Brother Watch, who previously took to Twitter to announce the campaign ahead of the Northern Ireland vote on Covid passes to say that billboards against the move are all over the territory, now criticized politicians who came after them as producing a chilling effect.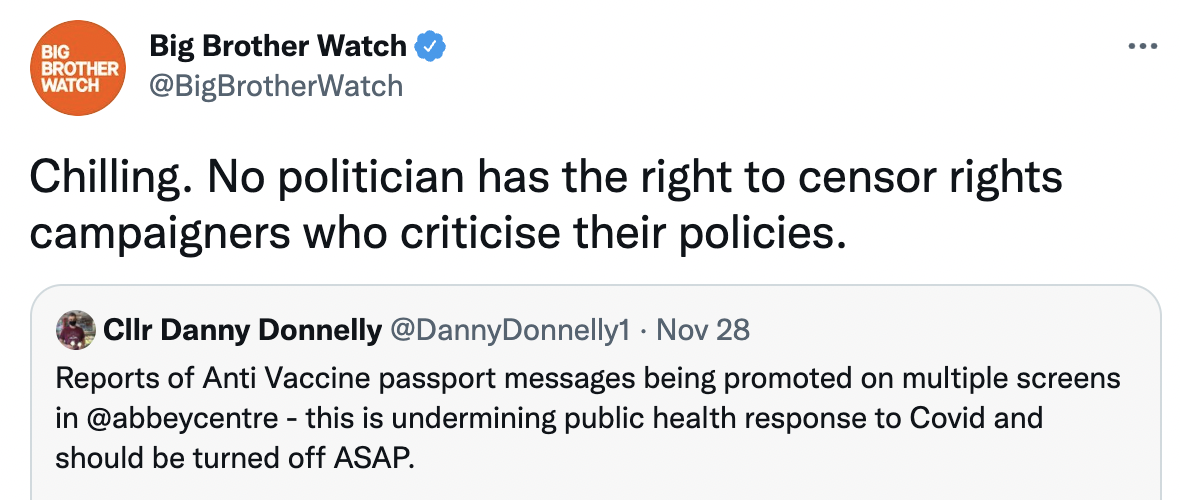 "No politician has the right to censor rights campaigners who criticize their policies," Big Brother Watch tweeted, adding that there is currently no law in Northern Ireland mandating this type of domestic Covid passports and that debate and campaigning around rights and equality issues should not be stifled in a democracy.
On its website, the group calls Covid passes divisive, discriminatory, and "wrong" – and calls citizens to action against the scheme. In order to oppose Covid passes, residents of Northern Ireland are encouraged to write to their MLAs and express their dissatisfaction with the idea.
"Covid passports sacrifice equality, privacy and liberty, with no public health benefit," the template letter reads, adding that citizens should show they are concerned that "a mandatory Covid pass scheme would lead Northern Ireland towards a two-tier, checkpoint society."