Anybody who loves hip-hop will have heard it uttered freely thousands of times: the infamous "n-word," that racial slur which remains an easy, go-to hot-button issue in the United States.
The way something like that even makes it into these songs, and stays there, is because it is uttered by black artists; however, as rules of "cultural appropriation" go, members of other races may not repeat them, not even jokingly or as part of a popular vernacular they had picked up. Say, if they are teenagers, like teenagers do.
In the US, unlike in Europe, speech is not criminalized, so the use of the "n-word" will not land those using it outside their own "cultural context" in prison. But it might get their college admission revoked, as this New York Times piece seems to celebrate.
The story details how a biracial student, Jimmy Galligan, last year received a 3-second video of a white classmate, Mimi Groves, "uttering an anti-black racial slur."
In it, Groves announces her learner's permit by saying, "I can drive, n——."
Galligan at the time decided to do nothing about it, but instead "tucked the video away, deciding to post it publicly when the time was right." In fact he waited and waited, all the way until Groves chose her college, the University of Tennessee, to post the video on Snapchat, TikTok and Twitter, and sabotage her admission.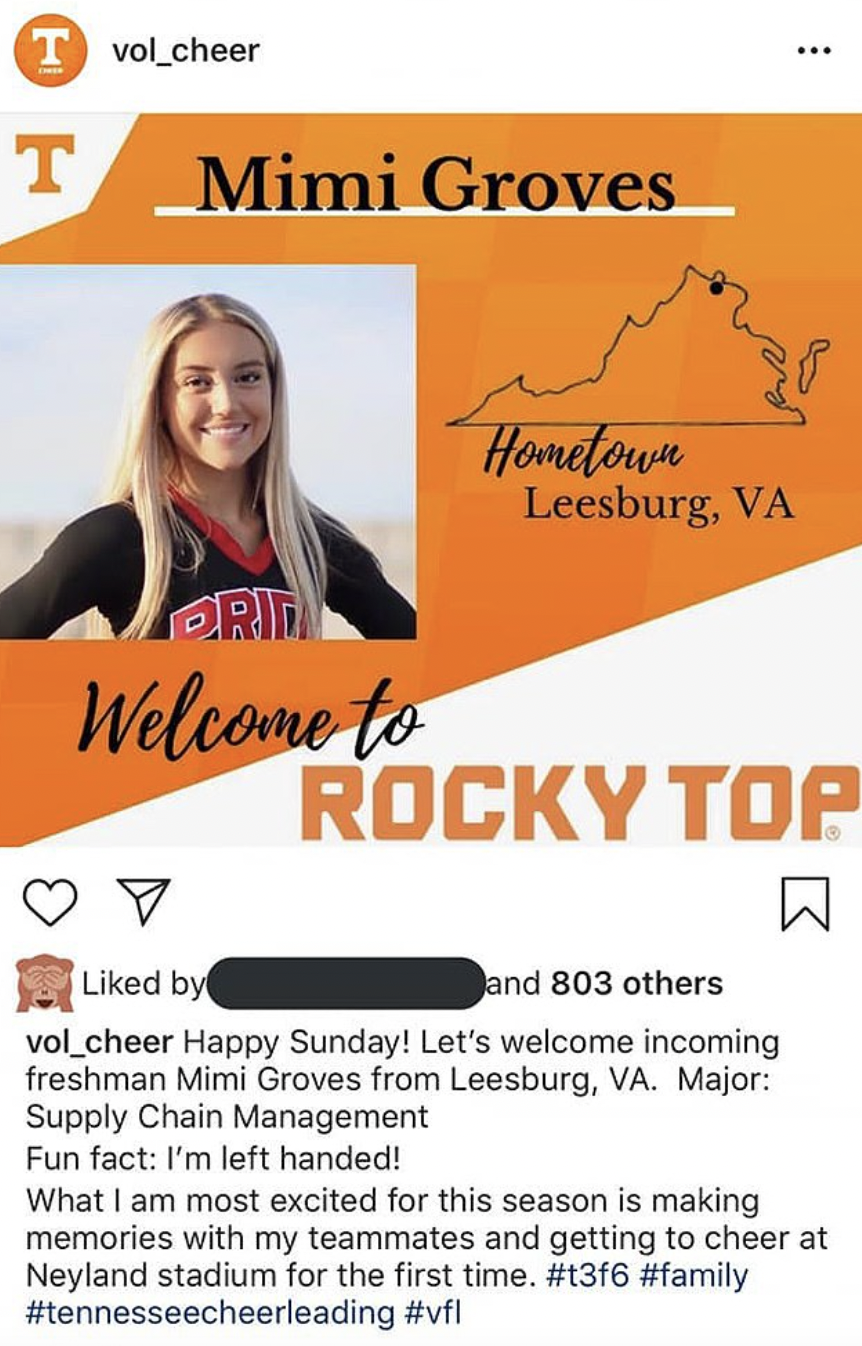 It helped greatly that "the right time" was the chaotic one in the wake of the George Floyd protests and riots – not only in the physical world but also online – as many companies and institutions got very fearful. And as the NYT details, Groves was "among many incoming freshmen across the country whose admissions offers were revoked by at least a dozen universities after videos emerged on social media of them using racist language."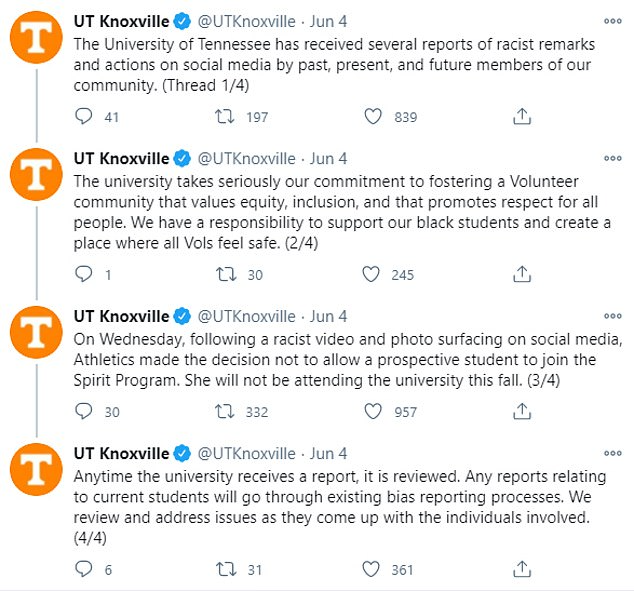 However, Richard Hanania of the Center for the Study of Partisanship and Ideology posted about the NYT article on Twitter, choosing some harsh words to describe Galligan's actions, but also to point out that the tone of the corporate publishing giant's has been to "celebrate a reckoning."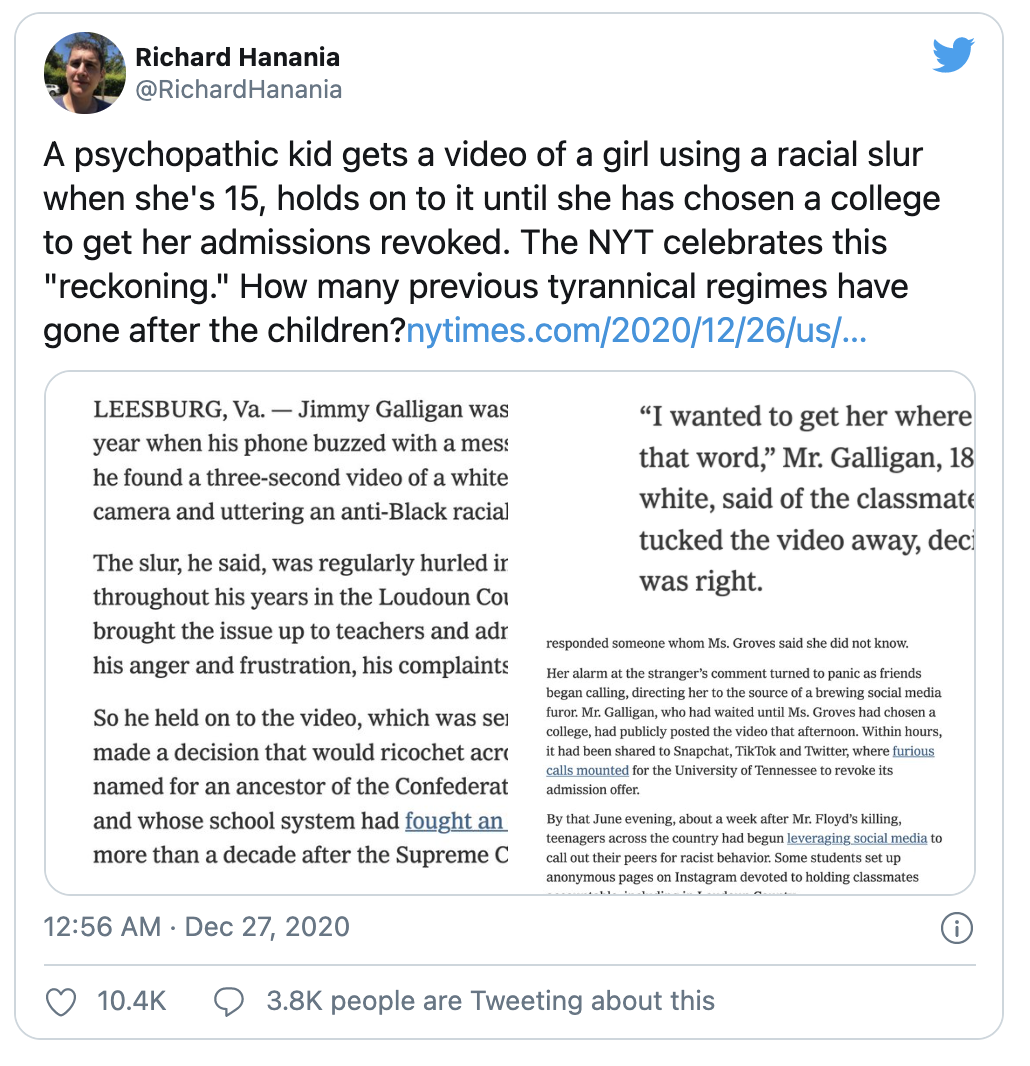 He and his followers see vengeance rather than justice in it all, and also, some hints of authoritarian regimes who strictly mandate what can and can't be said by whom and when, including jokingly, or simply, stupidly. Democracy surely must be able to "cover" for that "crime" too?
Apparently not. Meanwhile, the NYT reports Groves said her video, that started as a private Snapchat message, betrayed her as "not understanding the severity of the word due to her youth."
Plus – "it's in all the songs we listened to, and I'm not using that as an excuse."