The New York Times is one of those "newspapers of record" whose credibility and trustworthiness is supposed to be accepted without question.
But a series of incidents involving unprofessional conduct of some of its reporters, and some decisions made by the paper in dealing with internal controversies, are now revealing deeper issues plaguing journalism itself: a trend of policing online speech and championing censorship, that should be counterintuitive, to say the least, to this profession.
In addition, a new front is being opened in this and other large corporate media to try to put not only alternative and independent social media, but also podcasting and private apps under control, as those last bastions of free speech, that is increasingly portrayed as the enemy.
The New York Times in not alone among corporate media in churning out a new crop of reporters whose job seems to be little else but to spend time on social media and in online communities, in the hope "catching" a public figure, or other journalists, on the wrong foot – and that would be failure to conform to a strict code of allowed language and discourse these media have adopted for themselves, and are imposing on society. The ultimate goal is to have these people named, shamed and, if possible, canceled.
One recent example shows the complexity and harm behind this seemingly simple and vacuous waste of journalistic resources, which astute observers refer to as arrogant hall-monitoring: NYT's Taylor Lorenz, who is supposed to be covering tech, was instead monitoring conversations on the invitation-only chat app Clubhouse, to erroneously "report" that she heard entrepreneur and investor Marc Andreessen use the word "retarded" in a conversation about the Reddit-driven GameStop phenomenon.
Lorenz also showed the names and faces of those "guilty" of simply being present during the event and not commenting on it.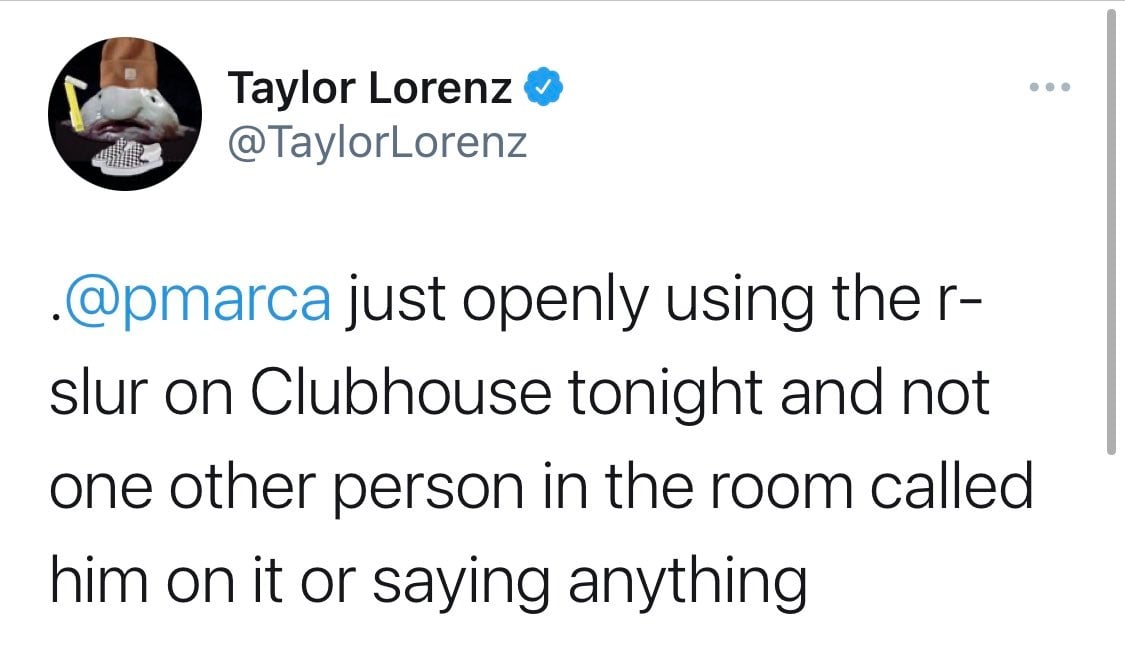 The term is widely used on Reddit as part of the community's ethos, in a self-deprecating and ironic, but also defiant rather than offensive manner.
On top of that, it turned out that Andreessen never used this "slur" in any context, but that another participant in the discussion, someone mentioned that Reddit users gathered on r/WallStreetBets speak about themselves as a "retard revolution."
Once this was explained by moderator Nait Jones, Lorenz – who had tweeted her "finding" along with naming other people present in the chat – deleted that tweet without apologizing, or making a correction.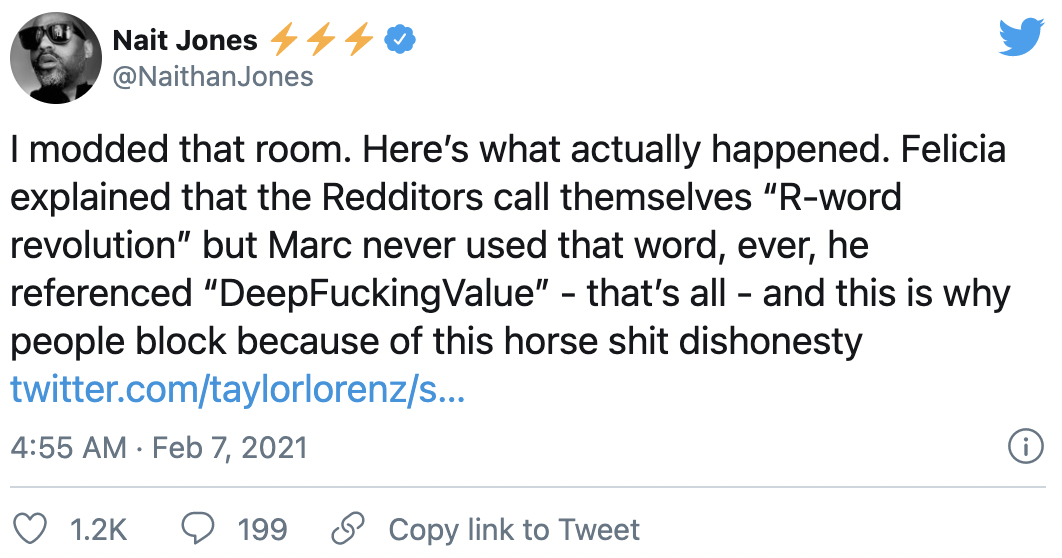 Instead, she spoke about the situation as being "clarified" and made her Twitter account private.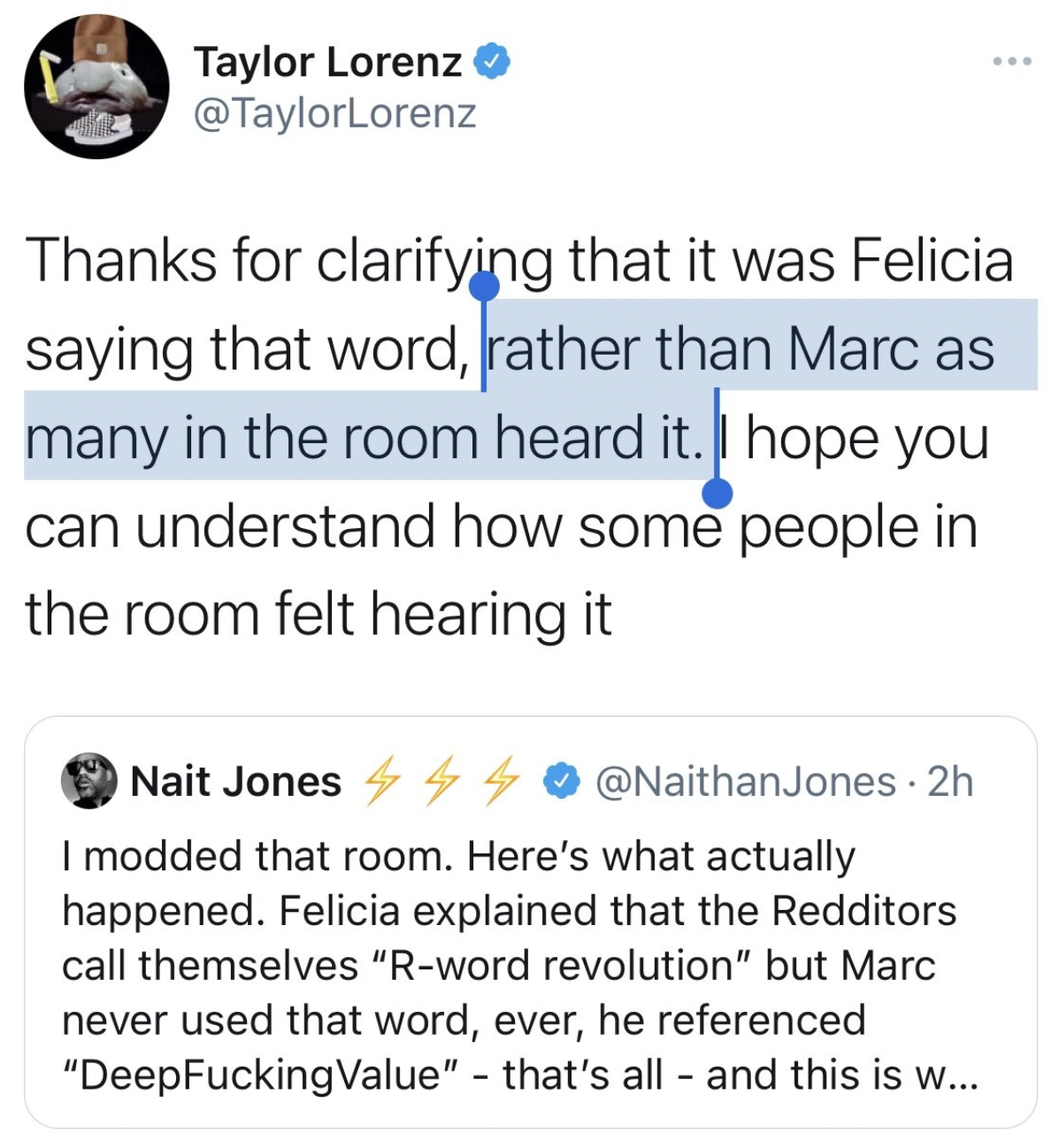 Lorenz seems to have developed a particular knack for policing Clubhouse, and has gone beyond the scope of journalism into the realms of a more personal vendetta, committed to documenting what she see as serious harassment, abuse, misinformation, "and other Clubhouse moderation issues" – while inviting others to contribute to this dossier that purports to prove the app is rife with harassment, abuse, extremism, disinformation, and scams.
But what's really behind such zeal and focus, might be the nature of the private audio app itself. With major social media platforms now having been brought to obediently toe the mainstream line and crack down on pretty much anything a petulant politician, activist, or journalist points their finger at – these and similar platforms, including strongly encrypted ones, emerge as the next "enemy" in the war on free online expression.
CNN, NBC, and the New York Times have become the hotbeds of a kindergarten reporting style dedicated to enforcing their outlets' agendas through a type of surveillance of social media and cries for punishment of those who are found guilty by what often amounts to a "journalist" judge, jury and executioner.
Parler was removed from the internet, with earnest contribution from Democratic figures like Alexandria Ocasio-Cortez, corporate media immediately jumped to identify the next target, and that became apps like Telegram and Signal.
Beyond the damage that this does to every user of the internet hoping to be able to express themselves freely, this type of witch-hunt extends beyond targeting "uncomfortably" free platforms and is aimed against individuals, like Andreessen, or even colleagues, like NYT's Donald McNeil who was recently forced to leave his job amid another controversy centering on slur words, but without taking into account the context they were used in.