A nurse from Salem, Oregon, has been put on administrative leave for what the Salem Health hospital said was her "indifference" towards restrictive coronavirus measures online.
In a statement on Facebook, the hospital called a TikTok video that the nurse, Ashley Grames, posted on the @Loveiskind05 account a demonstration of "cavalier disregard" for how serious the coronavirus pandemic is.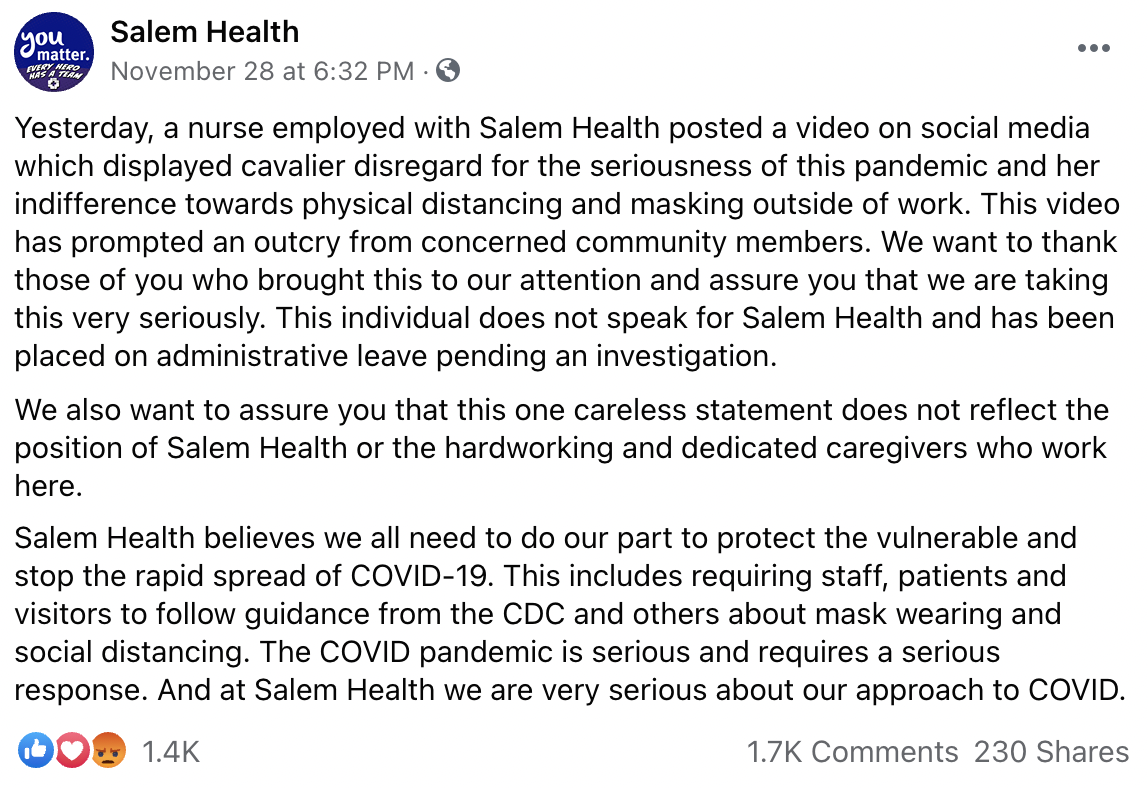 The short video shows a woman in medical gear with a shocked expression on her face, and is captioned by suggesting this is how her coworkers react "when they find out I still travel, don't wear a mask when I'm out and let my kids have play dates."
It turned out that the hospital only found out about this when Facebook users reported the nurse in the comments left on the health institution's page, warning in a dramatic tone that their staff may not believe in science, does not understand basic protocols, and even questioned how sanitary the facility is.
Others wanted to see the nurse fired rather than suspended, referring to her TikTok as proof of "incredibly" irresponsible behavior and urging the hospital to pay closer attention to whom it hires.
Comments left on the hospital's Facebook statement announcing that Grames was now on administrative leave are all a similar negative tone when viewed in what the giant social media network determines to be "most relevant" order; but if you choose "newest," it is mostly users who defend her.
Some note that as long as the nurse is coronavirus negative her activities outside of work hours should not be scrutinized in this way. Others point out that she is not alone among medical professionals who don't think there are benefits to wearing masks, indoors or outdoors.
One Facebook user asked if Grames had no right to live her private life the way she wants to, and whether her employer can dictate it outside the work environment. They also expressed disgust over the fact that the nurse was denounced by others, noting, "this isn't a communist country."
But Salem Health called those people "concerned community members" and thanked them, distancing the hospital from Grames by saying she was "not speaking for them" – but it's highly unlikely that the nurse, who has refused to comment on the situation, had this intent when she made the video that has since been deleted.