There's great news for all the folks that use Overcast as their main podcast player, and even for those who don't.
Have you ever wanted to share an episode of your favorite podcast clip with your friends on Facebook, Instagram or Twitter but found it just too complicated and time-consuming? Or if you run your own show, then you've definitely gone out of your way to share your podcast clips just because there was no simple way to do it. Well, you're not the only one, and recently developer Marco Arment released an update on Overcast that will solve your problems for good.
In the latest update (2019.4), Overcast received a new podcast clip-sharing feature – a change that would make the process of sharing podcast clips simple, easy and free.
Podcasts are audio files and no one really shares audio clips these days as it's been too much of a complex task for the average users. Most social platforms don't even support sharing audio, which means the only way for you to share a podcast or a piece of it is to share the URL or to turn it into a video. All this mess, just to share a podcast is forcing you to add a video or just a static photo in the form of a video to your podcast in order to share it on Facebook or Instagram.
Doing this on your own using third-party apps was possible even before but if you've tried it you probably know how time-consuming it is, even the YouTube video instructions on how to do it are more than 3 minutes long.
Therefore, the newest Overcast update is worthy of high praise.
With the latest update, you are not limited to sharing only audio files, now you can share clips as videos as well, up to one minute for each. One great thing about this feature is that it's compatible with all public podcasts. All you have to do, to get started, is to tap the share button in the upper-right corner.
You have the choice of selecting your clip to be in a portrait mode, landscape or even in a square video format using the current Overcast theme settings. Using the drag keys you can choose specifically which part of a podcast you want to share, even if it's only a joke someone said that lasts 5 seconds.
Arment himself noticed that, even though it's increasing, the popularity of podcasts and the podcast culture itself has not really reached its full potential yet, which is why he thought it would be a smart choice not to force Overcast branding on files shared using Overcast, therefore, "Shared with Overcast" badge is optional.
Additionally, for visitors that are not logged in, Overcast's public sharing pages will display badges for other podcast apps as well as the RSS feed for any podcast that's listed in Apple Podcasts.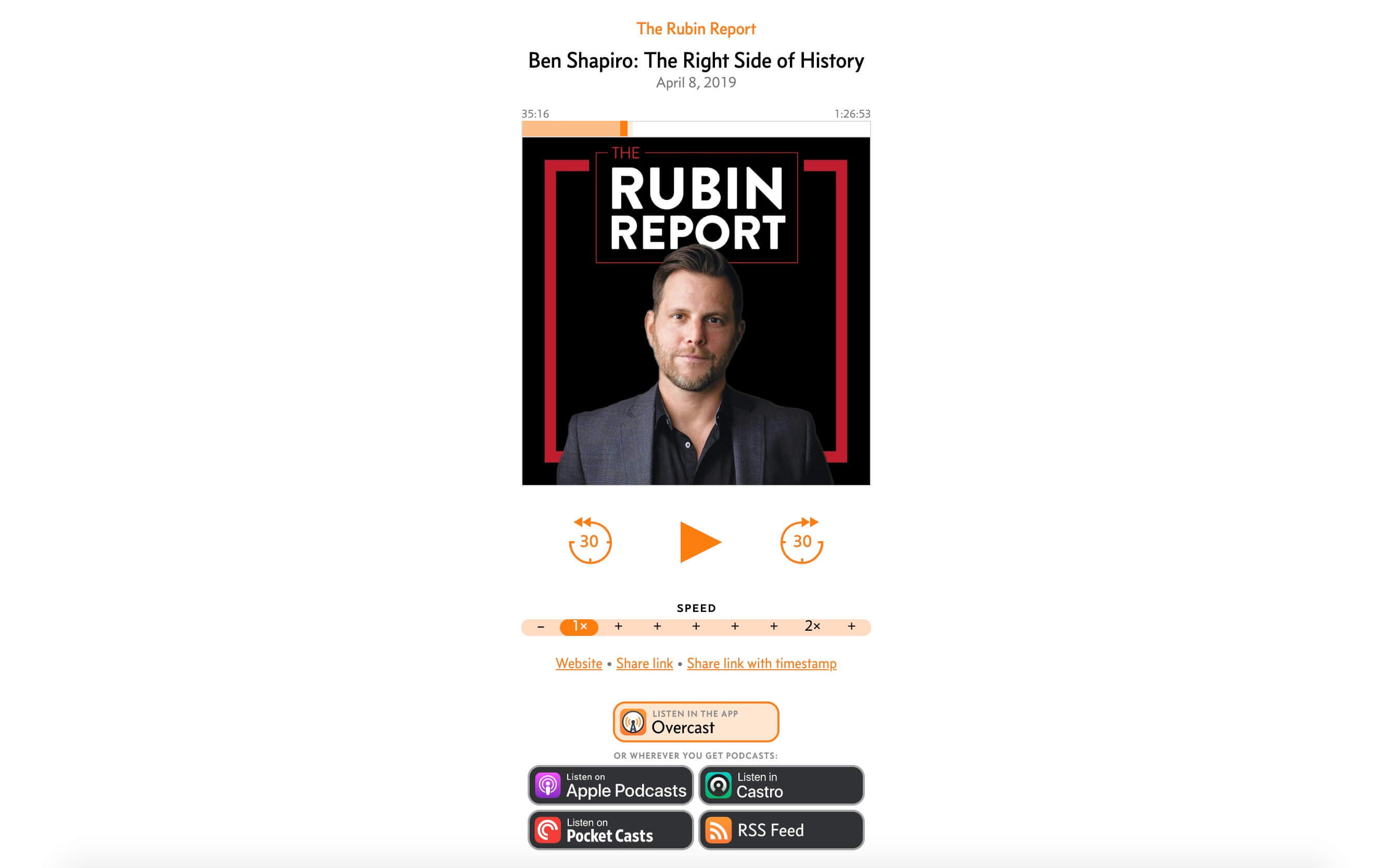 These days, centralized platforms are the way most people create and share content. However, this sharing tends to be limited to being mostly inside the platform itself.
For example, it is more convenient to share Facebook videos on Facebook's social network than YouTube videos. Cross-platform sharing is strongly discouraged using all kinds of dark UX patterns.
It's not valuable for many platforms to allow their users to leave their walled garden. But with this new Overcast feature, Arment takes a much more libertarian approach and supports the medium of podcasting itself.
In order to empower people in sharing content, we also need to have platforms and solutions that treat content as a first-class citizen, allowing a diverse range of ideas to easily spread. This new feature from Overcast honors that fully.