The push to get as many people as possible inoculated with the Covid vaccine looks to be taking a turn towards the extreme in some countries, with civil liberties being crushed further.
Health and military authorities in Pakistan's Punjab province, that has the largest population in the country, have announced a new policy that would punish citizens who refuse to get vaccinated by disabling their SIM cards, i.e., cutting them off from phone and mobile internet communication.
On Thursday, the Twitter account of Punjab's Primary and Secondary Healthcare Department stated that mobile SIMs of unvaccinated people "may be blocked."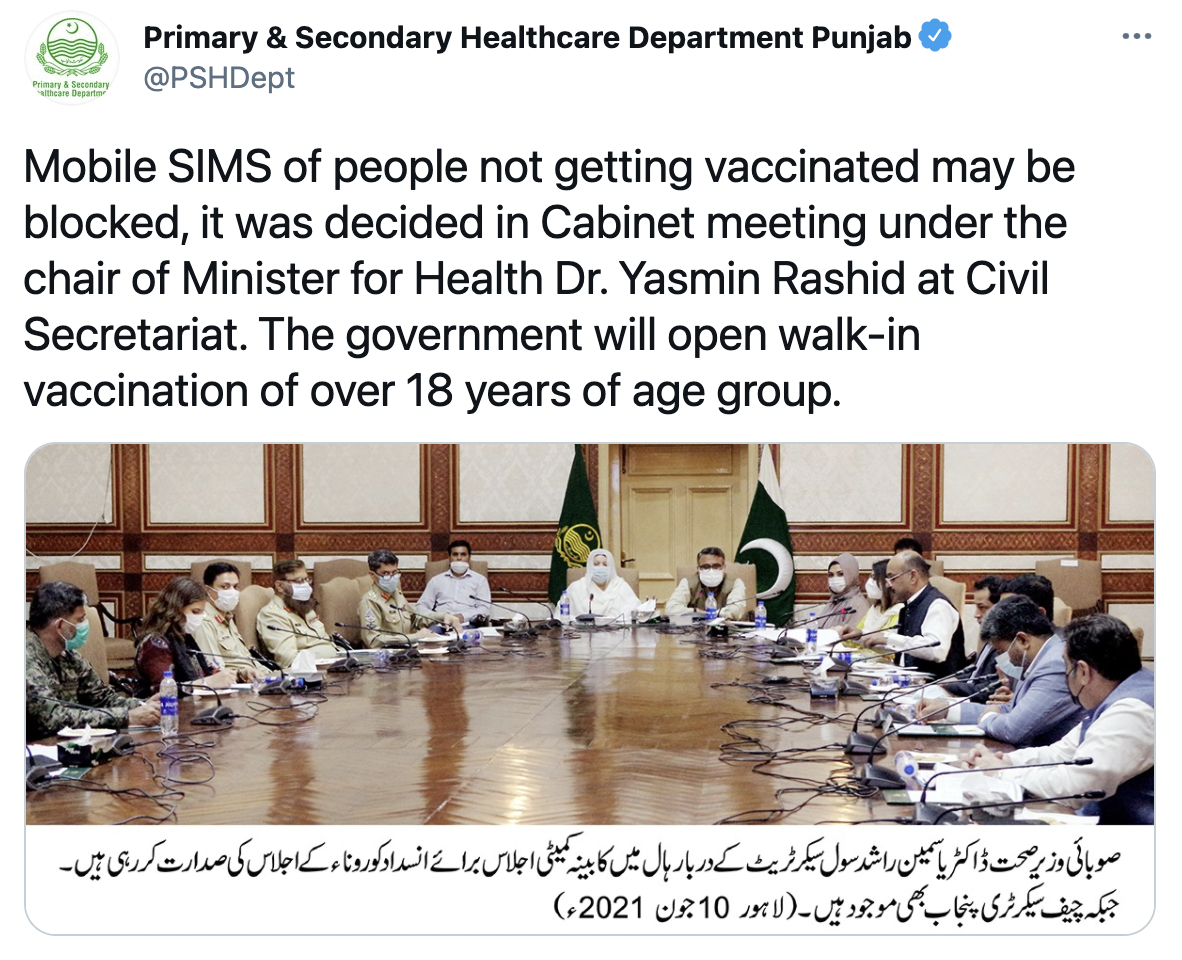 Given how prevalent the use of mobile phones is in some areas, where they represent the only computer people have and their only access online, the measure, if approved by the National Command and Operation Center – which has the last word on these issues – could prove highly damaging.
Later, Pakistani newspaper Dawn reported that the decision seemed to be final, citing Hammad Raza, a spokesperson for the province's Specialized Healthcare Department. The provincial government will work with the Pakistan Telecommunications Authority (PTA) to carry out the plan.
Punjab Health Minister Yasmin Rashid spoke after the meeting when the plan was first unveiled to say that the authorities were doing "all they can" to force people to get the vaccine, and asserted that those who refuse "risk the lives of those who are already vaccinated."
Rashid's comments were reported by Pakistan's Express Tribune. This official also seemed to indicate that there would be a deadline for people to get the Covid vaccine, after which punitive action would be taken against them.
Another Pakistani province, Sindh, is also considering some draconian measures to coerce citizens to get the Covid jab, such as withholding salaries from those refusing to get vaccinated and working in the government sector.
Around the world, authorities have been employing various tactics in a bid to speed up mass vaccination, and these range from offering various types of benefits and even monetary compensation, to threats like the ones now emerging in Pakistan, punishment like preventing people from entering venues, and appealing on their conscience and "guilting" them into taking the plunge.