A petition on Change.org and a cancellation campaign involving calls to the school is demanding the resignation of a board member at Upper Perkiomen High School over retweeting a tweet about Dr. Rachel Levine, the nominated Assistant Secretary of Health.
At press time, the petition had over 4,000 signatures.
The petition is calling for the resignation of Raeann Hofkin, an Upper Perkiomen High School board member. According to the petition, Hofkin retweeted a photo showing Kayleigh McEnany, the former White House press secretary, alongside Biden's appointee for assistant health secretary, Dr. Rachel Levine, who identifies as transgender.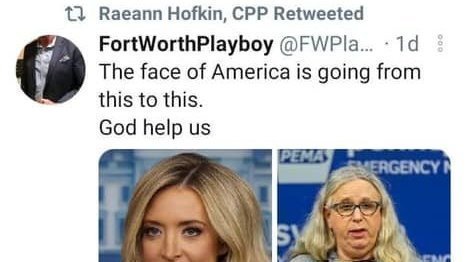 "The face of America is going from this to this. God help us," read the caption on the original tweet.
According to Jennifer Schlosberg, the person that started the petition, the retweet was discriminatory against trans individuals, encourages the harassment of trans individuals, and tells people that appearance is what counts, not credentials or character.
"I am so enraged," said Schlosberg, a former student at the Upper Perkiomen High School. "This is the school district in which I was raised and helped shape me into the person I am."
"This message is not only transphobic but also demonstrating, to kids, it's okay to bully," she added. "It sends the message also on top of those hateful things that appearance, in some way, matters."