Due to the growing popularity of the podcasts, BBC Studios has decided it wants a piece of the action and has moved to invest in the Pocket Casts platform so that it improves the services it offers in exchange for working together to transmit the content of the British studio.
A growing business model
Following the decisions of some of the main podcast platforms to focus on exclusive content, channels such as the BBC have had to look for alternatives that allow them to take their podcasts to the public.
This motivated the studio to invest in the team behind Pocket Casts, a podcast player that could be the solution that the old media needed.
According to Owen Grover, Pockets Casts' CEO, they have tried to differentiate themselves from other podcast players by keeping the platform free of contracts for the users.
According to his words, the future of podcasts lies in free content for users and in offering subscription services with which to support developers.
Subscriptions should not be limited to the podcasts to which people have access, but should provide additional tools for their enjoyment.
In this way, the content can reach a greater number of people, which has resulted in growing popularity for the podcast player, and consequently, in the signing of more contracts with partners like the BBC.
Cooperation between the BBC and Pocket Casts
Although Mr. Grover did not reveal any details regarding the amount of money that the BBC invested, he was very happy that they were his investors, since in his words "they are looking for the same goal" of offering an open ecosystem. "Like us, they care deeply about storytelling, public service and the future of the medium," Grover said.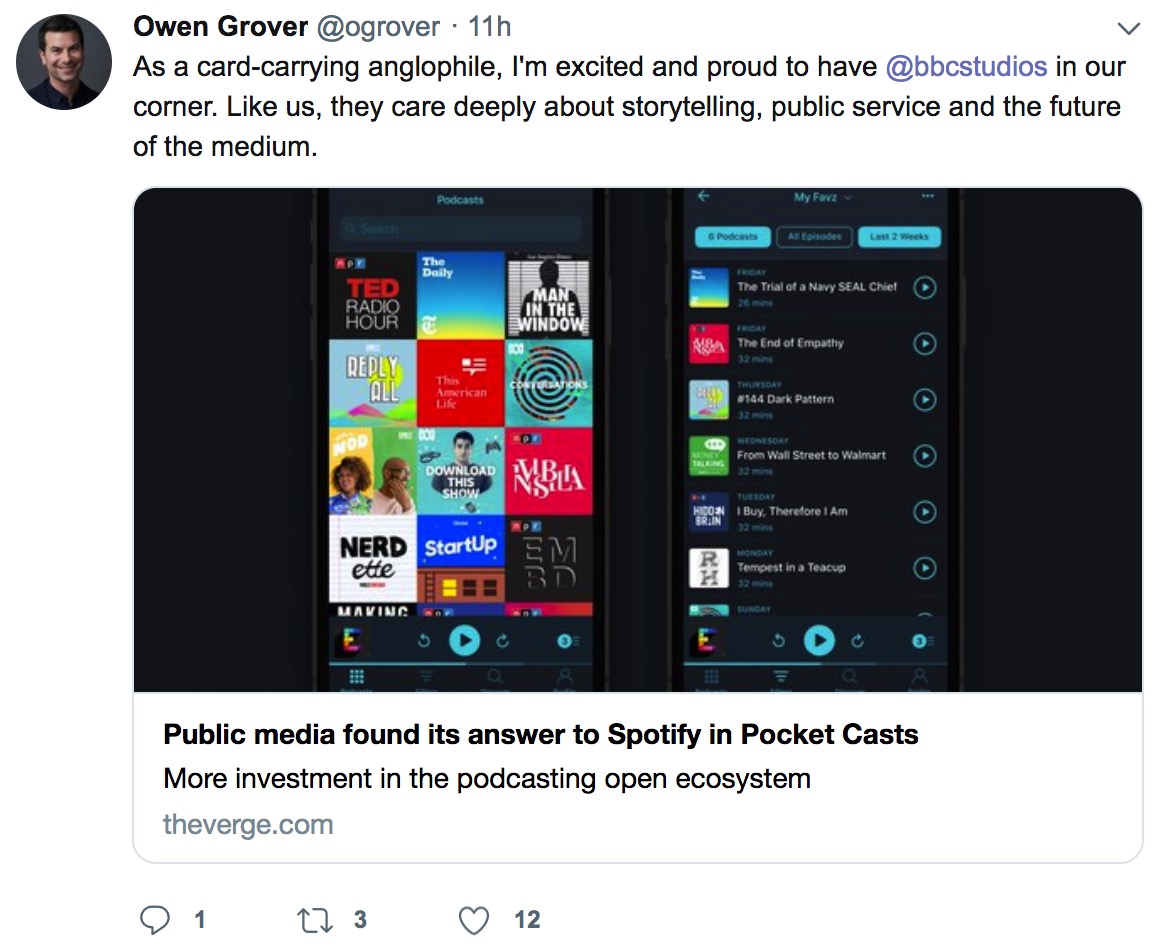 According to the executive's statements, they have as one of their main objectives to continue obtaining an audience for this platform to achieve long-term sustainability and monetization.
To achieve this, the money offered by the BBC will be used primarily for operating costs.
Additionally, Grover said that with the money they could make improvements to the application, as well as advertising campaigns for it.
It should be noted that the BBC Studios are not the only public media that have shares in Pocket Casts.
Companies like This American Life and NPR also support the project, which has helped other media outlets be interested in the potential of the application.