Correction – March 12, 2019: An earlier version of this post contained a screenshot which misrepresented one of @pocketcasts' replies on Twitter as "snarky." After reviewing the full Twitter thread, we realized that this single reply had been taken out of context and have updated the post to remove the screenshot and the description of "snarky" from the post. We apologize to Pocket Casts for this error.
The Pocket Casts app has been one of the most popular podcast players for many years. However, when NPR acquired the app last year, many users were concerned that this acquisition would change Pocket Casts for the worse. Now that version 7 of the app has been released for Android, those fears have been fully realized, with the latest version of the app featuring an unpopular redesign and removing many basic features.
Last November, version 7 of Pocket Casts was released for iOS, Web, macOS, and Windows 10, with the Android version of the app launching into open beta. Users who downloaded version 7 of the app were highly critical when it was released.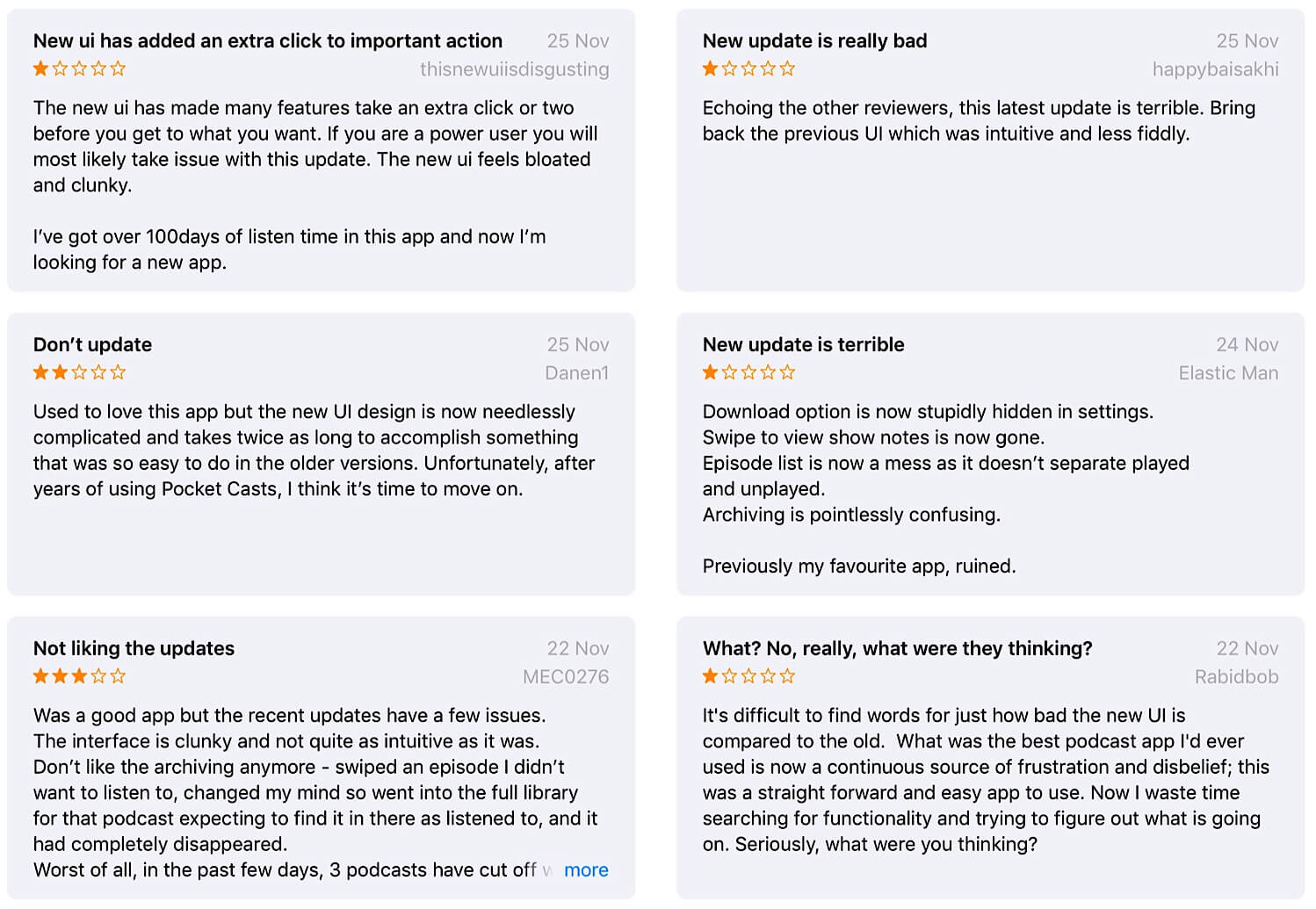 However, since the Android app was initially launched in beta, most Android users didn't have access to version 7 of the app until a few days ago when it was released to all users. Now that Android users have full access to version 7 of Pocket Casts, many have expressed their frustrations with the update.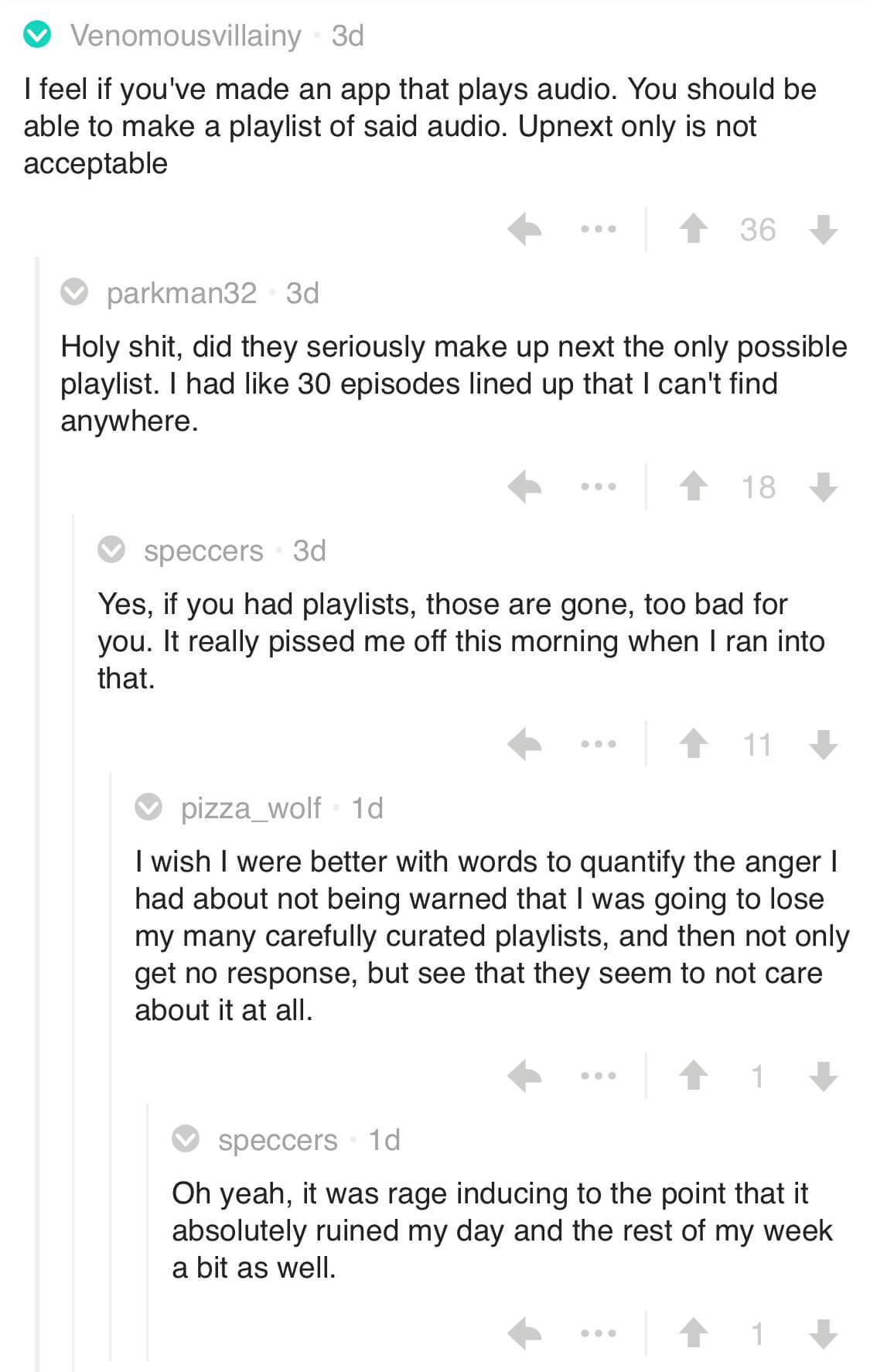 Here are the main things users are taking issue with in version 7 of Pocket Casts:
The removal of playlists
The removal of multi-select on podcast menu episodes
The removal of custom episodes
Not being able to sort by played and unplayed episodes
The new layout being confusing and difficult to use
Shifty Jelly, the developers of Pocket Casts, responded to the backlash with a series of tweets (archive link).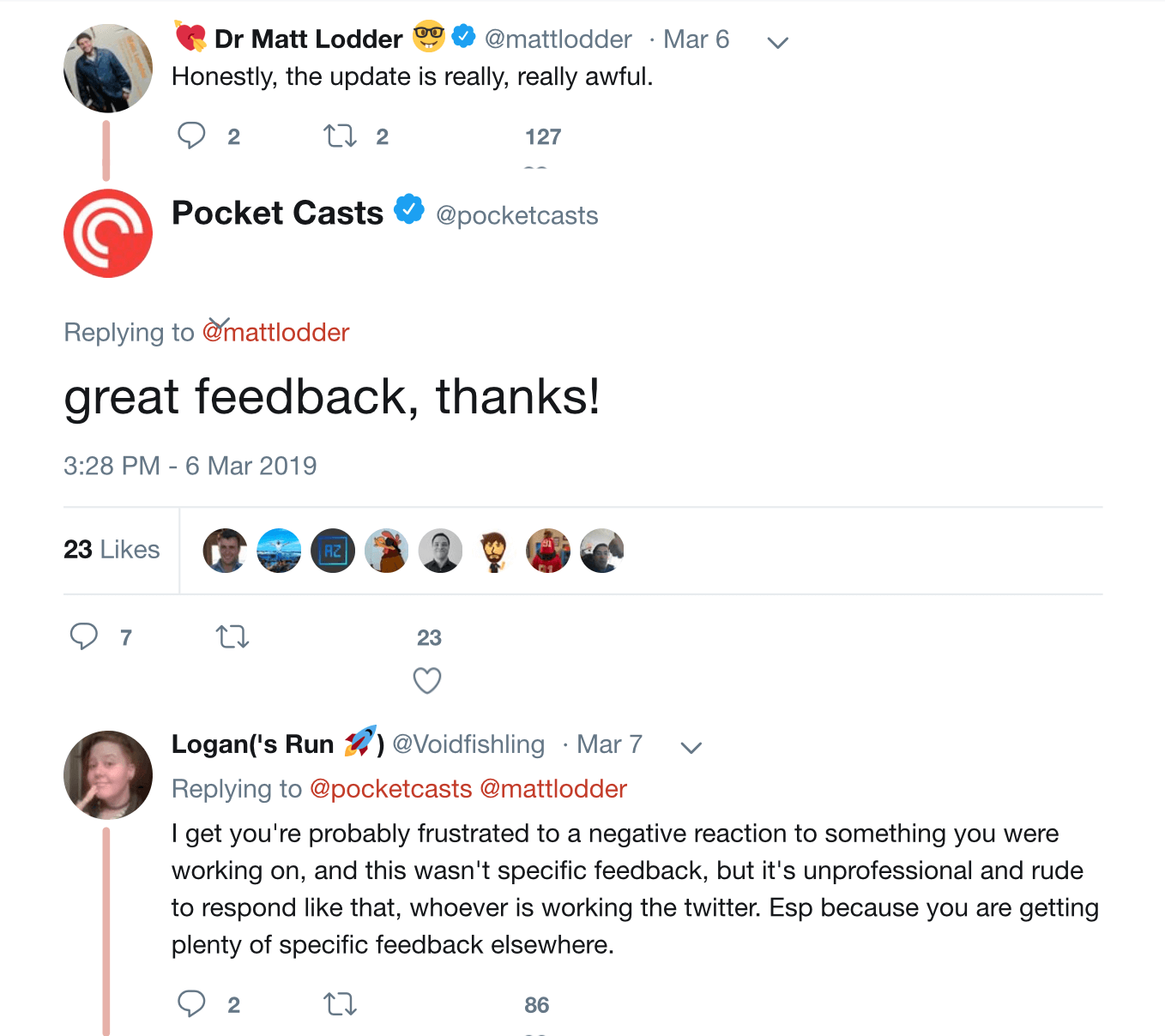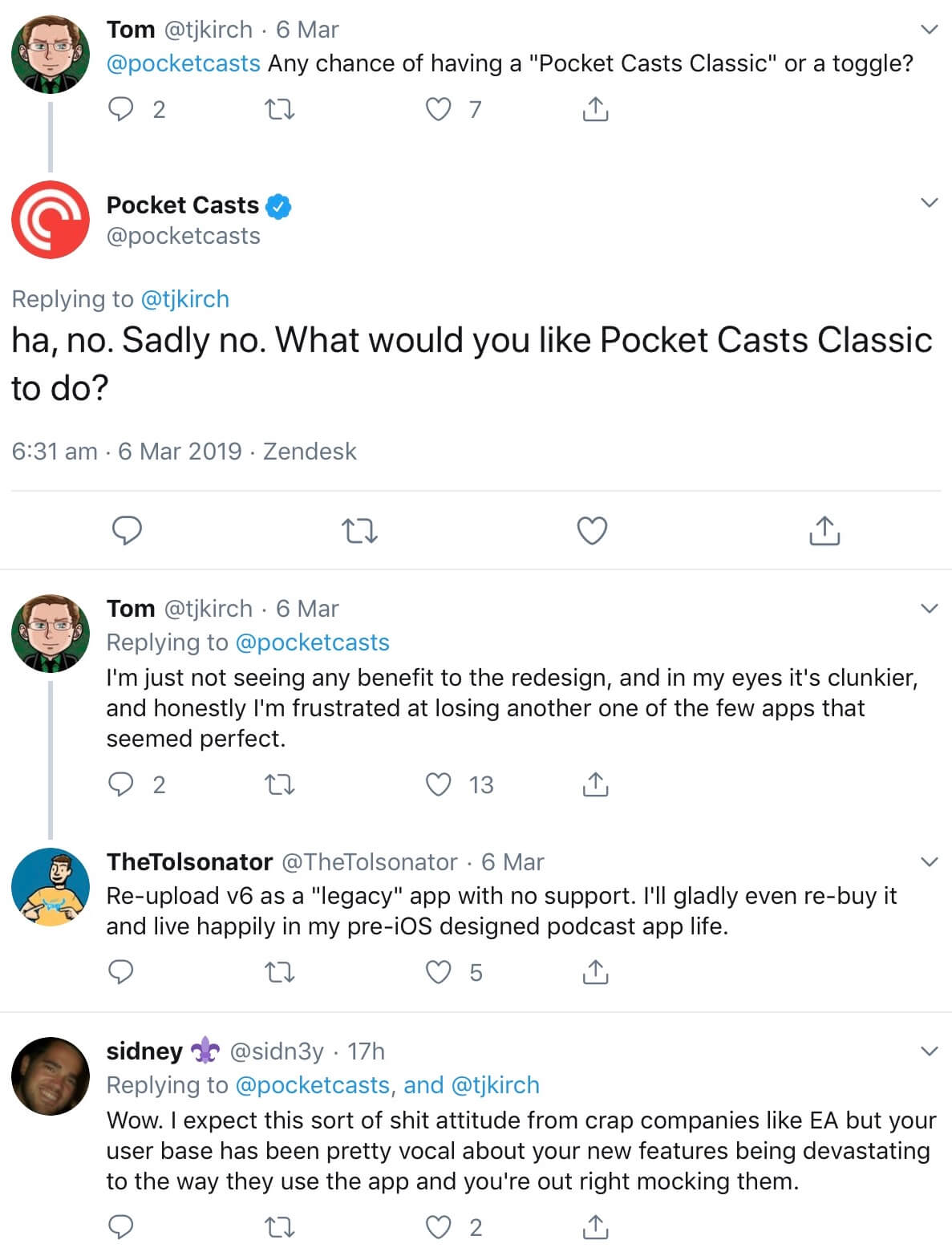 The developers also published a confrontational Reddit post about the version 7 update to Pocket Casts which did little to address the concerns of users and included the following baffling explanation for removing the popular playlists feature:
To clear one thing up: our app has a playlist feature, it's called "Up Next".
The fallout from this version 7 update is significant. The top 10 posts of all time (archive link) on the Pocket Casts subreddit are all related to the issues users are having with this version 7 update of the Android app.

The backlash also seems to be having a negative effect on downloads and sales of Pocket Casts on the Google Play Store. According to @theskywasnohelp, Podcast Republic reached number 7 in the Google Play trending charts within days of Pocket Casts version 7 being released for Android and 5 of the top 25 trending apps at the time of this tweet were Pocket Casts competitors.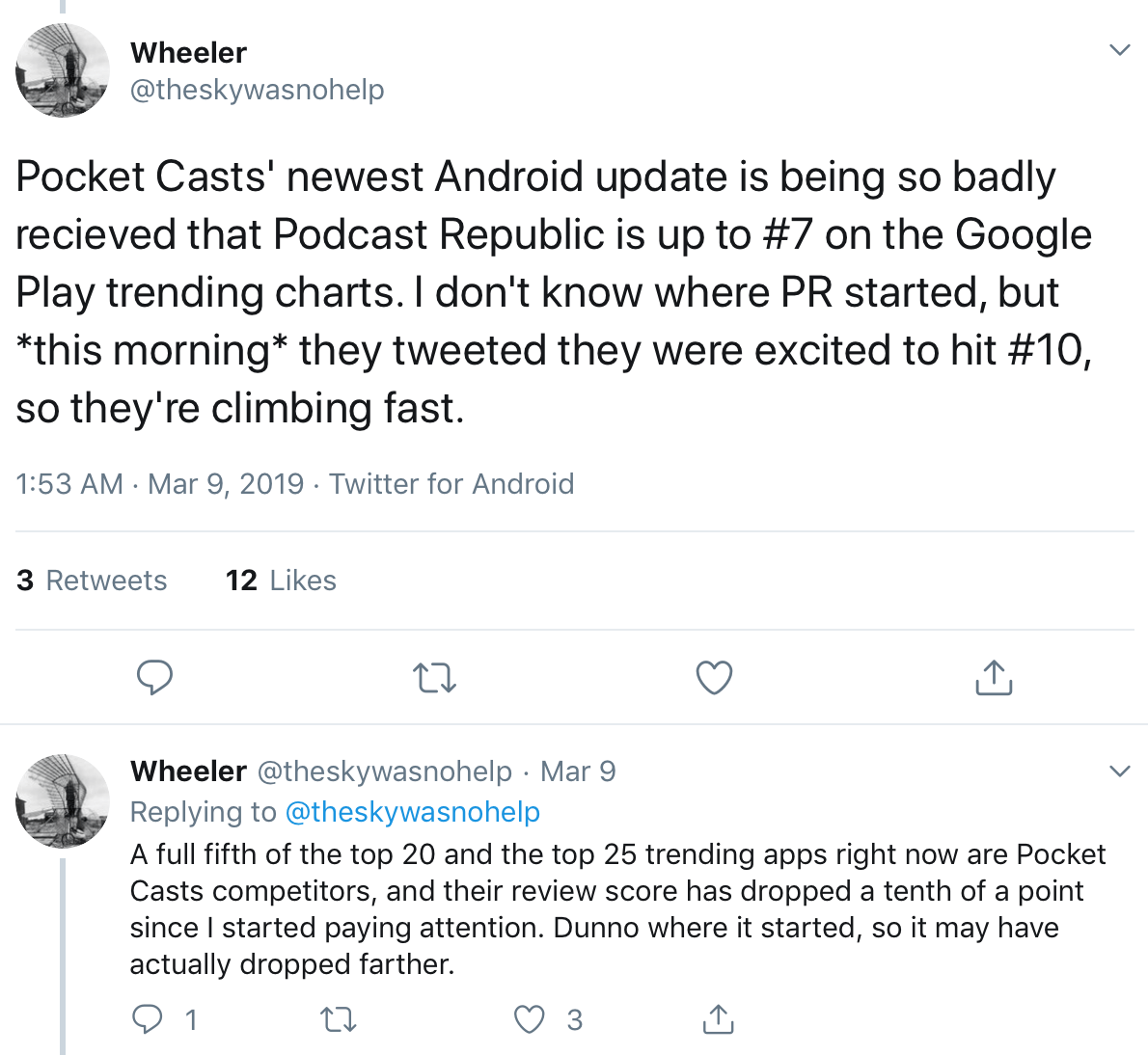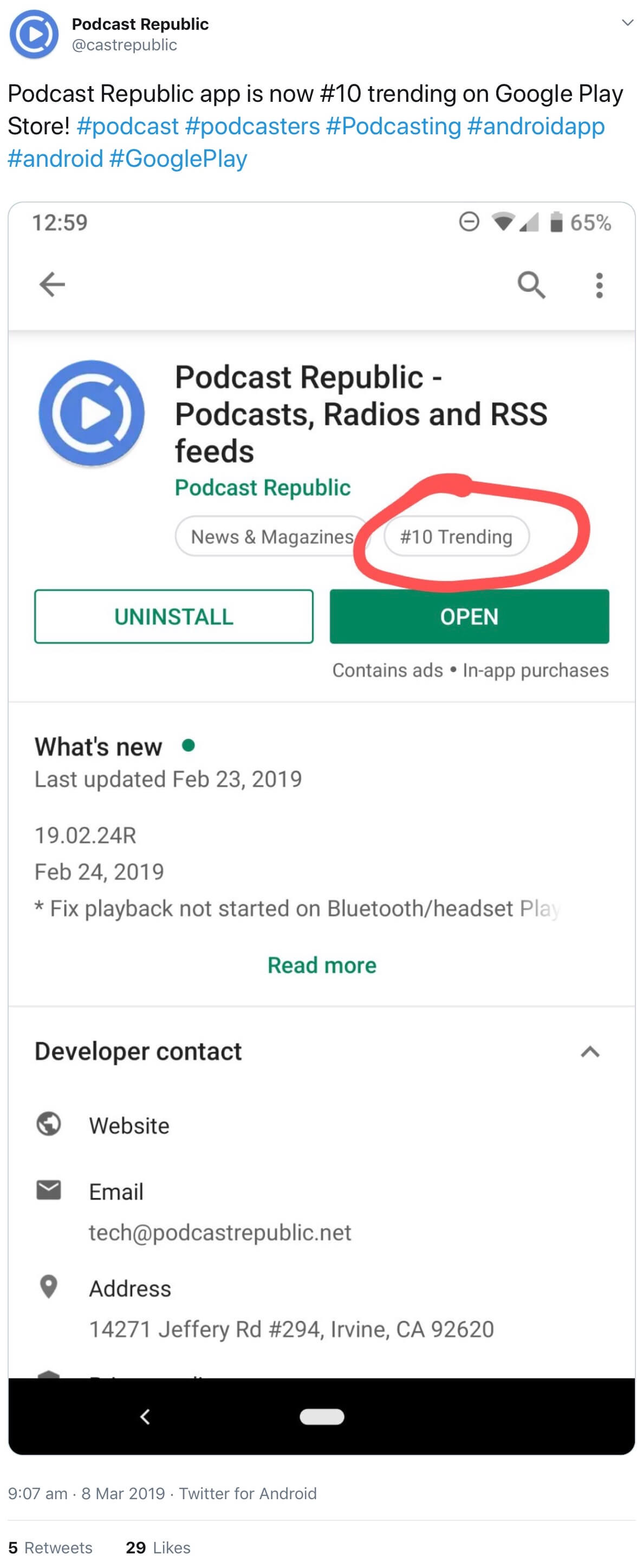 Former users of Pocket Casts are now actively seeking replacements after this version 7 Android update and are switching to competitors such as Podcast Addict and Podcast Republic.