The Podcast Movement has apologized for The Daily Wire's Ben Shapiro's appearance at the conference in Dallas. The Podcast Movement received backlash from trans individuals for Shapiro's appearance.
"Hi folks, we owe you an apology before sessions kick off for the day," began Podcast Movement's apology in a Twitter thread. "Yesterday afternoon, Ben Shapiro briefly visited the PM22 expo area near The Daily Wire booth. Though he was not registered or expected, we take full responsibility for the harm done by his presence."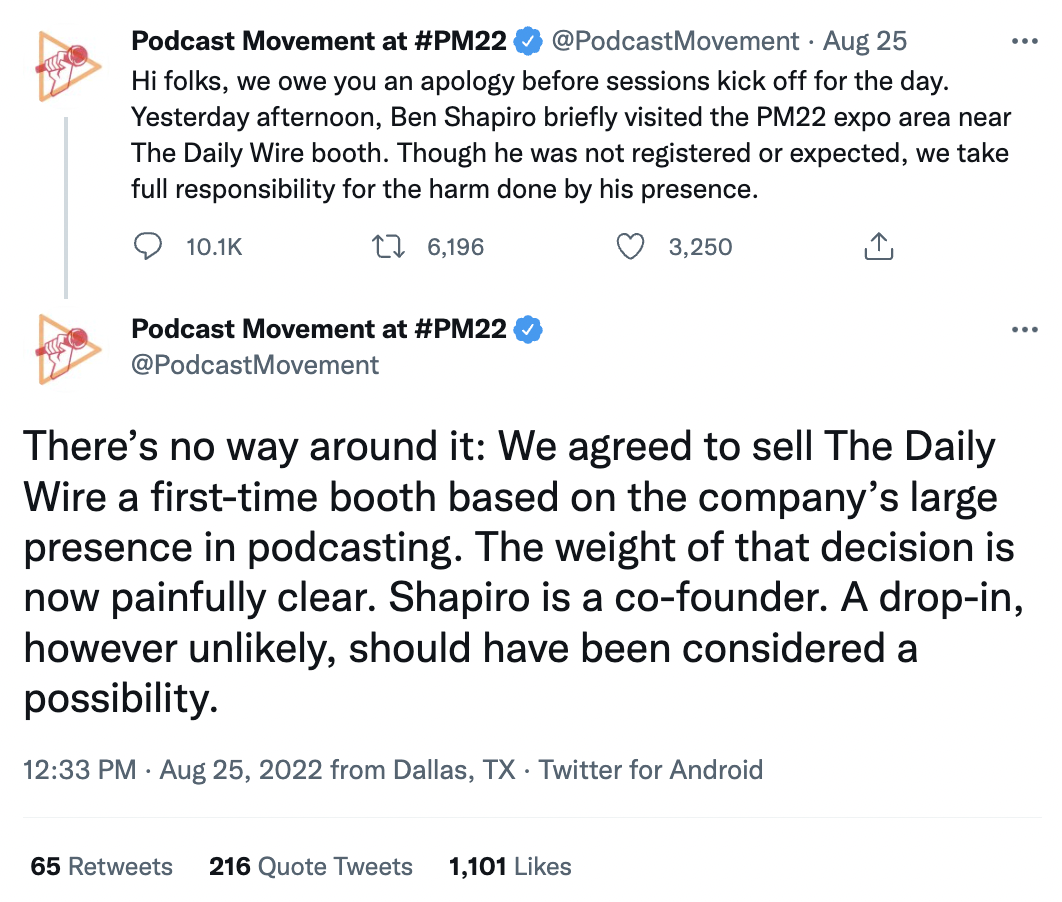 The apology came after a podcaster called Tal, who uses the pronouns they/them, criticized the Podcast Movement for Shapiro's appearance. Tal posted a photo of Shapiro at the conference, and wrote: "Hey @PodcastMovement what the fuck."
"As a trans person, as a queer person, as someone with a uterus, this does not make me feel welcome. This does not make me feel safe," Tal continued.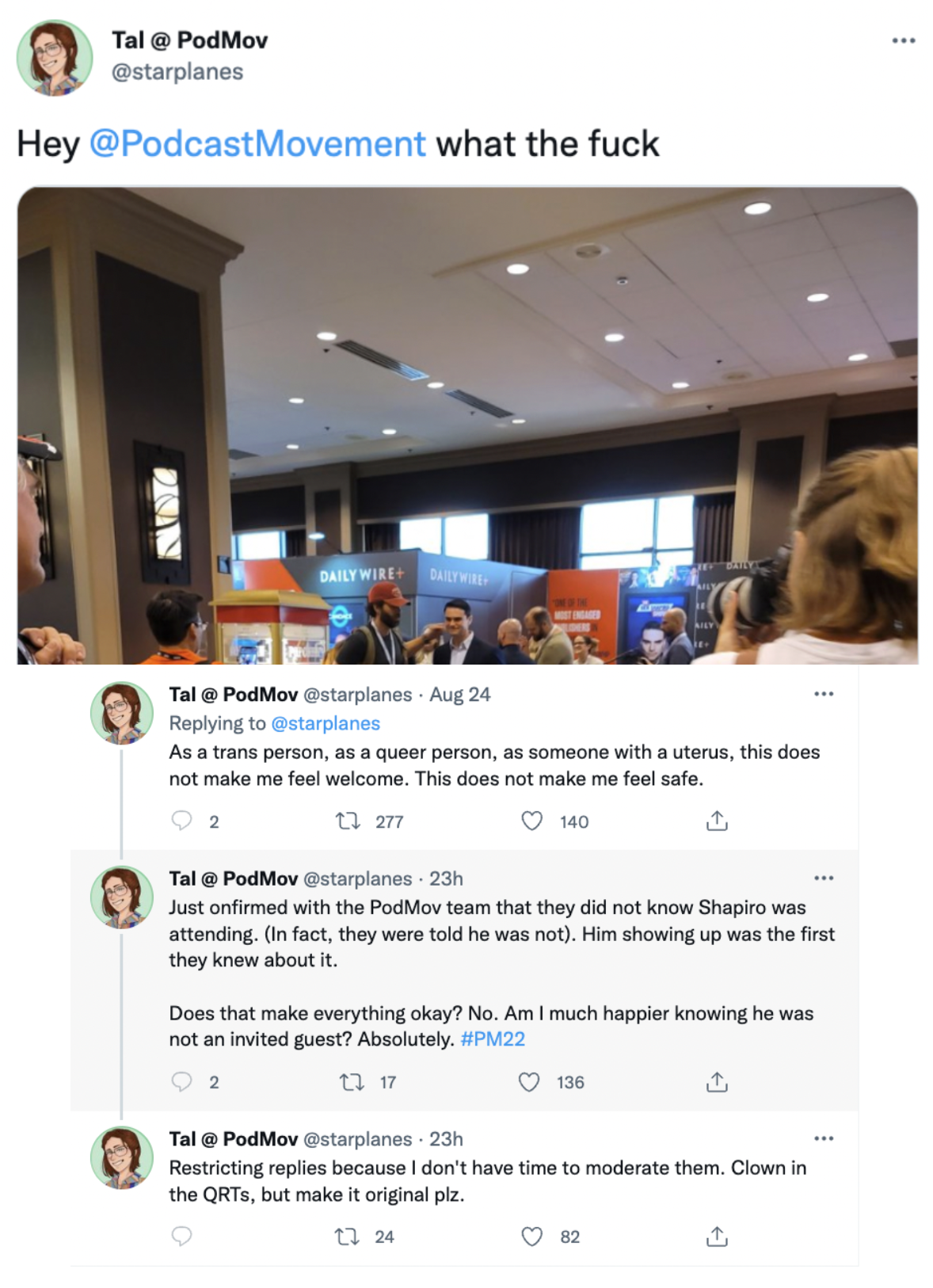 "Just [c]onfirmed with the PodMov team that they did not know Shapiro was attending," Tal wrote later. "(In fact, they were told he was not). Him showing up was the first they knew about it. Does that make everything okay? No. Am I much happier knowing he was not an invited guest? Absolutely."
"There's no way around it," the Podcast Movement's apology continued, "We agreed to sell The Daily Wire a first-time booth based on the company's large presence in podcasting. The weight of that decision is now painfully clear. Shapiro is a co-founder. A drop-in, however unlikely, should have been considered a possibility."
Shapiro responded to the statement that his appearance at the conference caused "harm," saying: "Literally shaking rn. Podcast Movement is threatening my right to exist. This is erasure."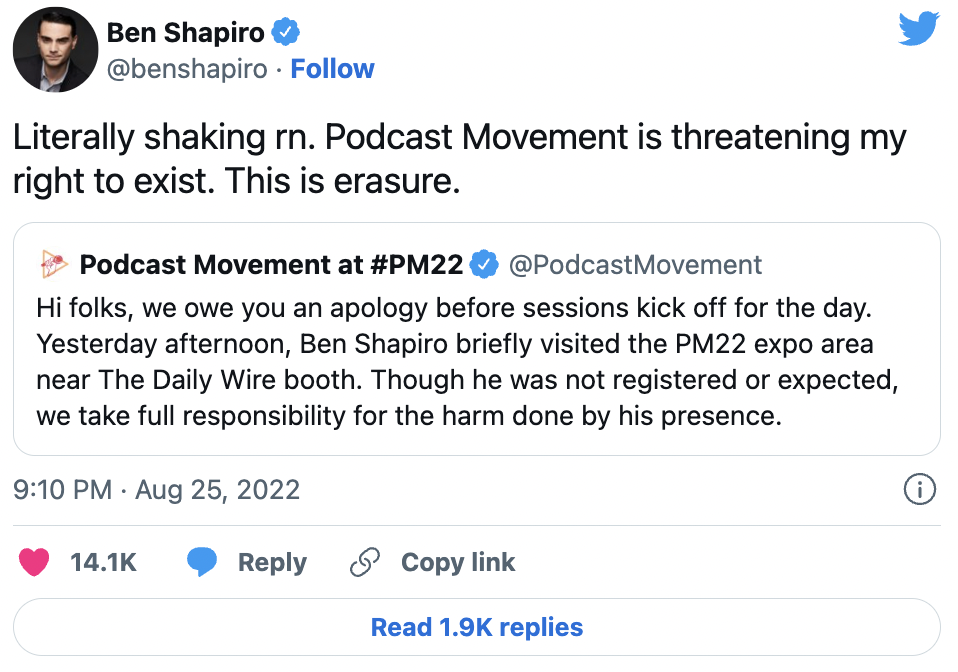 "Many in our community are appalled not just by this incident," said Podcast Movement, "but by our choice to take money from TDW in the first place. As @amahnke said, 'this was signed off on by a human.' Yes. During event planning, the dangerous nature of the company's messaging was overlooked."
The Daily Wire is the country's sixth largest publisher with an audience of 7 million.