Political commentator Candace Owens forced Facebook's third-party fact-checker PolitiFact to remove an incorrect "false information" label it had put on a post where she said that Joe Biden was not officially the president-elect.
While it is good the fact-checker to took responsibility and corrected the error, this story leaves people wondering what else these independent fact-checkers are wrong about.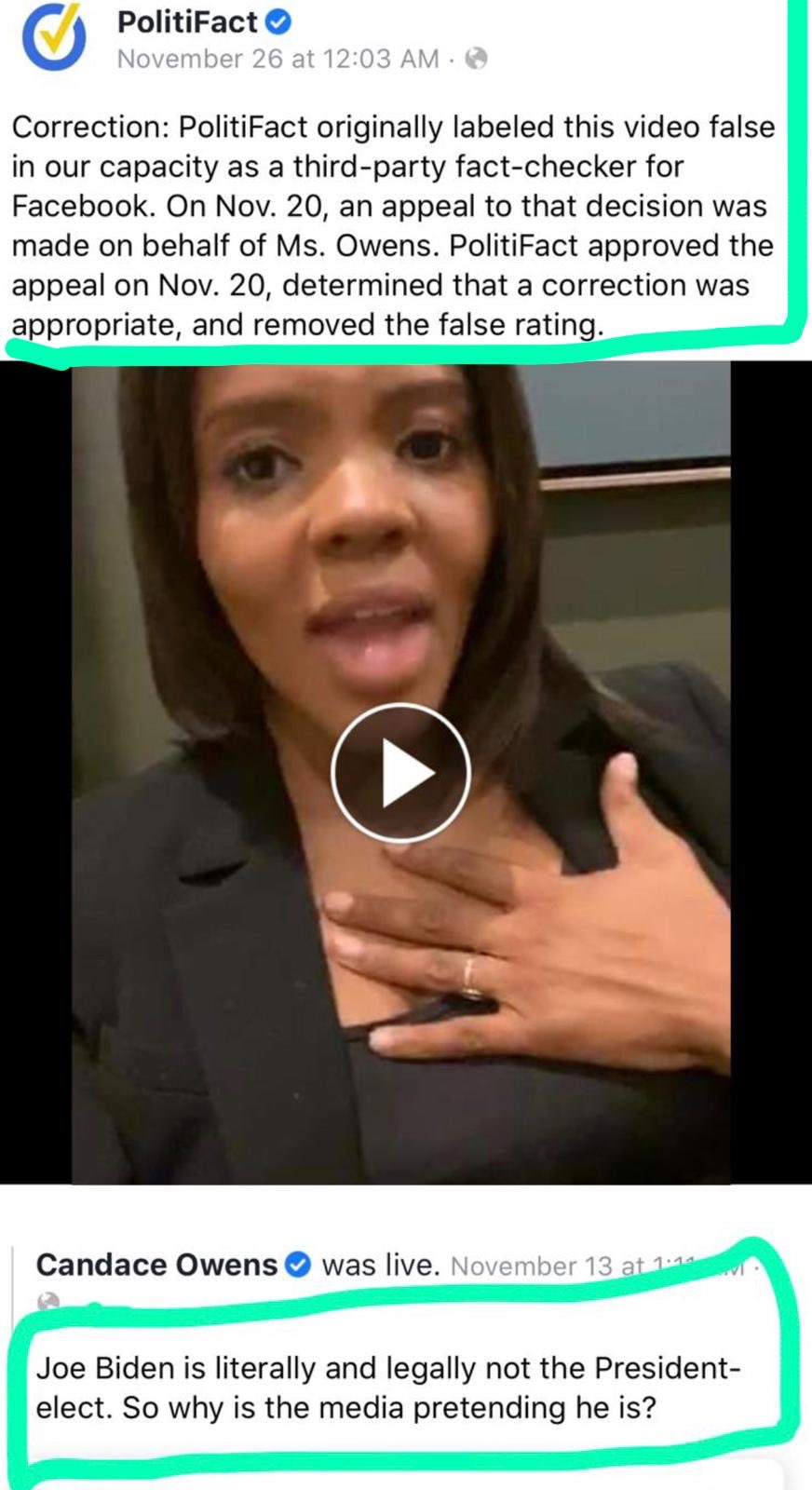 "Weeks ago, Facebook censored a post of mine which truthfully stated that Joe Biden is NOT the President-elect. So, I got lawyers involved. Conclusion? PolitiFact uncensored the post & admitted that they LIED by rating my post false. These fact-checkers are lying for Democrats," Owens wrote.
The post that PolitiFact wrongfully flagged was a video captioned "Joe Biden is literally and legally not the President-elect. So why is the media pretending he is?"
For a candidate to become the legal president-elect, the election has to be certified in all states.
On November 26, PolitiFact issued a correction, admitting it wrongfully labeled Owens' post as false information.
"Correction: PolitiFact originally labeled this video false in our capacity as a third-party fact-checker for Facebook. On Nov. 20, an appeal to that decision was made on behalf of Ms. Owens. PolitiFact approved the appeal on Nov. 20, determined that a correction was appropriate, and removed the false rating," the fact-checker wrote on Facebook.
Owens also bashed PolitiFact and other independent fact-checkers, calling them "communists" and vowed she would continue fighting them in the courtroom. She finished her statement insisting Biden was not the president-elect.