At least one of the repositories on the Popcorn Software account on GitHub has been shut down due to a DMCA strike that looks like a case of copyright system abuse, since the code in question itself contained no copyrighted material.
The account is home to code for Popcorn Software's multi-platform versions of its BitTorrent client, Popcorn Time, and the project's website.
For now at least, the one repository that is unavailable due to the DMCA complaint is Popcorn Time's desktop version.
Popcorn Time, a fork of a fork of the original project shuttered amid copyright claims, not only integrates a media player into the multi-platform client, but crucially streams free movies and TV shows – using torrents from several sites. It has been viewed as an alternative, free, and therefore copyright-controversial alternative to Netflix.
In 2014, the Motion Picture Association of America came after the original project and managed to take it offline, including by seizing domain names by court orders as far as Canada.
The current incarnation of Popcorn Time is facing trouble on Microsoft-owned GitHub, having a repository of code taken down, or rather "disabled" (likely pending a counter-notice) on DMCA, that is, copyright grounds – even though the code itself contains no copyrighted material.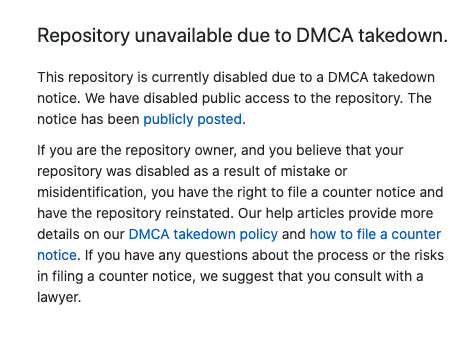 GitHub's notice that is now displayed instead of the repository reveals that it was once again the Motion Picture Association trying to remove the project from the face of the internet. This is a behemoth trade association gathering the likes of Sony Pictures, Paramount, Universal, Warner Brothers, Disney, and Netflix.
The strike aimed at taking down the popcorn-desktop and popcorn-API repositories, and the Association notice said that extensive copyright infringement had been occurring "by virtue of the operation and further development of the Popcorn Time repositories."
But that is not how GitHub itself defines copyright infringement taking place on its platform:
"The DMCA notice and takedown process should be used only for complaints about copyright infringement. Notices sent through our DMCA process must identify copyrighted work or works that are allegedly being infringed."
Based on this, and regardless of the nature and purpose of Popcorn Time outside of GitHub, it's hard to see on what grounds the code hosting platform has decided to go with the Motion Picture Association's request and disable the repository.