YggTorrent.ws, one of France's largest torrent sites, attracting millions of users, has now lost control over its main domain after the domain registry suspended it without any additional information as to why.
According to the statistics by Alexa, it was found that YggTorrent.ws was France's 38th most visited website; with a registered-user count north of three million, YggTorrent was both its own torrent tracker as well as the largest French-language sharing platform.
Despite the popularity and achievements for a relatively young site, negative instances such as being suspended can make a huge dent in the site's overall ranking.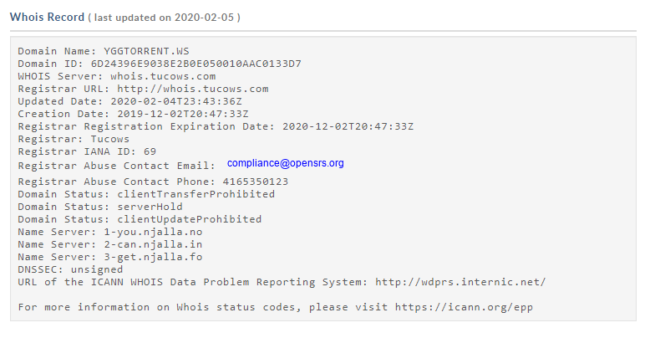 Based on the information disclosed to Torrent Freak by an individual who identified himself as one of the operators of YggTorrent, it was revealed that the domain was "suddenly disabled" and now displayed a "serverHold" status.
ICANN describes the serverHold domain status as an uncommon occurrence which is "usually enacted during legal disputes, non-payment, or when your domain is subject to deletion."
The site's DNS records suggest that the domain was purchased through Peter Sunde's Njalla service; but then, as a privacy platform, the company stated that it had no control over the site's current status.
Furthermore, Njalla also told Torrent Freak that the serverHold status code was set by the .ws registry.
While the exact cause behind the sudden suspension of the domain hasn't been identified yet, copyright infringement can be a plausible reason.
Back in 2018, YggTorrent abandoned its .com domain after the French anti-piracy body SACEM lodged a formal complaint.
Again in 2019, another local anti-piracy group, SCPP, lodged a complaint, due to which the Paris court ordered five French ISPs to block access to YggTorrent.ch, and twelve other websites hosting pirated content.
Due to the current state of domain suspension, French netizens can no longer access YggTorrent.ws; however, the operators of the site are promoting the Sweden-based YggTorrent.se as the primary alternative domain, alongside a few other backup domains.