Baby Yoda, from the new Disney Plus series "The Mandalorian", is a worldwide trend and the meme of the moment after many viewers instantly loved the character on first sight.
However, it was recently used on the official Pornhub Twitter account, in what amounts to a bad marketing tactic, after Pornhub was then accused of promoting the idea of children watching pornography.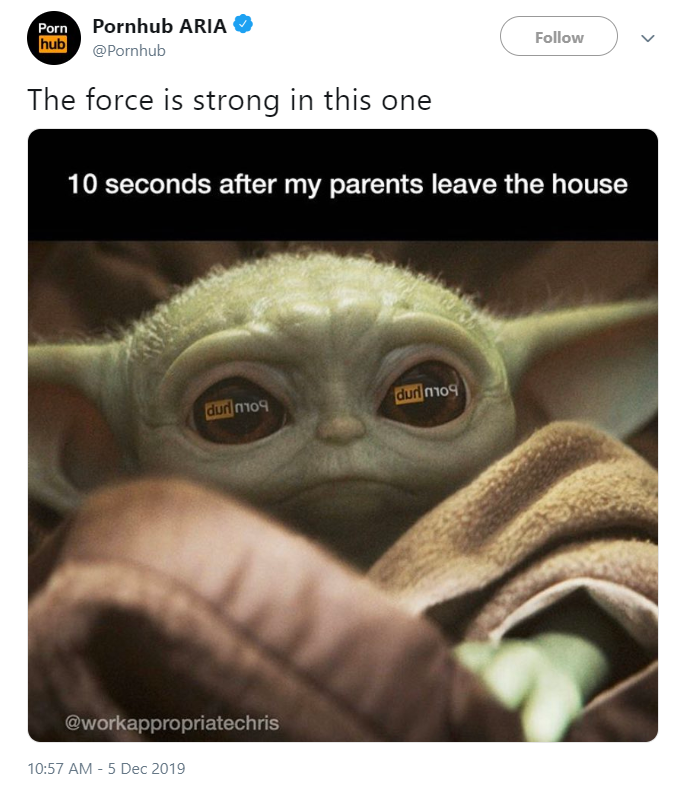 The message behind the meme
In the image published on December 5, we can see the reflection of the Pornhub logo in the eyes of baby Yoda; in addition to being accompanied by the message "10 seconds after my parents leave the house".
The image refers to a child visiting Pornhub when he is left alone in his home.
This attempt to take a popular meme and use it for their own brand marketing went horribly wrong for Pornhub when Twitter users slammed the company for not realizing the implications of what they were suggesting in the meme.
thats a child

— gunnar the zombie hick ? (@last_chance_gas) December 5, 2019
Yoda's species can live up to 1000 years old. Every 10 years is 1 year in human years. Baby Yoda is 50(5 years old in maturity level). Imaginary or not, it's the depiction that is of concern. Children shouldn't be watching porn, joke or not.

— Luca (@Akiezruk) December 8, 2019
I also don't give a shit if "baby Yoda is actually 50" obviously it's a baby, and obviously it's marketed for kids after their parents leave.

I get it that there are a bunch of adult losers that still live with their parents too that probably coom all day. They get the rope too

— Ibanezshredd ?#DLive (@Ibanezshredd) December 8, 2019
Pornhub has now quietly deleted the meme after facing backlash but hasn't issued a comment.