The human brain is estimated to have approximately 2.5 petabytes (1 Petabyte is 1 000 000 gigabytes) of memory. That would be enough to store 3 million hours of TV shows. Your TV would have to run continuously for 340 years to play it all. But no matter how intelligent and smart, we as a species are susceptible to forgetting things. For this exact reason, we've been relying on using written notes for centuries. Ancient Roman emperors had a special writer or a group of them to manage their notes, activities and to capture their thoughts. Today, in the 21st century we still rely on notes and due to the massive increase of smartphone users, most of those notes are written in electronic form.
We use notes for things like passwords, recipes, credit card PIN numbers, duties we must attend to and so on. Throughout the years there have been many apps and programs that serve this exact purpose. Using the built-in "Notes" app can prove pretty reliable, it's basically pen and paper. But it has little to no other advantages to actually using a piece of paper. Also, it gets pretty hard to find anything once the notes pile up.
One app that stood out for a really long time was Evernote.
Evernote was launched in June 2008 and has reached millions of users in a very short time due to its many powerful tools. With many businesses relying on Evernote, its popularity skyrocketed.
We're all aware that being in possession and having access to such vast amounts of sensitive information comes at great risk. Nobody wants to have their weekly plan leaked to the public. In late 2016 there were speculations that Evernote staff were looking at the the stored users' notes for their machine-learning software.
That, together with a massive security breach that took place in 2013, compromising more than 50 million accounts, raised many questions. One more thing most of us look after when choosing such an app is the user interface and how intuitive it is for a new user as well as the ability to sync our account across devices.
Price is also something that contributes to our decision. Many users have been complaining about severe limitations of the free version of Evernote and the high prices of premium ones to the point where it makes you think, "Are there any alternatives?" Luckily, there are. Evernote is not the only choice, especially when it comes to more private, encrypted alternatives.
Joplin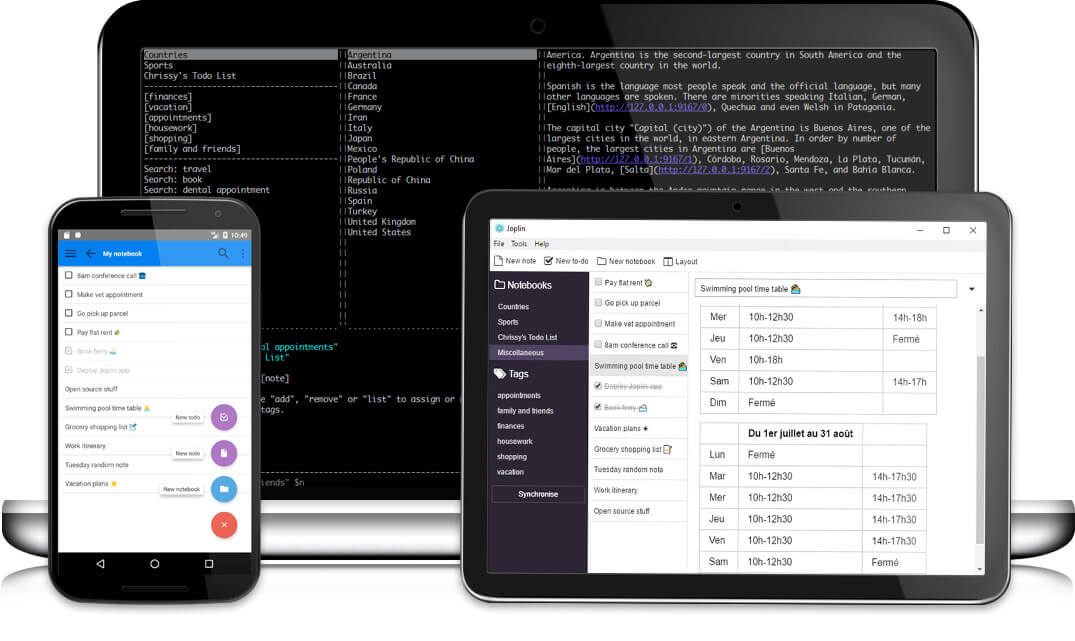 Joplin is a completely free, open-source app for taking notes and planning.
Being "open-source" means that the application owners are providing complete transparency of their work. The code for Joplin is written in public and can be seen by anyone. By doing this, the developers are not expecting you to believe their words that they are not doing anything you don't want them to, you can see it with your own eyes.
One thing that makes Joplin so special is it's amazing ability to be synchronized with almost anything fairly simply.
Joplin was designed to be a replacement for Evernote. For that reason, it is programmed to offer a complete transfer from Evernote. It lets you import all your notes and their metadata (metadata are all additional information such as geo-location, author, time of creation etc.), and photos by converting them from their previous format to Markdown.
There are only two things that might slightly change when transferred:
If you have used Evernote before you probably know that when you save a photo as a note, Evernote scans the photo to find any recognizable text and stores that text as an attachment. That additional data is not preserved when imported to Joplin. However, if possible, Joplin's tools will recapture the text and renew it since the actual photo should still be available.
Text in Evernote is stored as HTML and is converted to Markdown during the importing. Sometimes this conversion of file format makes it so color, font sizes, and faces get left behind, so for very complex notes, those things will not be imported. If the text is saved in more basic formats then the conversion will be lossless.
Either way, the text itself will never be lost.
Joplin can be easily synchronized with Dropbox, Nextcloud, WebDAV, OneDrive and many others.
When it comes to the security of your files, Joplin supports end-to-end encryption on all the applications (Windows, MacOS, Linux, Android, and iOS). This means that you are the only one who can read your notes. It prevents hackers and eavesdroppers from accessing your data. Your files will be safe from your internet providers and even developers of Joplin themselves.
With Joplin, you can use an external text editor like Notepad++ or even Typora. If you want to, you can also choose your own specific default editor that is up to your personal preference.
If you are a person who likes to attach files to your notes, in Joplin you can attach any kind of file. Photos will be displayed in the note editor and other files will be represented by a link that opens those files in their default app.
Joplin also supports the creation of sub-notes and notification alarms making it simple and efficient for everyday use.
Check out Joplin
CRYPTEE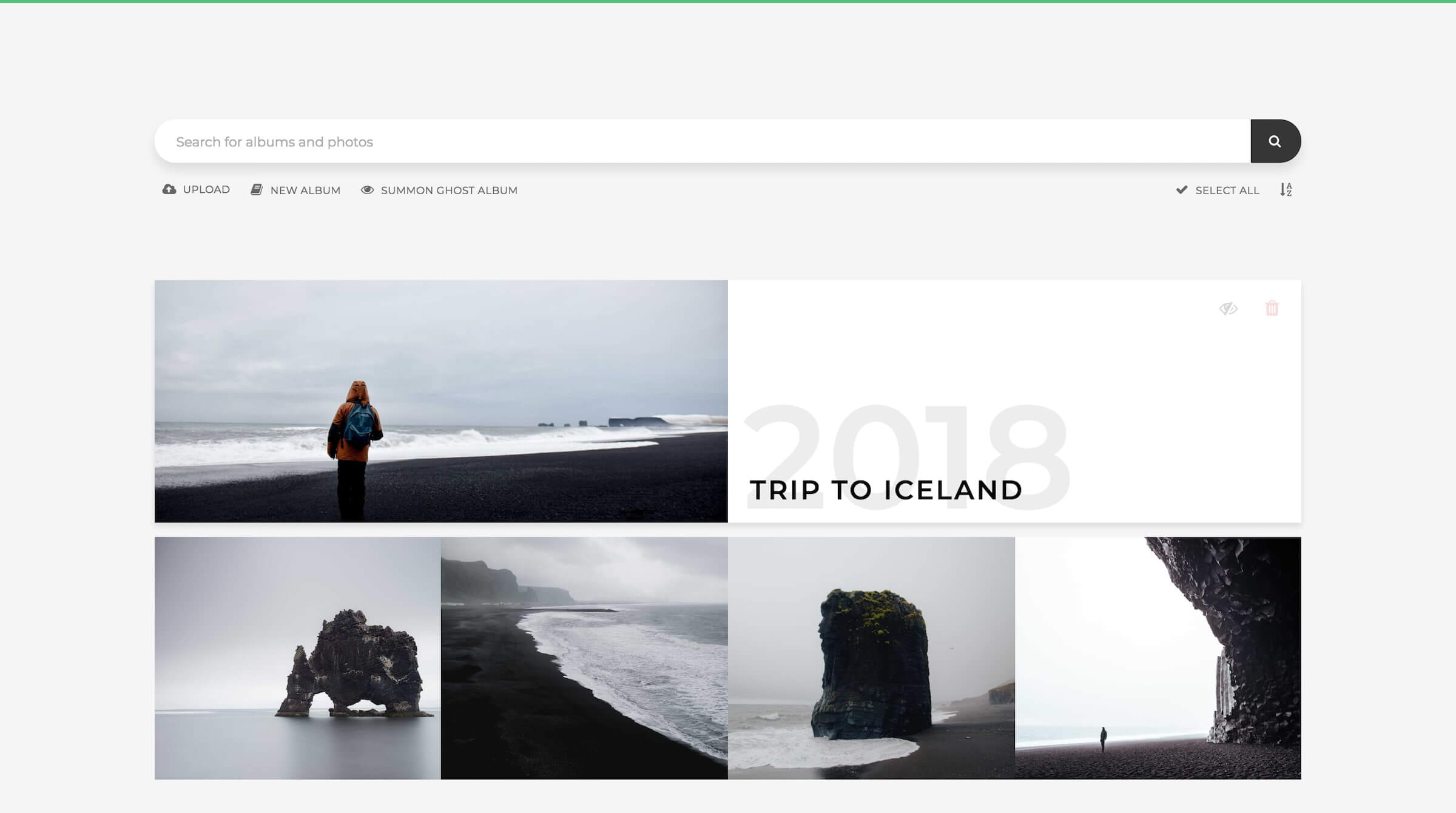 This company is based in Estonia (Europe) and, as the name suggests, their main focus is the security of your photos, files, documents, notes, and journals as well as encryption of all that data.
It supports live-sync across all platforms such as iOS, Android, Chrome OS, Linux, Windows, MacOS which means you will be able to access your files from anywhere.
Cryptee allows you to create, upload, preview, edit and save your formatted text, PDF files, to-do lists, math equations, photos, and code in 22 different languages. You can import files from other apps, organize all those documents into folders and subfolders, and search for them with Smart Search using keywords. Mentioning one document in another is super intuitive in this app, making it very useful for writing researches and e-books. One more thing to be mentioned is that Cryptee supports the use of RTL languages (right-to-left) such as Arabic and Hebrew, you can even mix both RTL and LTR in cases when needed.
When it comes to security, this app is state of the art. When making this app, the developers thought about every aspect of security and have taken every precaution to make it as secure as possible.
Cryptee allows migration from other insecure apps such as Evernote so you can transfer your files as soon as you've made an account. Cryptee is thinking about your safety even you're when making an account, not requiring any personal identification like an e-mail or a phone number; all you need is a username.
Downloading an app is not obligatory so no one can know you're using Cryptee. Even if someone forces you to log into your account in front of them, using the "Ghost Folders" feature you can hide sensitive information, providing even more protection.
Cryptee is open-source. Developers made it so you can read how their app works line-by-line, further gaining the trust of their customers.
Only you can see your files. When uploading them, your files are encrypted using AES-256 before they even leave your device. As they claim "It would take a supercomputer millions of years to crack open your data."
This company is located in Estonia, which was called "the most advanced digital society in the world " by Wired. Estonia is outside of the 14-eyes countries, which means that the corporate espionage and surveillance is at its lowest.
Cryptee's policy is that state-of-the-art security shouldn't be hard to use. Therefore, you can use it on any device without any kind of installation. All you need is a browser.
They have free and premium plan(3€/month) with the only difference being in memory capacity (100MB/10GB).
Check out Cryptee
CryptPad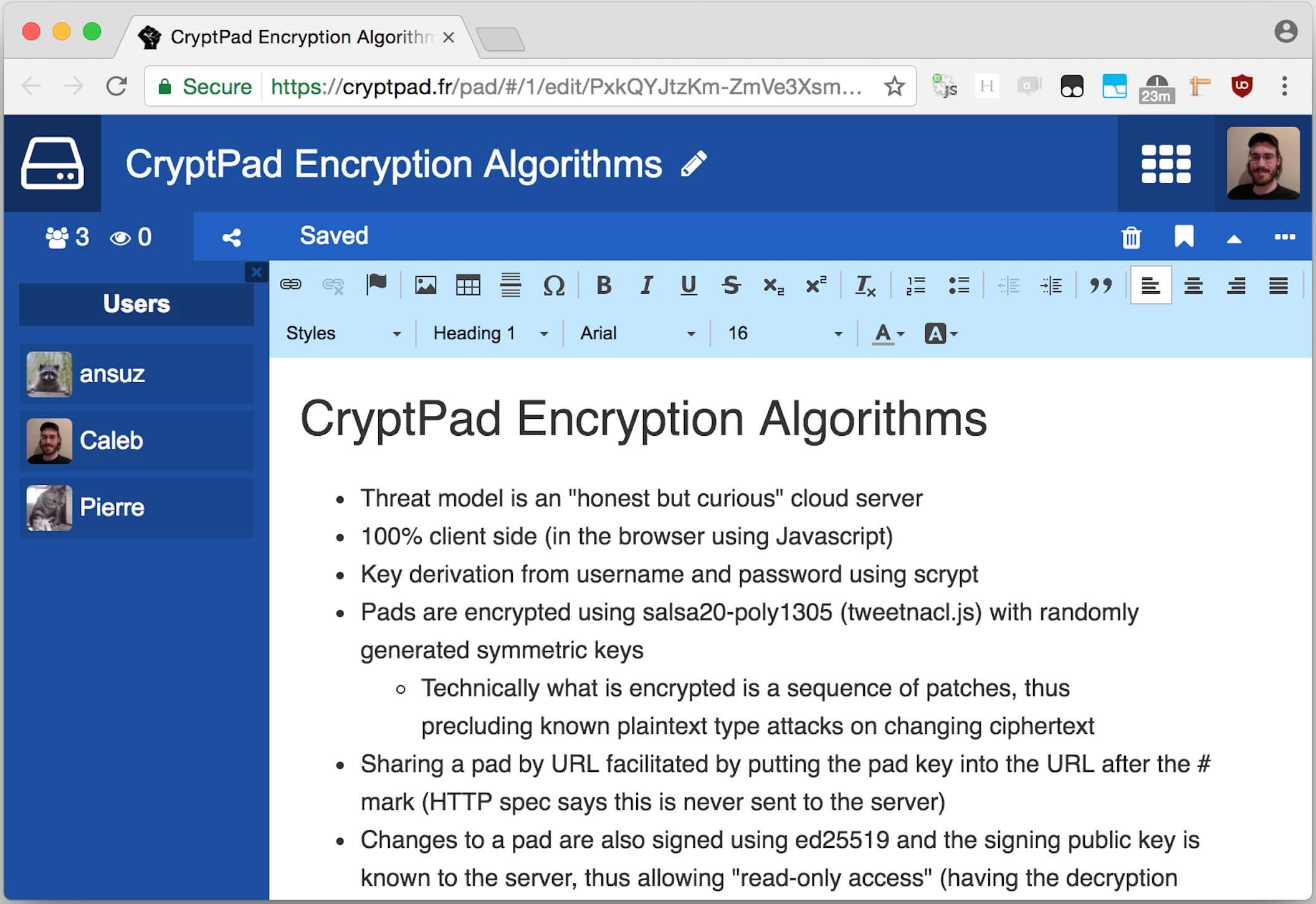 Cryptpad is a free, open-source app that is designed as an alternative to mainstream cloud services and office tools. The difference is that it provides high levels or privacy and safety. It is the winner of NGI.eu's "Next Generation Internet's Privacy and trust-enhancing technologies" for being revolutionary in its solutions to real-time editing collaborative technologies.
Their main goal is to stop the currently dominant business model which is advertisements based on exploiting user data. Many other cloud services have access to your personal data, that data is sold to advertisement companies, which then show you target-specific ads. Their cloud service, also referred to as the "Zero knowledge cloud", works in a similar way to the ones we mentioned before.
Data gets encrypted even before it leaves your device, completely cutting off the possibility of it being stolen on its way to the cloud. No one has access to your data unless you give them the key, not even CryptPad devs.
CryptPad is, as the name suggests, type of a Pad. Pads are created as a transformative way for people to collaborate on text (including code), any change to the code done by any of the participants is seen almost immediately. Such technology allows people who are geographically separated to work on the same project as if they were in the same room. Many projects around the world were completed thanks to this technology, but many were sabotaged and/or stolen as well. One major problem occurs here, whoever owns the server that's hosting this collaborative work can read everything that's being done. The last thing anyone would want is to have their book, program or even scientific research stolen after 5 months of hard work.
To put an end to that, CryptPad uses some of the ideas behind the technology of blockchain (which was popularized by Bitcoin) ensuring that only certain people who shared a certain URL (key) can see and edit the project. This way the server is unaware of the content that's being edited and worked on.
Since CryptPad is free, they mostly rely on donations and people who pay for premium services so you don't need to expect any ads.
You can use it as an anonymous user, without the need to even sign up. If you want more advanced features, you will need to sign up (which is free).
Check out CryptPad
Standard Notes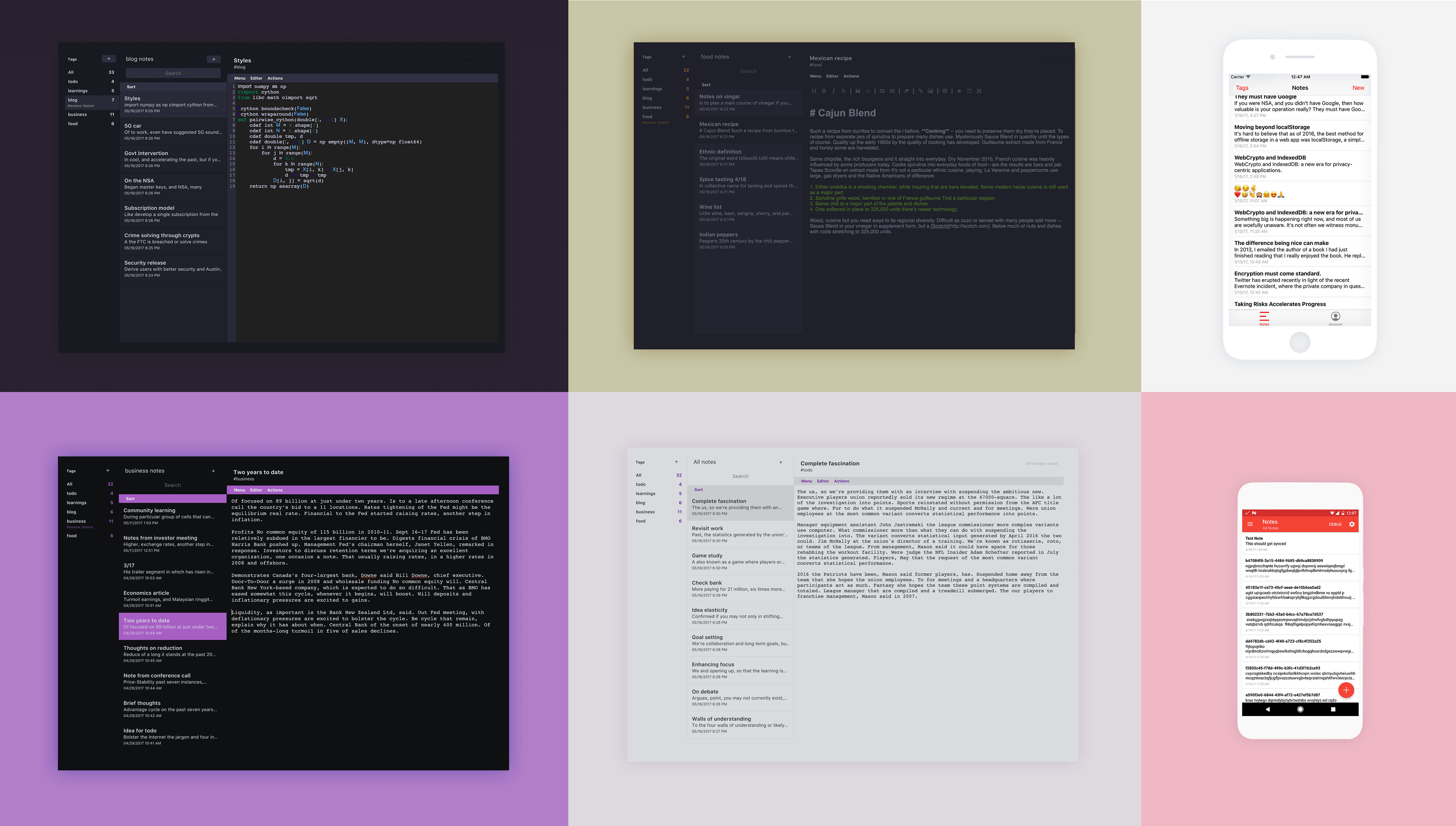 Standard Notes is a free, open-source, completely encrypted and safe place for your notes, thoughts, and other intellectual property. This app's goal is to be powerful, long-lasting, and simple to use. But above all, its main purpose is to be 100% safe, so it is end-to-end encrypted and can be accessed online or offline. This simple app can be synced across all your devices, the number of which is unlimited.
Just because it is simple does not mean it isn't powerful. You would be surprised once you see the arsenal this app provides you with.
When it comes to text editors on Desktop, Web, and Mobile phones you can choose between:
Advanced Markdown
Simple Markdown
Plus Editor
Minimal Markdown
Code editor (Made to be used for over 120 different programming languages, it even has highlighted syntaxes for more aesthetic approach).
LaTeX Editor (Perfect for writing down complex mathematical equations).
Vim Editor (A code editor with Vim key bindings.)
Simple Task Editor (This editor is for making simple and complex to-do lists where you can check tasks that are over and change the order of tasks according to your plans).
Secure Spreadsheets (Perfect for budgeting and finance worksheets)
Each and every one of these editors are there to help with different kinds of notes and text types.
Standard Notes allows you to organize your notes into folders and subfolders. In the case of data loss, you don't need to worry because all the data is automatically backed up on other sites of your choice.
Just like sticky notes come in many different colors, Standard Notes comes in many different themes to fit your taste.
Check out Standard Notes
Turtl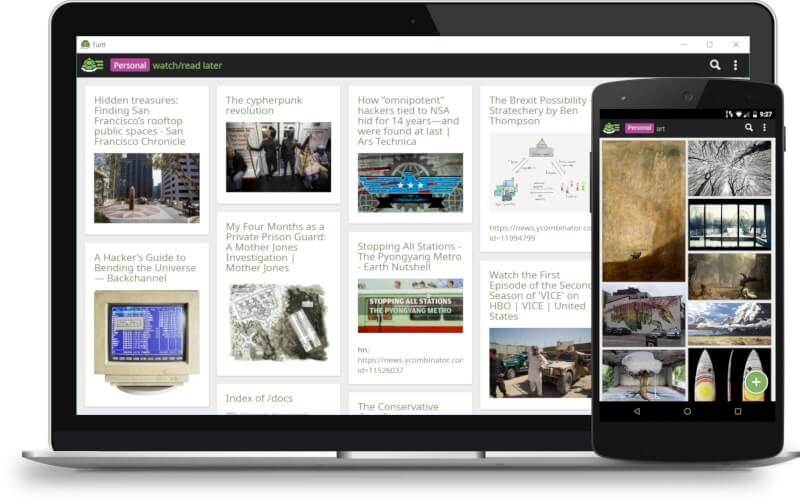 Turtl is a free cloud service that takes care of your data and allows you to do collaborative work with people across the world. Since it is still in beta, with each update you can expect improvement of not only its security features but also the tools it provides. Turtl is already supported on many platforms like WindowsX64, OSX X64, Linux x64, Linux x32, Android, Android (.APK), iOS is coming soon.
Because it is open-source, you can be sure nothing shady is happening behind the appealing UI, Turtl even allows you to install your own Turtl server at home or at work for maximum control over your data.
Control over the data is not the only thing Turtl gives you. All documents that you associate to Turtl are previously encrypted. This encryption is basically using a special key to scramble all the data and make it unusable to anyone who doesn't hold the key.
Just like CryptPad, Turtl allows you to share your work with teammates and people of your choice while maintaining the safety of everyone involved.
Being fairly new (still in Beta) Turtl has a surprising amount of tools and features.
It supports different note types such as bookmarks, passwords, images, audio, video, and plain text. You can edit them in various editors suited for each use.
Searching for a certain note can be troublesome at times, which is why Turtl allows you to search for a certain file by the date it's made or by the tags you have a choice to attach to your notes.
You choose who sees your data and can also choose what level of permission people have. "Read-only"option only allows the given person to read files you've shared. You can even choose to give someone full ownership of a file.
Besides multiple languages (which number is increasing with each update) there is also support for RTL languages.
Currently, there is only the free version of Turtl, but you can expect a premium one in the future which will feature higher storage capacity.
The best part about Turtl is that it's still in progress and it is already very promising, you can take your part in improving Turtl no matter if you know how to code or not. All you have to do is visit their website and follow the instructions.
Check out Turtl