US businesses who are outspoken in their support for former President Trump continue to get canceled, with little or no transparent and clear explanation, leading them to think the reasons must be purely political.
Covfefe Coffee, who just got kicked off Chase Bank's WePay payment processor, is the latest example, and its spokesperson reacted to the news by telling National File the situation in the US is already comparable to China's social credit system.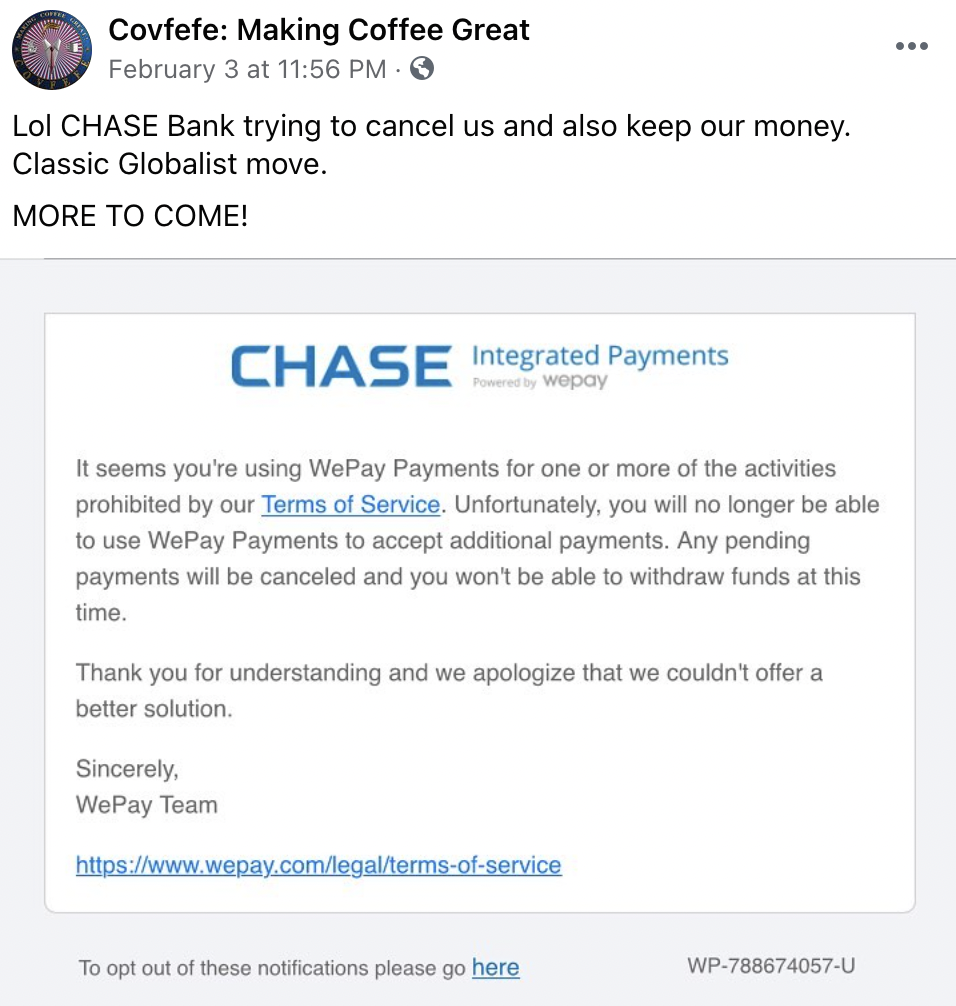 (This is a reference to China's plan to institute a nation-wide system and database of real-time monitoring of citizens for their behavior, resulting in rewards or punishments.)
In a note sent to Covfefe Coffee and shared on the company's Facebook page, Chase said only that it "seems" WePay was being used "for one or more" of the activities the bank's terms of service prohibit.
The note then informs Covfefe that it won't be able to use WePay to accept payments going forward, but that the company also won't be able to withdraw any money, while pending payments will be canceled.
When National File inquired about the specific reasons for dropping Covfefe as a client and if there are other instances of conservative companies using WePay being "canceled" in a similar manner, Chase Bank failed to immediately supply the website with a response.
But the Covfefe spokesperson reacted by criticizing "mainstream" Republicans as not serving their constituency properly and failing to protect those who are now "coerced and threatened with economic devastation."
The spokesperson went on to say that people holding views similar to those behind Covfefe now have no representation either in government or in the market, and suggested the need to "build our own system, our own economy, our own nation."
"If they're trying to ruin Trump's life, nothing is safe. No one is coming to save us," said the spokesperson.
The coffee company has a history of getting deplatformed for its explicit pro-Trump stance. In 2019, Amazon removed the Covfefe product reportedly because one customer complained about its taste. This happened only a month after Amazon banned Covfefe from advertising on the giant platform because the American flag was featured in those ads.