A fired Yale psychiatry professor who said Trump supporters are suffering from a "spread of shared psychosis" on Twitter is suing the university for wrongful termination. The lawsuit claims that her termination violated her First Amendment free speech rights.
We obtained a copy of the lawsuit complaint for you here.
The suit claims she was fired over a January 2020 tweet where she alleged that "just about all" of Trump supporters suffered "shared psychosis." In the tweet, she also claimed that President Trump's lawyer Alan Dershowitz had "wholly taken on Trump's symptoms by contagion."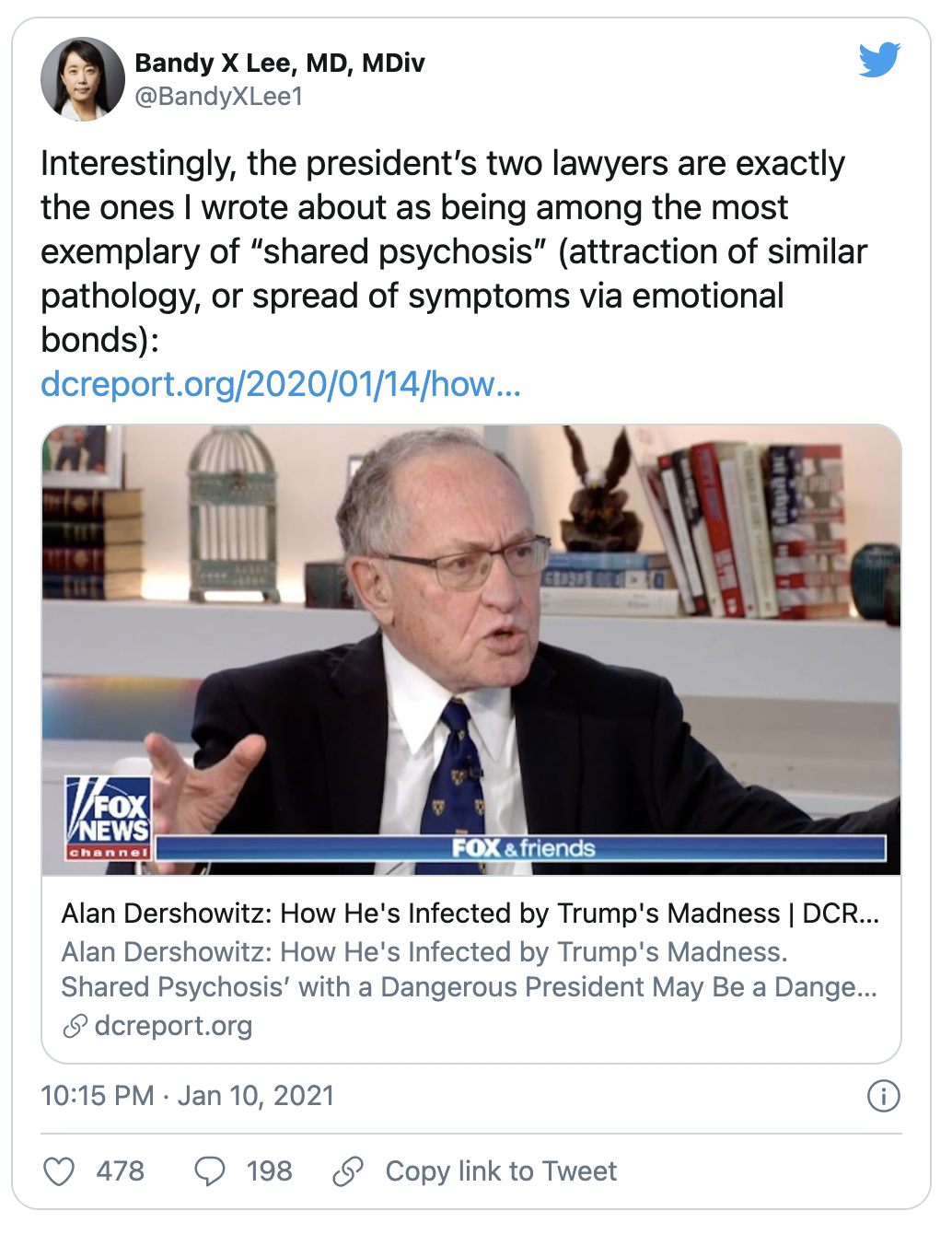 Dershowitz, who was part of Trump's legal team during the first impeachment, responded by sending the Yale administration a letter complaining that the tweet was "a serious violation of the ethics rules of the American Psychiatric Association." The letter also asked that the professor, Bandy Lee, be disciplined.
After Dershowitz's complaint, the head of the Psychiatric Department at Yale, John Krystal, warned Lee that they would be forced to fire her if she continued making similar statements. Lee has tweeted about Trump's supporters several times over the past few years.
In May 202, she was fired. Her multiple attempts to appeal the decision in August and September last year were unsuccessful.
Krystal, in a memo cited in the suit, said that her termination was not about politics but the "repeated violations of the APA's Goldwater Rule."
The rule that states that "it is unethical for a psychiatrist to offer a professional opinion unless he or she has conducted an examination and has been granted proper authorization for such a statement."
The head of the Psychiatry Department also had "significant doubts about [her] understanding of crucial ethical and legal principles in psychiatry."
Three years ago, she suggested the containment of Trump for an "emergency" psychiatric evaluation. At the time, she said she didn't break the Goldwater Rule as she was "assessing dangerousness, not making a diagnosis."
According to Lee, the Goldwater Rule is a "gag order." In the lawsuit, she argues the rule restricts her role as psychiatrist "in light of her belief that Donald Trump posed a dangerous threat to this country and the world." The rule might not apply to her as she has not been a member of the APA since 2007.
The suit also argues that she did not diagnose Dershowitz, "but rather commenting on a widespread phenomenon of 'shared psychosis.'"
"When Dr. Lee stated 'symptoms by contagion,' she was not diagnosing Mr. Dershowitz, but rather commenting on a widespread phenomenon of 'shared psychosis,' also known as 'folie à plusieurs,' which refers to the contagion of symptoms that can happen in a situation where a highly symptomatic individual is placed in an influential position," the lawsuit states.
According to her lawyers, her comments are "clearly protected by the First Amendment and Yale's guarantees of academic freedom."
The suit seeks her reinstatement and "compensatory economic and non-economic damages" and legal fees and related costs.