James O'Keefe and his Project Veritas have made a name for themselves over the past couple of years with a series of investigative reports exposing ideological biases, manipulation, and censorship perpetrated by giant tech platforms.
This means there's not much love lost between O'Keefe and Big Tech, and as if to prove that point, Facebook has now decided to remove his video report about the coronavirus outbreak.
The initiative to pull the video came from CNN reporter/hall monitor Oliver Darcy and the offense meriting such extreme action was the mention of coronavirus in the same breath as the flu.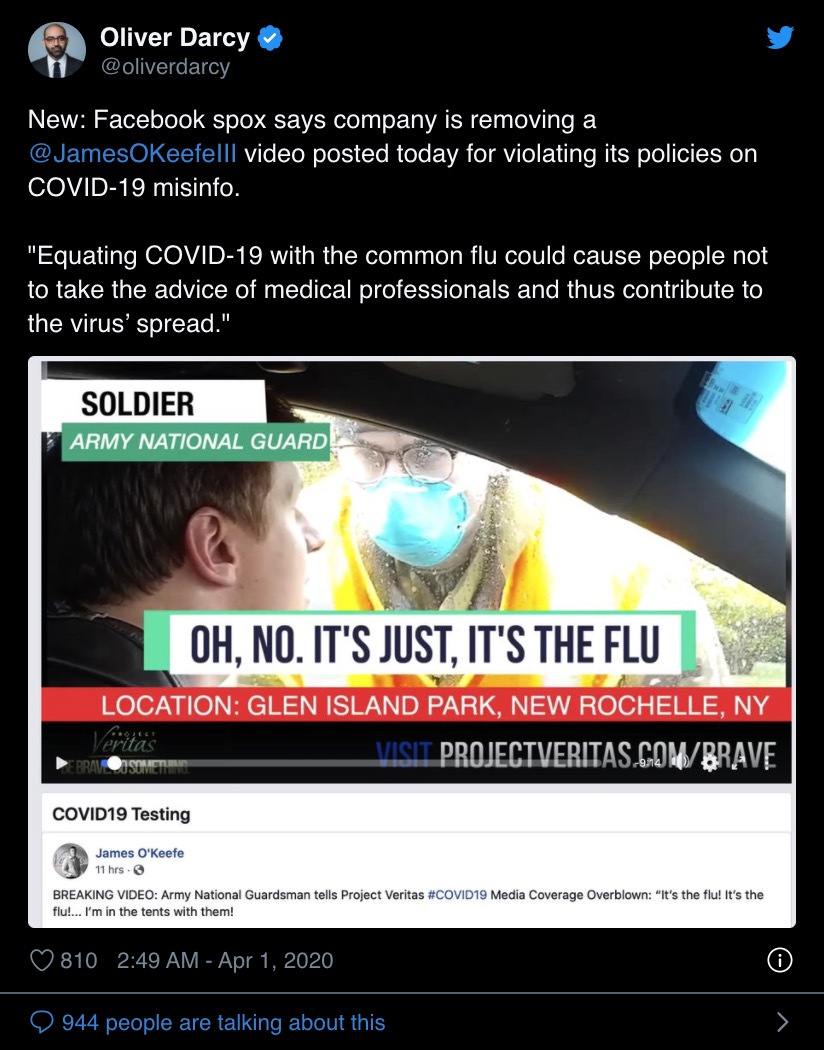 O'Keefe's report features a New York National Guardsman from a COVID-19 testing center telling him that the situation with the pandemic is not as bad as presented by the media. "It's the flu!" the guardsman said of the disease.
(The World Health Organization data shows that each year, at least 300,000 people die from the flu globally – so coronavirus still has a ways to go, and hopefully never gets there.)
Nevertheless, the objection Darcy made and Facebook accepted as valid was not that the threat of the flu was downplayed in O'Keefe's report. It was all about not making coronavirus seem sufficiently dangerous, and Facebook said the report contained misinformation.
The argument is that such misinformation might make people disregard the current, in places draconian, measures aimed at slowing down the spread of the disease. These measures are in place to protect healthcare systems around the world that are being exposed as ill-prepared to deal with a pandemic.
However, YouTube and Twitter are still unconvinced by Darcy's argument and continue to allow O'Keefe's report on their platforms.
There are two debates here: whether coronavirus is as dangerous as the mainstream narrative mandates, and an older one, about free speech in the media and on the internet.
When it comes to the latter, O'Keefe has no doubt which category Darcy and CNN fall into.
"This is OUTRAGEOUS. We reported the medical testers and army personnel answers to Qs. Instead of CNN reporters going out in field to illuminate, you CALL FB to TRY to get us banned. You're not journalists. You're not reporting. You're participants in the system," he wrote on Twitter.