In just three days, the ProjektMelody digital anime model, has outperformed the traditional camgirls from the Chaturbate video platform, apparently turning her into a threat against real models on the platform – much to their distain.
It appears that technology has advanced to the point where fulfilling fantasies with a 3D model created by a computer is possible.
Across many aspects of the entertainment industry, actors and performers are being replaced with computer-generated characters.
In other cases, technology has replaced humans in their work, like in factories.
In the world of adult entertainment, animations have also proven to be an alternative to classical media.
The last case where human users have complained about being replaced by a computer program is happening in Chaturbate, a site dedicated to streaming erotic content.
A new digital anime model controlled by AI (at least, according to her description – but it's yet to be seen how this could be the case), called ProjektMelody, is at the center of attention of the platform, supposedly taking viewers away from human models.
And models aren't happy.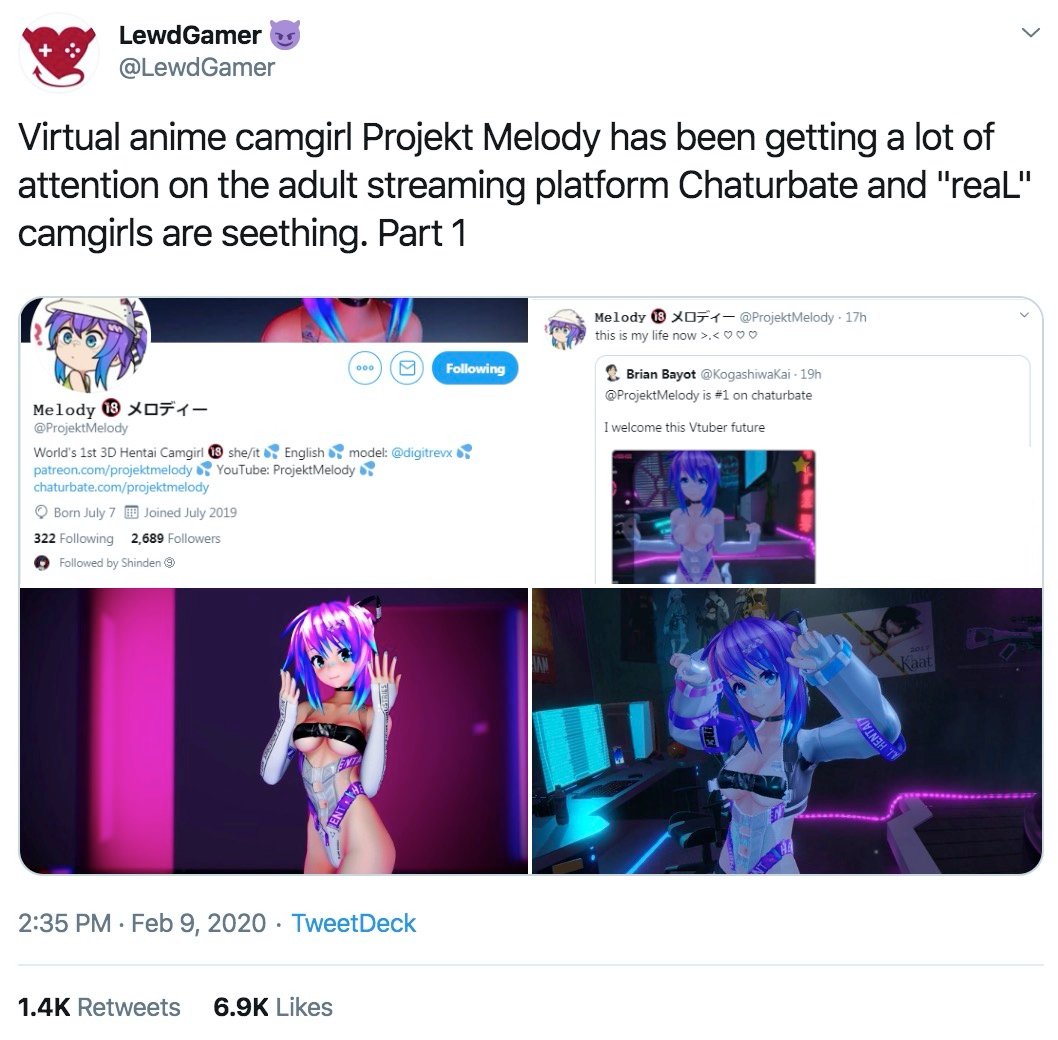 In fact, in just 3 days, she has already reached a peak of simultaneous viewers of more than 14,000.
This sudden success has not been well received by the other models and performers.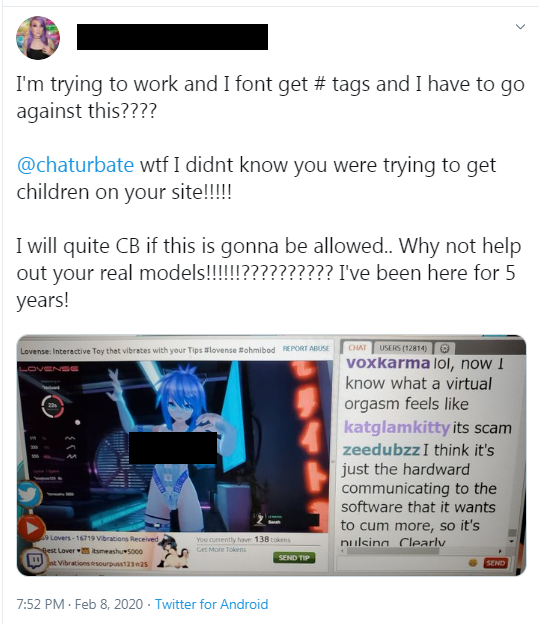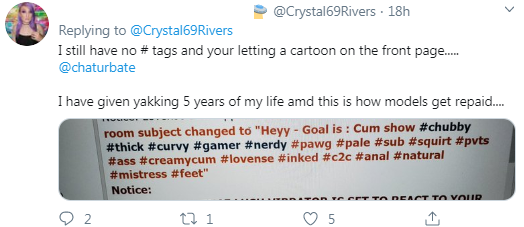 The same conditions?
This model seems to work similarly to the YouTuber Kizuna Ai: A real person controls the avatar using virtual reality peripherals.
Like Kizuna Ai, the person who controls her does not need to appear on the camera, allowing them to preserve their privacy.
This has been the apparent reason why Chaturbate models have set social networks on fire, indicating that the presence of ProjektMelody should not be allowed on the platform.
To be part of the Chaturbate community, and earn tokens (which you can redeem in cash later), it is necessary to perform strict verification steps, which include sending photos of identity documents.
This leaves all those who decide to work on the platform exposed in the sense that one day, their identification could leak.
From VICE:
"Cam model Lennox May has been doing live shows for three years, but has been in the adult industry for the last 10. She watched one of Melody's recent streams.

"From a technology standpoint I can't argue that the technology and creation of the character is definitely made by someone with talent," May told me. But she wonders if something like this belongs on its own designated platform for avatars, separate from the flesh-and-blood models."

"There's a huge gap in vulnerability, and what that means emotionally for [human] models versus Melody is also quite vast," May said. "A model has to keep up appearances when they have trolls in their room, or when put in an awkward situation with a customer who is being rude or asking for things that we do not feel comfortable doing."
Many models have indicated that they take a risk when they perform on these platforms, that one day their identity could get out.
However, it was known by a conversation on Twitter with ProjektMelody that she would have met all the requirements that Chaturbate demands (the platform has not confirmed this statement) to verify her account, and that she does not believe she should be banned from the page just because the way she produces content is "safer".
The self-proclaimed AI says that a camgirl is defined by what she does, not by the risk she runs when doing her job.
Also, she indicates that she is simply filling a gap in the market.