Twitter refused a request by Queensland, Australia, Health Minister Yvette D'Ath to ban a member of the opposition for accusing the state's premier and deputy of being anti-vaxxers. D'Ath claimed that the Manager of Opposition Business Jarrod Bleijie was spreading misinformation.
In August, D'Ath wrote to Twitter directly to request the removal of tweets posted by Bleijie or the removal of his account. She was referring to tweets where Bleijie referred to Premier Annastacia Palaszczuk and Deputy Premier Steven Miles as anti-vaxxers.
"@YvetteDAth maybe vaccine hesitancy in Qld started when Chief Health Officer Dr Young told young people they have more chance of dying from the AZ vaccine than Covid-19! Doesn't help that we have an anti-vaxxer Premier @AnnastaciaMP either," Bleijie wrote in a tweet on August 4.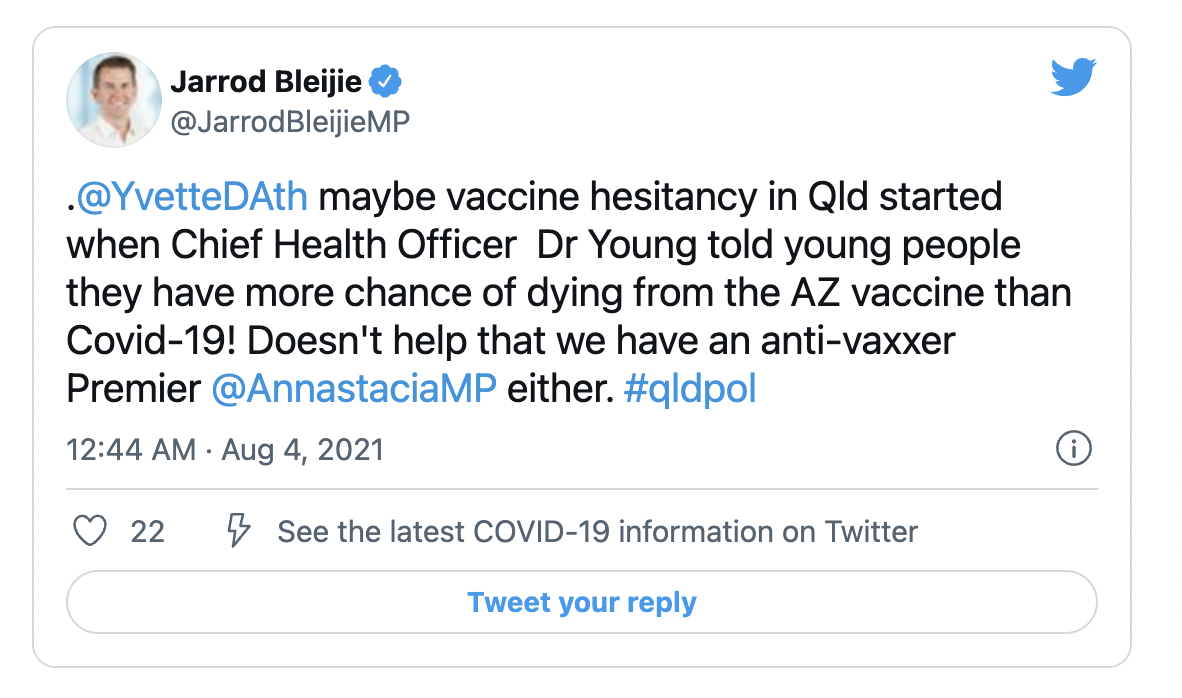 Bleijie was referring to the fact that the government was accusing people of promoting vaccine hesitancy when the government itself blocked the use of the AstraZeneca vaccine over blood clotting fears, a move that mainstream critics now allege was promoting vaccine hesitancy on a false basis.
In another tweet, he accused Deputy Premier Steven Miles of being an "anti-vaxxer like your boss" for failing to include vaccines while naming things that "will keep us out of another lockdown."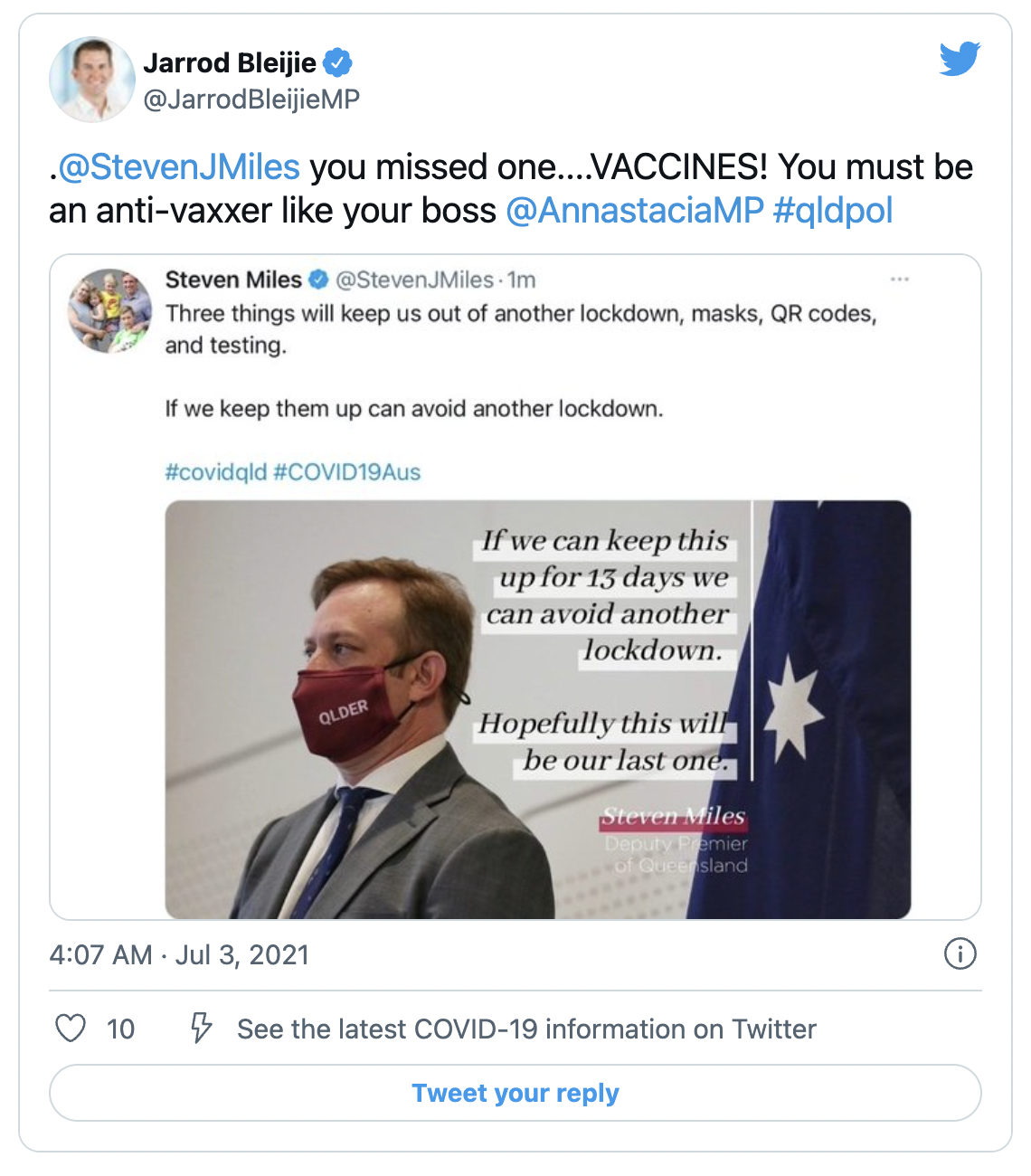 According to The Courier-Mail, D'Ath requested Twitter remove the tweets or ban Bleijie because his remarks spread "misinformation" about senior government officials "undermining not only public confidence in the vaccine, but the Queensland Government's rollout of the vaccine, which could ultimately lead to vaccine hesitancy and harm to Queenslanders."
"I therefore request that Twitter review Mr Bleijie's contribution to Twitter in respect to the tweets and either remove them or ban Mr Bleijie from the Twitter platform for spreading false and misleading information about this important public health issue," she wrote.
Twitter refused the request, claiming that Bleijie's accusations were allegations not misinformation.
"When reviewing the tweets in question that were posted by Mr Jarrod Bleijie … Twitter's teams undertook a rigorous review of the content in question against the Twitter rules and terms of service," Twitter's head of public policy for Australia and New Zealand wrote in response to D'Ath's request.
"The tweets flagged were determined to not violate Twitter's Covid-19 misleading information policy.
"While the account's tweets may be distasteful, the accusations contained in Mr Bleijie's tweets have been determined to be allegations instead of misinformation under our relevant policies.
"At this stage, allegations are not actionable under our rules as Twitter cannot arbitrate or validate such claims."
Bleijie appreciated Twitter's decision and also blasted D'Ath for making the request in the first place. He said the health minister should "concentrate her priorities on Queensland Health which is in crisis under her watch instead of wasting everyone's time with silly pathetic Twitter complaints and trying to silence the Opposition."