A cyclist has been dropped from the team after he displayed his support for President Trump on Twitter. After a single tweet, his entire career has been thrown into jeopardy. Winner of the men's junior event at the road cycling World Championship held in 2019, Quinn Simmons is a 19-year-old American professional cyclist.
He replied to a tweet by a Dutch journalist, José Been making it clear that he was a Trump supporter. Been divisively said to her followers that she hopes Trump's "horrible presidency ends for you" and that "if you follow me and support Trump, you can go."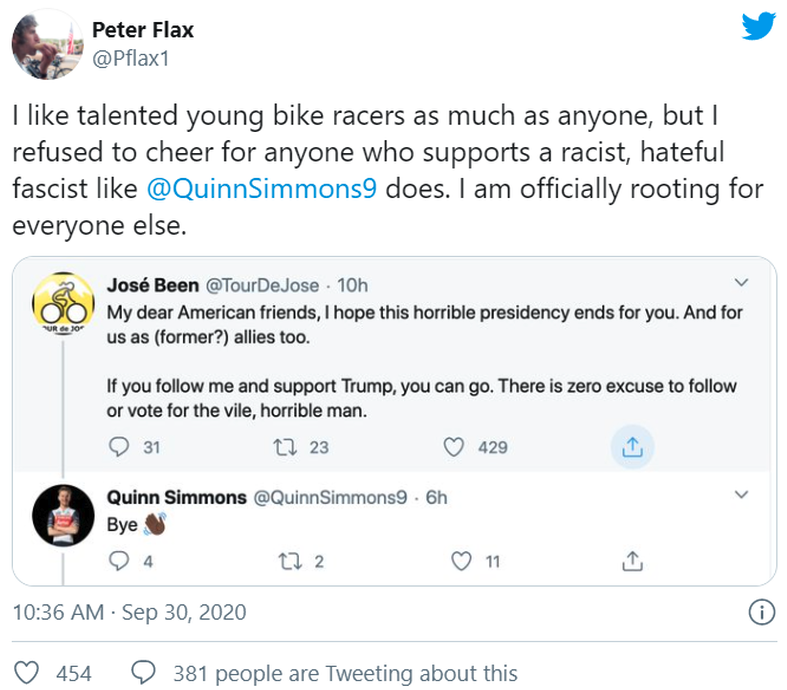 After Been issued an ultimatum that her followers who support Trump can unfollow her, Simmons replied to her writing, "Bye." That reply in itself was enough to spark outrage with several Twitter users condemning him for supporting Trump.
"I like talented young bike racers as much as anyone, but I refused to cheer for anyone who supports a racist, hateful fascist like @QuinnSimmon9 does. I am officially rooting for everyone else," wrote a user.
When a user replied to him writing, "Apparently a Trumper," Simmons wrote back saying, "That's right," with the American flag emoji.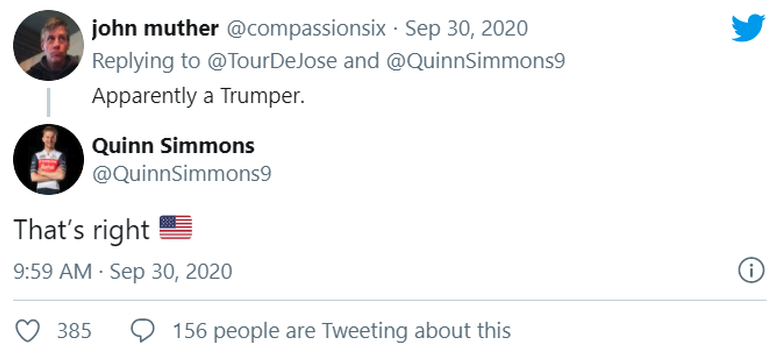 Not so long after, his team Trek-Segafredo made a public announcement that Simmons was being removed from the team.
"Trek-Segafredo is an organization that values inclusivity and supports a more diverse and equitable sport for all athletes. While we support the right to free speech, we will hold people accountable for their words and actions," read a part of the statement they posted on Twitter.
"Regrettably, team rider Quinn Simmons made statements online that we feel are divisive, incendiary, and detrimental to the team, professional cycling, its fans, and the positive future we hope to help create for the sport.
"In response, he will not be racing for Trek-Segafredo until further notice."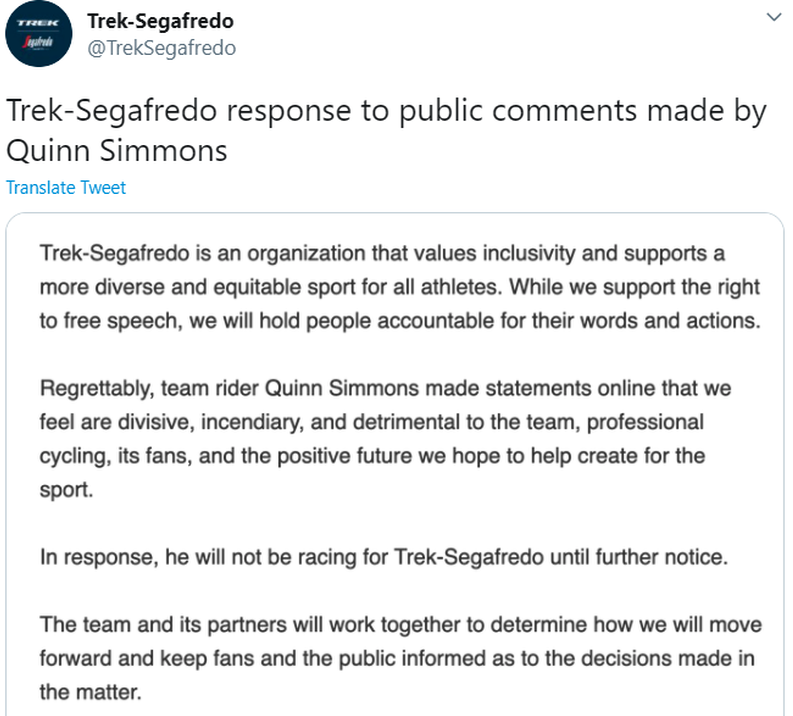 It is worth noting that single-word replies without any elaborate display of support or direct endorsement of Trump were interpreted as "divise, incendiary, and detrimental." Ironically, Been reached out to the cycling team and urged them to not suspend Simmons from the team.