YouTube has been criticized by Senator Rand Paul for censoring his speech in the Senate.
Rand Paul's statements were removed from the video platform after he mentioned the name of the whistleblower behind Trump's impeachment.
This, according to the senator, is an illegal act of censorship.
Political boundaries
Mentioning the name of Eric Ciaramella has become a reason for social networks to delete content.
Accusing Ciaramella of being the whistleblower, or just mentioning it, is forbidden on several social platforms, even though mentioning the name is completely legal, Paul argues.
Even politicians are limited when mentioning it. The last important ban case occurred about a week ago on YouTube with Senator Rand Paul.
During a speech in the Senate, Paul mentioned Ciaramella twice in response to Chief Justice John Roberts.
Thanks to this, all the videos uploaded from the speech to YouTube have been removed from the platform, despite being the word of a United States senator.
Postures on the subject
Senator Paul showed his dissatisfaction with the measures taken by YouTube, calling them worrisome.
According to him, this is a way of limiting the knowledge of the American people.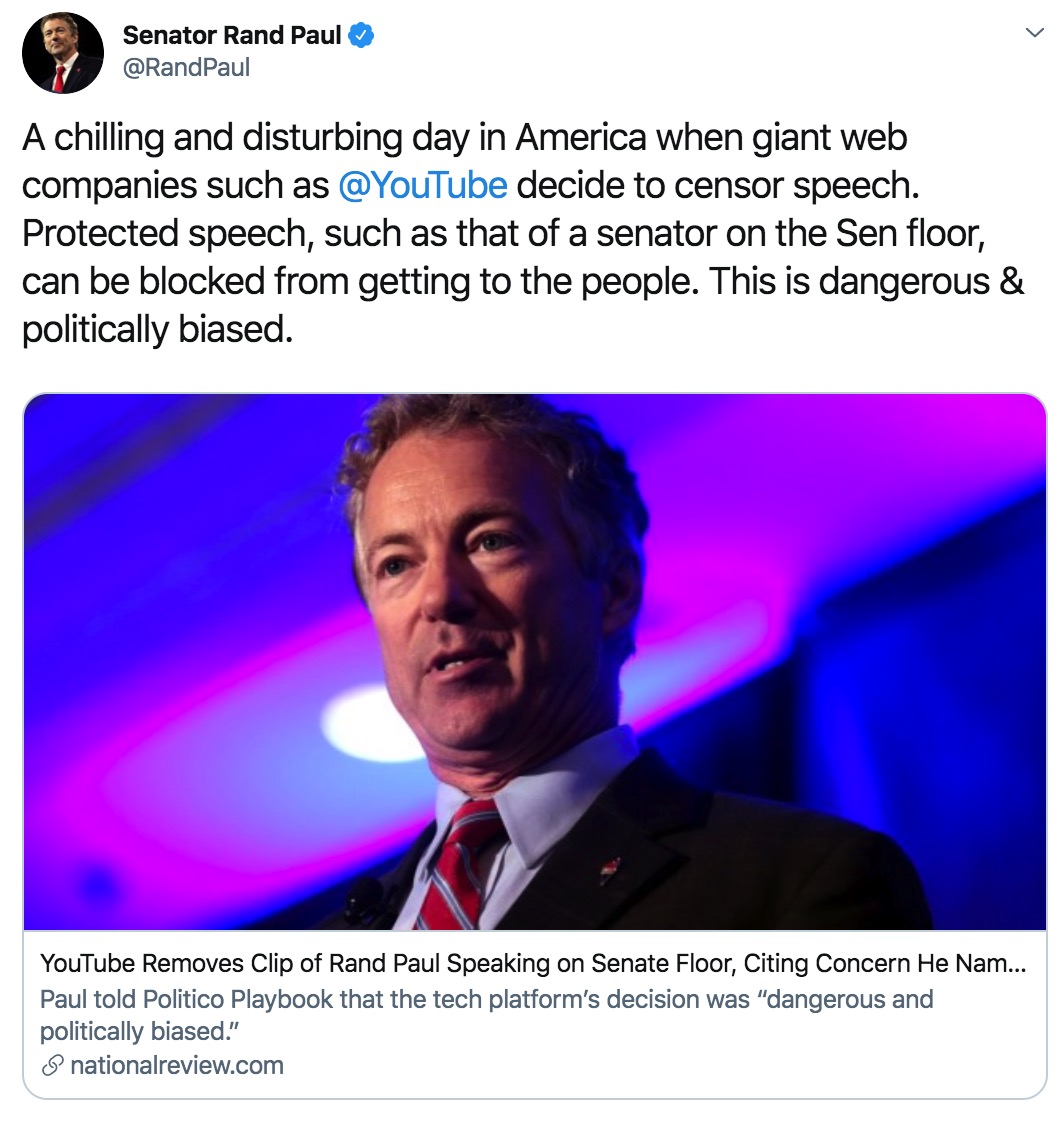 From Rand Paul:
"It is a chilling and disturbing day in America when giant web companies such as YouTube decide to censure speech. Now, even protected speech, such as that of a senator on the Senate floor, can be blocked from getting to the American people. This is dangerous and politically biased."
A YouTube spokesperson, Ivy Choi, defended the company's censorship of the senator Paul and described Ciaramella as the whistleblower:
"Videos, comments, and other forms of content that mention the leaked whistleblower's name violate YouTube's Community Guidelines and will be removed from YouTube. We've removed hundreds of videos and over ten thousand comments that contained the name. Video uploaders have the option to edit their videos to exclude the name and reupload."