Facebook is reportedly carving out an exception to its election misinformation rules which will prevent certain posts about mail-in voting from being taken down in the run-up to the 2020 US presidential election, raising questions about potential bias in the censorship of posts related to mail-in voting.
Under section three of Facebook's community standards, which cover "voter and/or census fraud," Facebook prohibits "statements that advocate, provide instructions or show explicit intent to illegally participate in a voting or census process."
But according to a source that spoke with The New York Times, if a Facebook post encourages people to send multiple copies of their mail-in ballots, the company won't remove it as long as the post is framed as a suggestion or question.
Not only is Facebook reportedly planning to not enforce these rules against users who suggest people send in multiple copies of their mail-in ballots but Facebook employees are also said to be "alarmed" by President Trump saying, "Mail ballots are very dangerous for this country because of cheaters. They go collect them. They are fraudulent in many cases."
According to The New York Times, these Facebook employees, who work on protecting the site in the US election, have wondered whether Trump would launch even more attacks against mail-in voting and asked Facebook CEO Mark Zuckerberg and other top Facebook executives whether Trump is violating Facebook's rules against disenfranchising voters.
Additionally, Facebook is reportedly considering how it "might act" if Trump declares that the Postal Service lost mail-in ballots and considering a political advertising "kill switch" which would disable political ads after November 3 if the election result isn't immediately clear or if Trump disputes the results.
The New York Times adds that these discussions "remain fluid" and that it's unclear if Facebook will implement these plans.
This report is reflective of the increasing disparity with which Facebook and other Big Tech companies treat mail-in voting.
Facebook is pushing mail-in voting via its Voting Information Center and reportedly won't enforce its existing rules against people who suggest sending in multiple copies of their mail-in ballots.
Yet the President's statements about mail-in-voting are hit with info panel disclaimers and staff are reportedly pushing for further sanctions whenever he criticizes mail-in voting.
A similar disparity is emerging in the way Twitter treats mail-in voting with the company fact-checking several of Trump's tweets about mail-in voting and even hiding one of his tweets about mail-in voting behind a warning label for "making misleading health claims that could potentially dissuade people from participation in voting."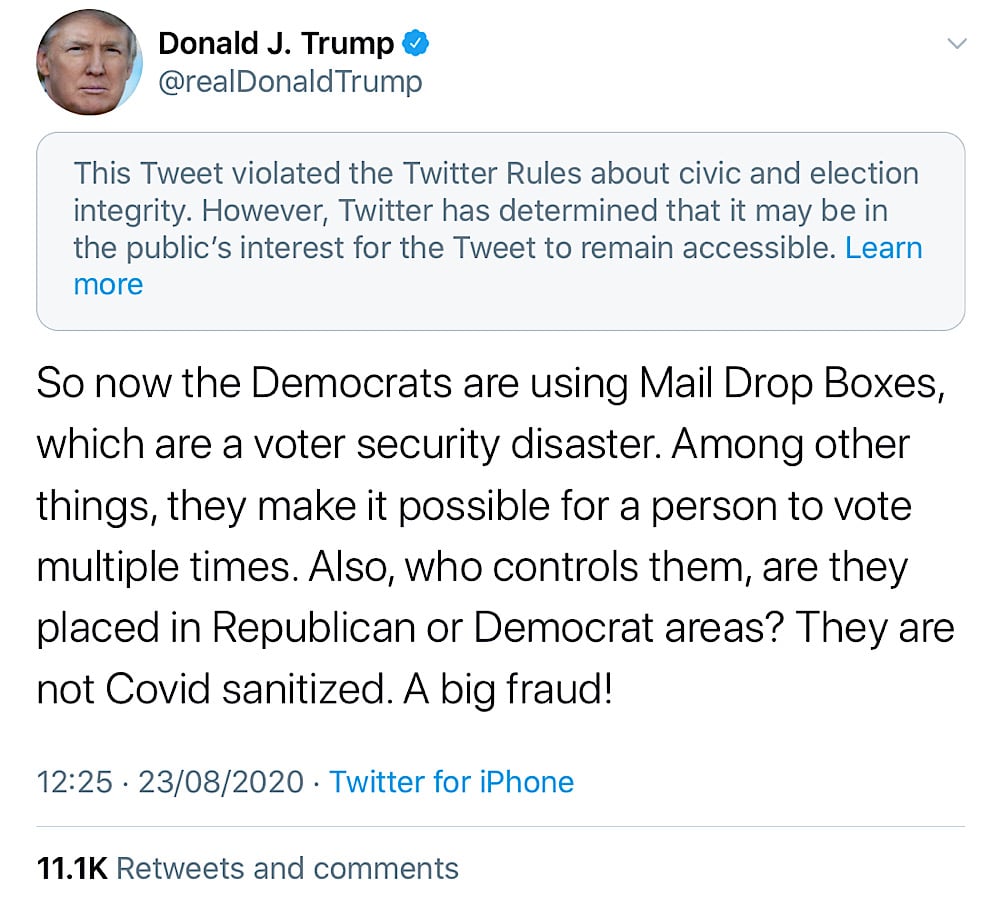 Twitter is also planning a crackdown on "general mischaracterizations" about mail-in voting and focusing its registration efforts for the 2020 US presidential election on mail-in and early voting.
Meanwhile, tweets spreading debunked claims about the US Postal Service (USPS) sabotaging vote by mail are allowed to spread on the platform unchecked.