The March 2022 release of Grand Theft Auto V appears to have censored allegedly transphobic content. Online LGBT activists had asked the developer to remove their appearance in the game.
The changes were explained by fansite GTA Net admin Kirsty Cloud on Twitter. Cloud tweeted: "In new-gen GTAV/GTAO, Rockstar appear to have disabled the trans caricatures or "drag queens" from spawning outside Cockatoos."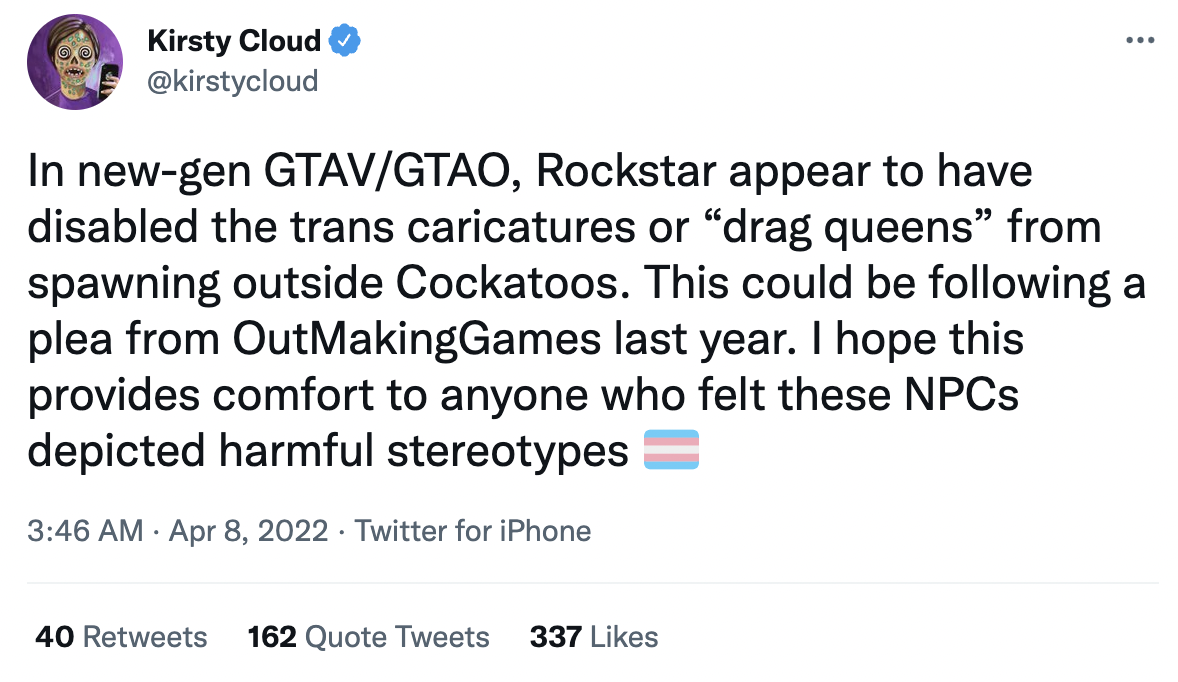 Cockatoos is an in-game LGBT club, where drag queens with very masculine frames and male crossdressers are featured queueing.
"I hope this provides comfort to anyone who felt these NPCs depicted harmful stereotypes," Cloud continued.
Cloud added that the changes might be in response to a "plea from OutMakingGames last year."
Out Making Games (OMG) is an "empowered community of LGBTQ+ games professionals across the UK." The group had objected to GTAV's transphobic content in an open letter last year.
The letter referenced a statement by Kotaku that "GTAV's Enhanced 2022 Release Should Leave The 2013 Transphobia Behind." OMG called on Rockstar "to remove transphobic elements from the game and have a positive impact on the new generation of players who will pick up a copy."
"As Carolyn Petit writes in Kotaku, unlike for other random NPCs in GTAV, the game appears to purposefully play into extremely harmful stereotypes of trans and gender diverse people to encourage players to be repulsed by them, and even to relish hurting and killing them," the group wrote in the letter.
"We reject any argument of 'equal opportunity violence' against all types of characters in GTAV," on the grounds That argument is missing the point," they continued. "Given the cultural impact GTAV has around the world, Rockstar has a social responsibility to your players (many of whom may be LGBTQ+), to your staff and to the world at large to not promote violence against trans and gender diverse people."
After noting the changes in the new release, Grand Theft Auto V: Expanded & Enhanced edition, OMG applauded Rockstar.
"Last year we wrote an open letter to Rockstar Games, calling on them to remove transphobic content from Grand Theft Auto 5's next-gen release," OMG wrote in a statement. "We're thrilled to say that it appears they have."