Canada's Progressive Conservative Party of New Brunswick has dropped Roland Michaud, the party's candidate for Victoria-La Vallée, after online complaints about a transgender bathroom meme that he posted in December 2018 and several other memes dating back to 2015.
The transgender bathroom meme referenced Target's 2016 announcement that it would allow "transgender team members and guests to use the restroom or fitting room facility that corresponds with their gender identity" and the concerns of critics that this policy would make it easier for men to follow girls into bathrooms.
The meme stated:
"Breaking News

A man followed a young girl into a Target bathroom in Texas saying he self identified as a woman. The man's teeth were knocked out by the girl's father, who says he self identifies as the tooth fairy."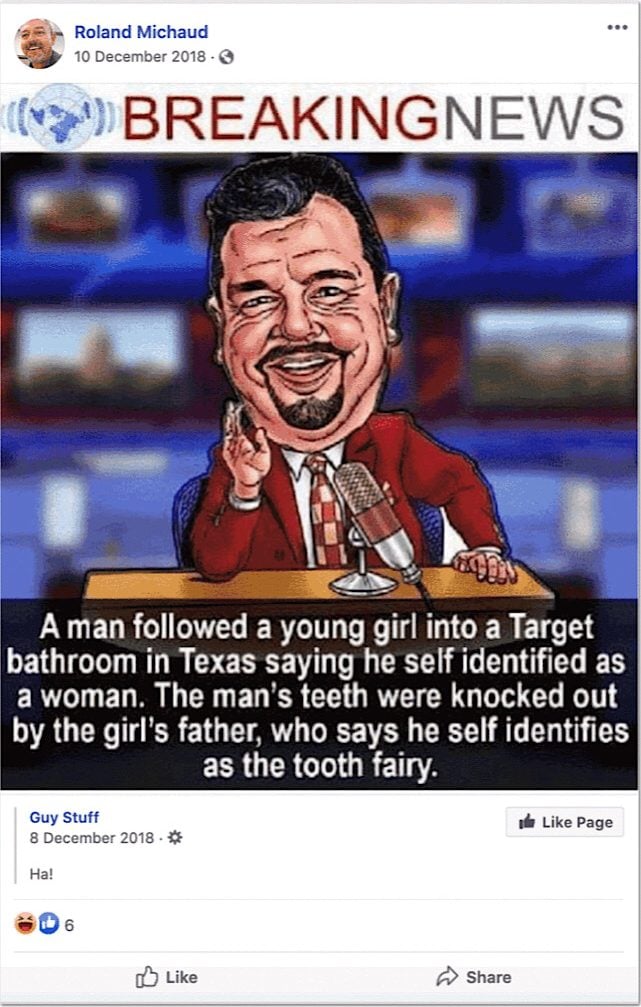 While this meme was the subject of most of the online complaints, some complaints were also directed at other older memes that had been posted by Michaud.
One of these memes, which was posted in October 2018, featured a woman in a bikini climbing onto a boat with a faint image of a shark visible in the water along with the text:
"The Five Second Rule

If you noticed the shark in the first 5 seconds you are probably gay. This test has been scientifically proven."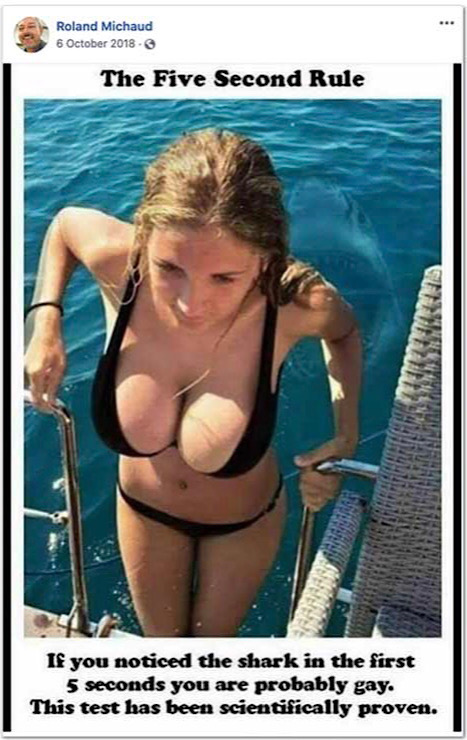 Another of these memes, which was posted in June 2015, featured a lingerie-clad woman in a kitchen along with the text:
"Coffee isn't the only thing…

that can get you up in the morning"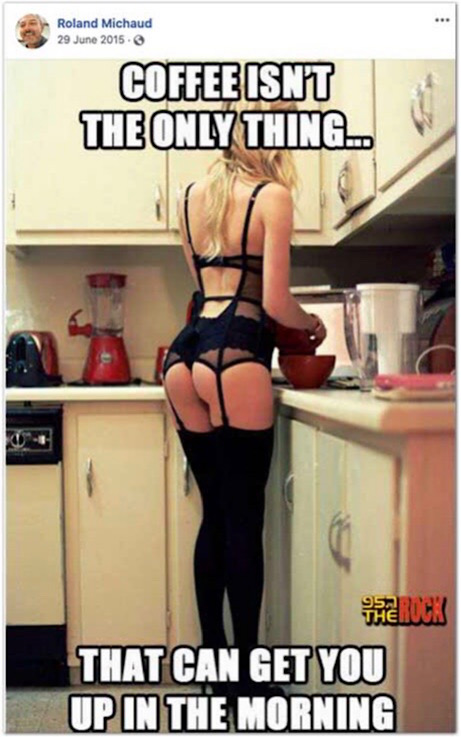 The memes along with several of Michaud's other posts were removed from his page earlier today.
The leader of the Progressive Conservative Party of New Brunswick, Blaine Higgs, said he wasn't aware of the memes when vetting Michaud and became aware of them early on Labor Day. He added that he was "disturbed" by the memes and claimed that they were "sexist, offensive, and hurtful."
The Progressive Conservative Party of New Brunswick has asked Michaud to remove its signs and will not accept Michaud into caucus if he's elected.
Since the party's decision to drop Michaud has come one week before the September 14 election, they will be unable to provide a fresh candidate.
Michaud has apologized for posting the memes and said "elected or not, these things will never be repeated again." He has also removed the Progressive Conservative Party of New Brunswick banner from his page.
However, he's clarified that he's still on the ballot as an independent and asked citizens of Victoria-La Vallée to vote for him.
Related: ? Some practical ways to protect yourself from cancel culture
The Progressive Conservative Party of New Brunswick's decision to drop Michaud is the latest of many examples of people losing their jobs or being investigated because of the jokes and memes that they post online.
Some of the many similar stories include a New Hampshire Representative facing calls to resign over a Black Lives Matter Facebook joke, a Memphis cop being investigated over Facebook memes, and an NBA photographer being fired after posting a meme featuring 2020 Democratic vice presidential nominee Kamala Harris.