Emmy Award-winning actress and comedian Roseanne Barr has announced that she will be promoting her new podcast on the video platform Rumble, voicing concerns over constant censorship on YouTube.
Barr, known for her iconic television show "Roseanne" and her outspoken views on numerous issues, had previously voiced concerns about the power dynamics in the world of mainstream media and Big Tech. She believes that platforms such as YouTube have become increasingly restrictive, limiting the free expression of content creators.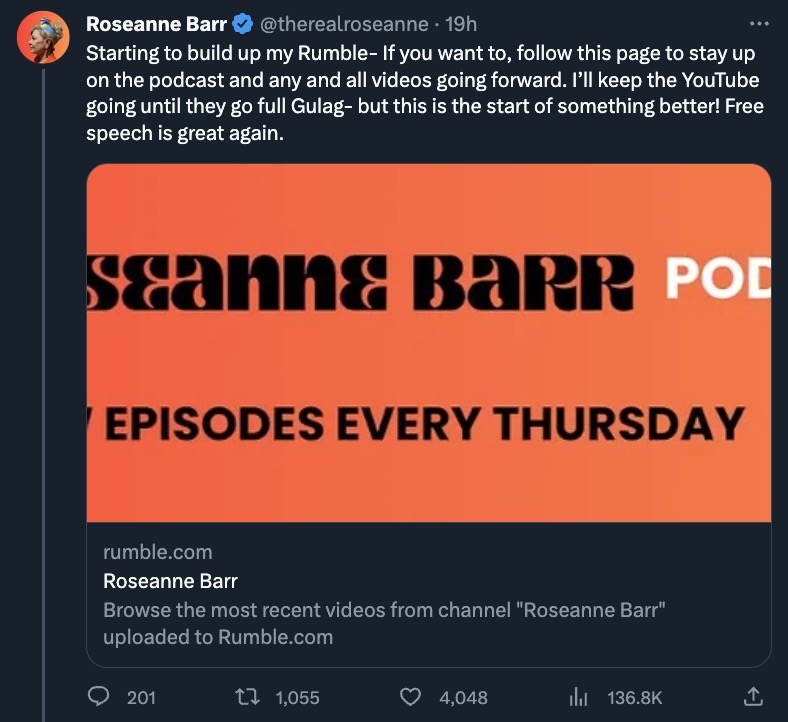 "Starting to build up my Rumble," Roseanne posted on X. "If you want to, follow this page to stay up on the podcast and any and all videos going forward."
Roseanne announced that she'll keep posting to YouTube "until they go full Gulag" but that Rumble was "the start of something better."
Rumble has gained significant traction over the last few years as a platform that champions free expression and opposes strict content moderation.
Barr's decision comes amidst a broader debate in the digital content community about the role of Big Tech companies in shaping the public discourse. Many pro-free speech creators and public figures have migrated to alternative platforms in search of a space where their views won't be restricted.
Roseanne's podcast promises to be a mix of humor, political commentary, and discussions on cultural trends. With her history of candidness and her strong views on various issues, she is likely to attract a wide range of listeners.
YouTube has not responded directly to Barr's comments, but they have previously defended their content moderation policies, stating that they are in place to ensure the safety and integrity of their platform and its users.