The Royal Academy (RA) in Britain has removed pieces by textile artist Jess de Wahls following complaints about allegedly "transphobic" comments she made about two years ago. Her cancellation resulted in the RA being accused of "belief discrimination" and going against the values of "a forum of artistic expression."
In a 2019 blog post, de Wahls criticized the LGBT charity Stonewall and expressed her opposition to the "gender identity ideology." The Royal Academy said that the views she expressed contradicted its values.
According to a statement the institution released on Thursday, via Instagram, it received complaints that it was selling pieces "by an artist expressing transphobic views." The institution thanked those who complained and said de Wahls pieces "will not be stocked in future."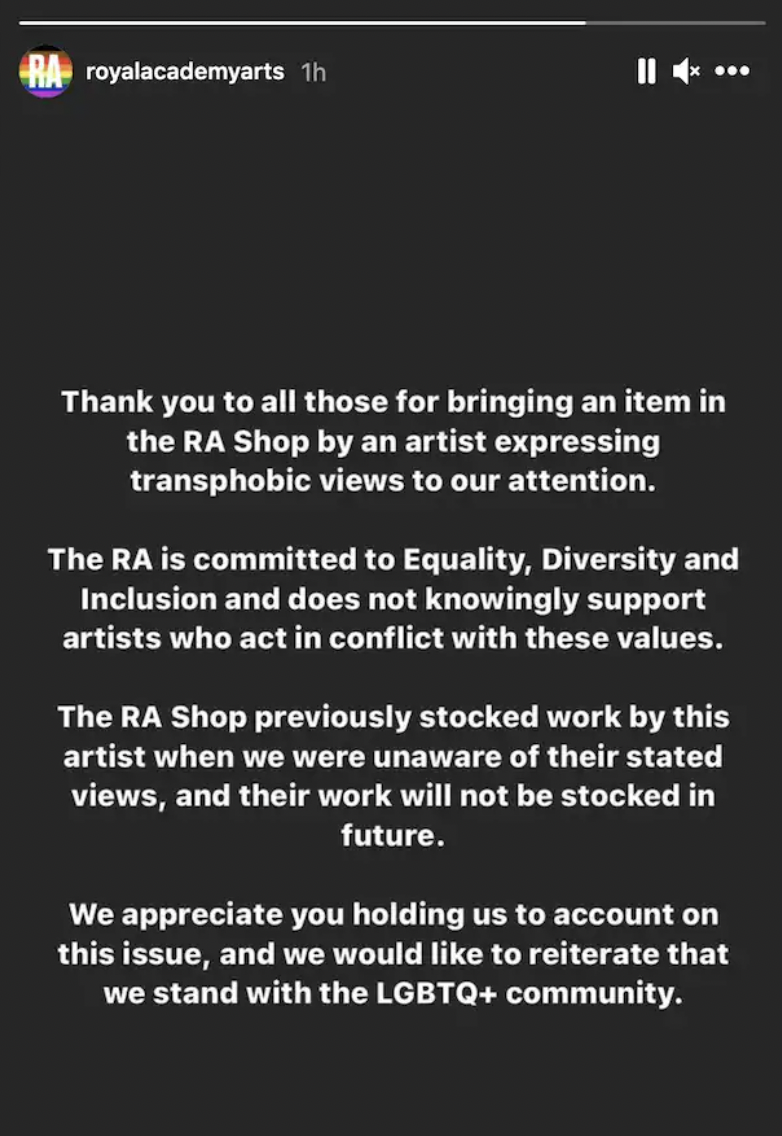 "The RA is committed to Equality, Diversity and Inclusion and does not knowingly support artists who act in conflict with these values," the statement added. "We would like to reiterate that we stand with the LGBTQ+ community."
In the blog post, de Wahls defined a woman as "an adult human female," arguing that being a woman is "not an identity or feeling." She added: "I can not accept people's unsubstantiated assertions that they are in fact the opposite sex to when they were born."
According to the artist, gender identity politics is harmful to women's and girls' rights, with the added disadvantage of censorship of content that contradicts the "woke" transgenderism ideology.
Despite her strong stand against the gender identity ideology, she said she supports the rights of trans individuals as a marginalized group.
Ms. de Wahls, born in Germany, is a textile artist, who makes embroidered portraits. Mostly, her works express feminism. She has established herself in the industry to the extent her pieces were displayed in the RA gift shop.
Speaking to The Telegraph, de Wahls said the RA's reaction was a result of a "concerted effort" by online LGBTQ+ activists.
Feminist group Sex Matters wrote a letter to the RA criticizing the decision to remove de Wahls works.
"The Royal Academy is carrying out an egregious and blatant belief discrimination against textile artist Jess de Wahls," the letter read. It added that the decision, influenced by a "handful of coordinated complaints," contradicted the institution's "values as a forum for artistic expression."
The group called on the RA to reinstate the artist's works and apologize to her.
Maya Forstater, who lost her job as a result of tweets, noted the disregard for equality in the RA's decision.
"Organizations have got used to overreacting to complaints of transphobia," Forstater told The Telegraph. "They need to take a deep breath, look at the Equality Act and consider that everybody has rights." She won a wrongful termination case against her employer.
Forstater added: "These coordinated complaints ruin people's lives and their reputations and make organizations fearful. It is McCarthyism and many people are afraid."