YouTube is once again being accused of implementing copyright rules unfairly, this time by conservative and pro-Trump Right Side Broadcasting Network (RSBN).
The broadcaster revealed that the video of their multi-hour coverage of President Trump's address at Mt. Rushmore on US Independence Day has been blocked due to copyright infringement.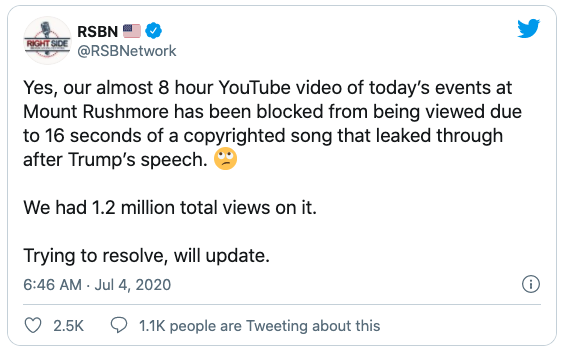 The infringing bit is literally a bit – 16 seconds in the 8-hour video, during which a copyright song could be heard.
RSNB said that the video had 1.2 million views at the point it was blocked, and that they were hopeful of resolving the issue. In the meanwhile, they directed their audience to Periscope or Facebook where it was still available.
However, many of those commenting on Twitter said it had been taken down by Facebook as well. (But was accessible on that social network, at least as of late on Saturday.)
Other commenters made some of the usual points that always crop up when YouTube practices what is viewed as censorship, including by allowing copyright to be, to all intents and purposes, abused.
One of those is the hope for alternative, more free-speech friendly platforms to emerge, while others reported that they weren't able to post links to RSNB's page on Twitter during the live stream of the Mt. Rushmore event.
Things went back to normal once the broadcast was over, one Twitter user said. This ser claims that the word RSNB was blacklisted and deleted, making it impossible to mention in tweets.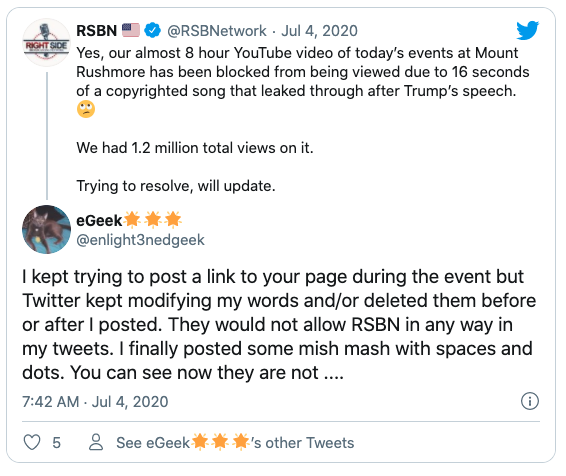 One commenter reacted by accusing YouTube of "using copyright violations as weapons of cancel culture," which was ironic because President Trump's speech that YouTube was blocking contained references to the problems with growing cancel culture.
The argument here is that the copyright claim against the video based on a 16-second snippet of a song should not be viable, as this falls under the fair use rule.
In reality, the US Copyright Act doesn't specify the length of a copyrighted song that can be used without obtaining the copyright holder's permission – but the rule is that the shorter it is, the more likely that such use would be considered fair.
And in this case, it was not only brief but also apparently accidental, as RSNB said it "leaked through after Trump's speech."