Video platform Rumble has unveiled the alpha version of a Creator Sponsorship Marketplace. The new feature, soon to be integrated into the Rumble Advertising Center (RAC), will offer unique ways for advertisers to connect directly with content creators on the platform.
As part of Rumble's ongoing strategy to diversify its ways for creators to earn revenue, the Creator Sponsorship Marketplace is expected to extend the variety of advertising options, supplementing the traditional video and banner ad inventory. Moreover, it promises an expanded network of publishers in the near future.
In what Rumble calls "platform-agnostic" fashion, the Creator Sponsorship Marketplace is designed to enable transactions for sponsorships between advertisers and creators, not just across the Rumble network but elsewhere too.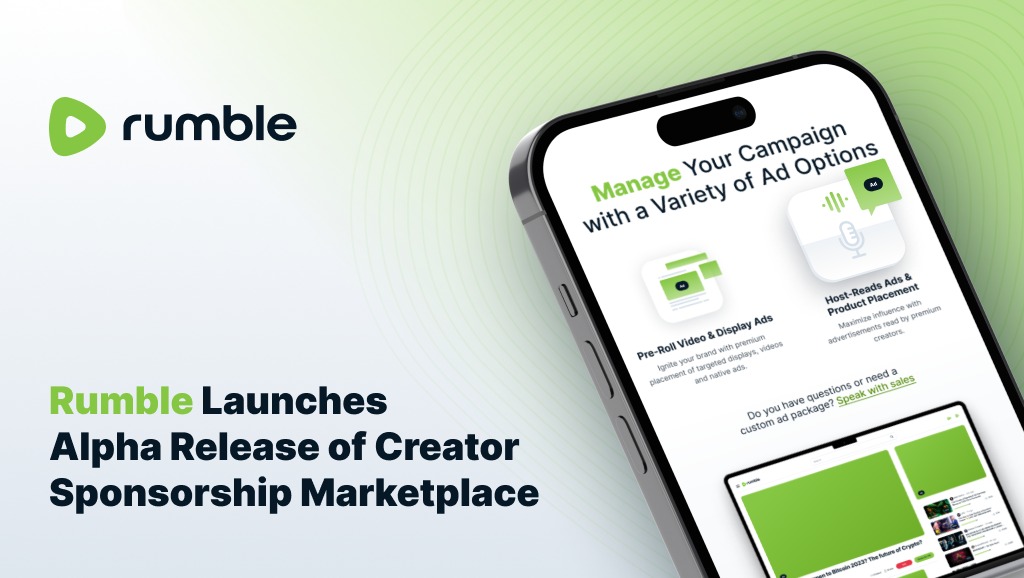 Rumble says it will provide advertisers the ability to conveniently search, sort, and filter a database featuring its premium creators and exclusive podcasts, which include popular names such as Kai Cenat and IShowSpeed, Russell Brand with his "Stay Free" podcast, DJ Akademiks, and JiDion.
Advertisers will have the flexibility to establish a range of sponsorship types with creators, including host-reads and product placements.
Rumble's alpha version of the Marketplace is set to undergo controlled testing initially. However, a public beta release is expected to follow swiftly, leading to a full public release scheduled by the end of the year.
Rumble Chairman and CEO, Chris Pavlovski, expressed his enthusiasm for the new feature, stating, "Our vision for creators is to provide the best economic toolkit on the internet."
Reflecting on early testing, Pavlovski revealed, "We have seen some terrific conversions in the early days of testing this market manually, and now that we have the marketplace built to automate the sales process, we will have a strong foundation to scale this part of our business."