Neutral video sharing platform Rumble has launched a new Rumble Cloud website that shares fresh details on the company's upcoming cloud web hosting service and explains how Rumble Cloud will protect free speech online.
The site describes Rumble Cloud as "a neutral place for your business to be free, in the cloud" and reiterates that Rumble is "on a mission to protect a free and open internet." It continues by describing how Rumble Cloud intends to "empower businesses, educational and religious institutions and government organisations to create online spaces that welcome every opinion and point of view."
The site lists three upcoming services that will be offered by Rumble Cloud:
Cloud computing (which will provide secure, resizable compute capacity in the cloud)
Cloud storage (which will store data at scale for analytics and applications)
Email services (which will include email content management system (CMS) and email delivery services)
The site also notes that the existing Rumble Video Player service will be part of Rumble Cloud's offerings. This Rumble Video Player service offers video hosting with up to 50TB of storage and 1PB of bandwidth. The look and feel of the player can be customized and videos can be monetized with Rumble Ads which offers a 50% revenue share with every click. Users also get access to over a million brand-safe videos.
In a follow-up tweet, Rumble hinted that it may offer private consumer email accounts as part of the email portion of its cloud services.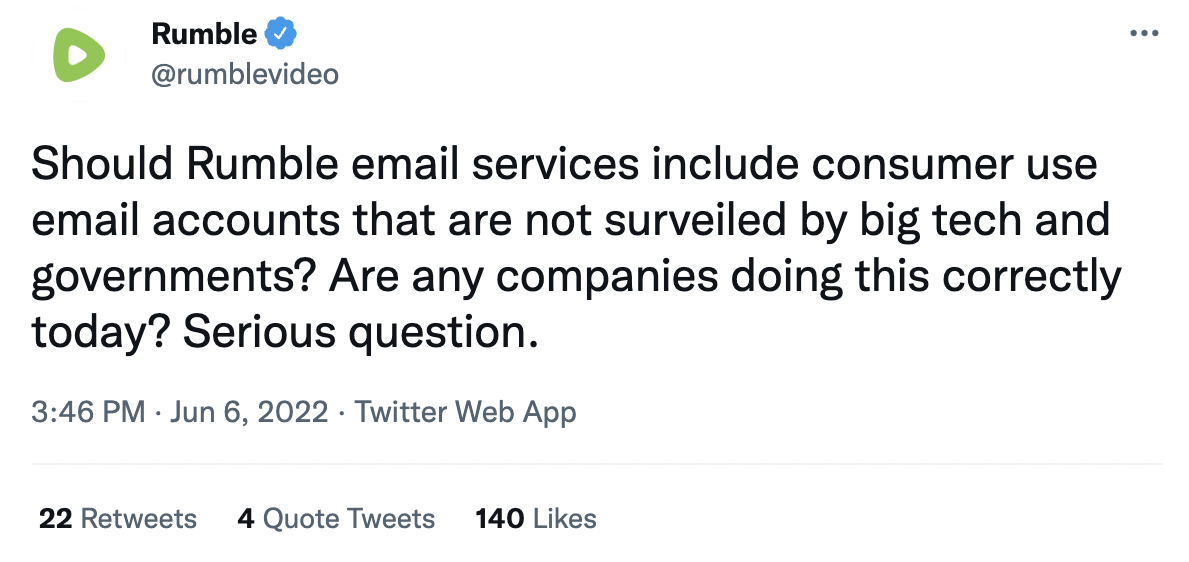 While Rumble Cloud isn't yet commercially available, the site is accepting inquiries from prospective clients. In April, Rumble CEO Chris Pavlovski said he expects Rumble Cloud to open to all users in 2023.
Rumble's commitment to free speech sets it apart from the companies that currently dominate the $178 billion cloud services market.
According to market data company Statista, Amazon, Microsoft, and Google have a collective 64% share of this market. All three of these tech giants have shown that they're willing to censor with Amazon and Google deplatforming free speech social network Parler last year and Microsoft regularly censoring users of its Bing and LinkedIn platforms.
However, Rumble has rejected online censorship by committing to free speech in the face of media censorship demands and vowing not to operate in countries that move towards censorship.
Rumble Cloud already powers President Trump's Truth Social app which topped the App Store in April. Rumble's video sharing platform also provided censorship protection to the popular Dinesh D'Souza documentary "2000 Mules" which was reportedly the biggest political documentary of the last decade.