Rumble is an online video management company that was founded in 2013 and has enjoyed growing success with millions of users migrating to the platform in response to YouTube's increased censorship of its users.
Its CEO, Chris Pavlovski, has vowed to never censor political discussions on the platform or adopt policies that dictate editorial policy. He has also written that Rumble wants to "provide an open platform where everyone can participate and create videos without subjective restrictions."
Rumble hosts a wide range of content with some of its many categories including "Celebrity Gossip," "Delicious Recipes," "Do It Yourself," "Dogs & Puppies," "Electronics Unboxing," Health & Fitness," "Sports News," and "World Travel."
Political content is popular on the platform with conservative influencers and commentators such as Dan Bongino (who is also an investor), Dinesh D'Souza, HodgeTwins, and Bannon's War Room (Steve Bannon) among the most viewed creators on the platform.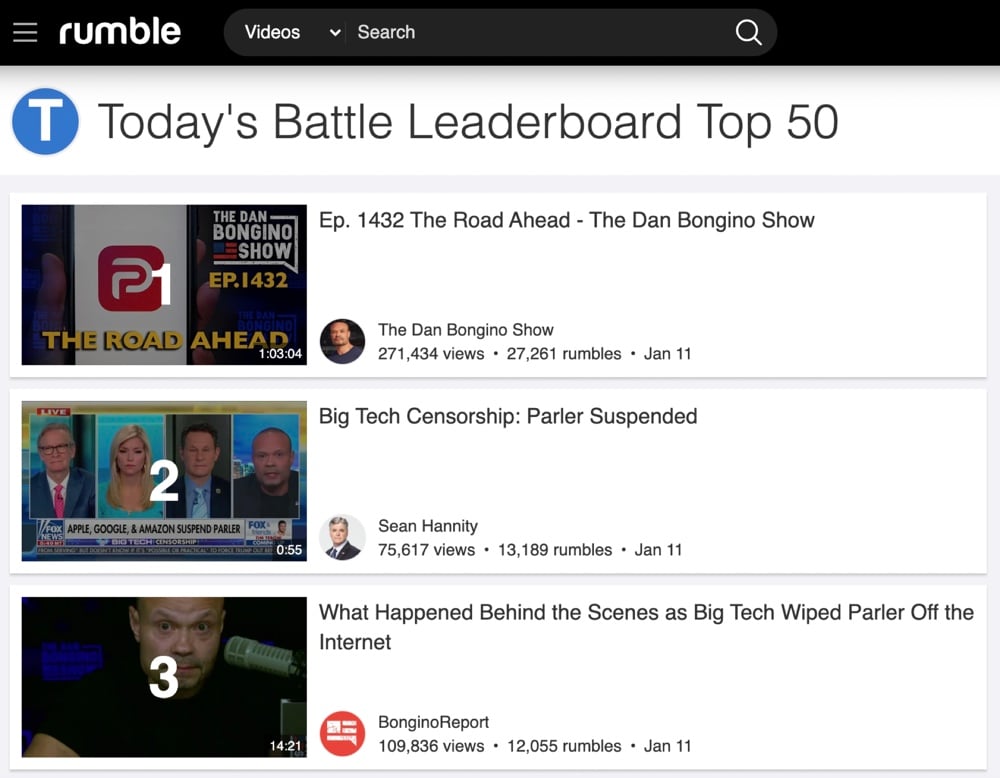 Approach to content moderation and community
Pavlovski has stated that "Rumble is not here to be an arbiter of truth" and has been highly critical of YouTube's increased censorship.
He has directly criticized YouTube's growing censorship of scientific discussions and debate, its frequent policy changes that restrict what users are allowed to post, and its December 2020 ban on videos alleging "widespread fraud or errors" changed the 2020 US presidential election outcome.
Pavlovski responded to this YouTube ban on videos alleging that widespread fraud or errors changed the election outcome by vowing that "Rumble will not adopt a policy like this."
The Rumble CEO has also publicly committed to respecting the rights of the Rumble community and welcomes debate among users.
"We are not a publisher and we respect the rights of our community to engage in debate, discussion, challenge opinion and dialogue, even if one party feels that's wrong or incorrect," Pavlovski wrote in a statement to the Rumble community.
Additionally, Pavlovski has reiterated that Rumble is dedicated to small creators – a community that is increasingly neglected on YouTube due to its changes that heavily favor content from mainstream media outlets.
"We built Rumble to bring voice back to the small creator," Pavlovski wrote.
Bongino has also advocated for Rumble and described it as a platform "where conservative views won't be discriminated against."
Video discovery and distribution features
One of Rumble's most unique video discovery and distribution features is the Rumble feed which is available in Rumble's mobile app. This feed presents a series of auto-play videos that you can "Rumble" (a positive vote that's similar to a "Like" or an upvote) or skip by swiping left or right.
The videos with the most Rumbles are placed on a "Battle Leaderboard" which is refreshed daily and can be viewed on both desktop and mobile. Not only is the Battle Leaderboard a great video discovery and distribution feature but it also gives viewers the opportunity to collect tickets that can be used to win a daily cash draw.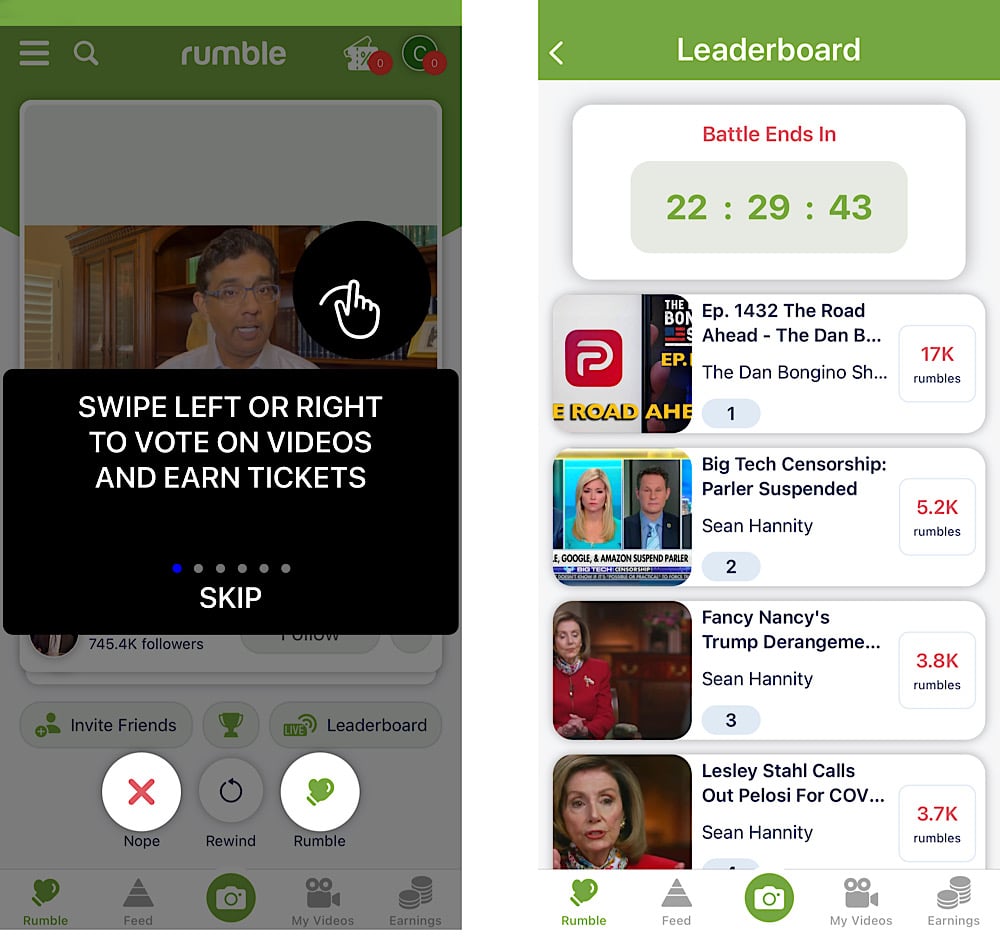 Subscriptions are another discovery and distribution feature that are similar to subscriptions and follows on other social media apps. You can subscribe to channels or categories and the latest videos from your subscriptions appear on the "My Feed" page.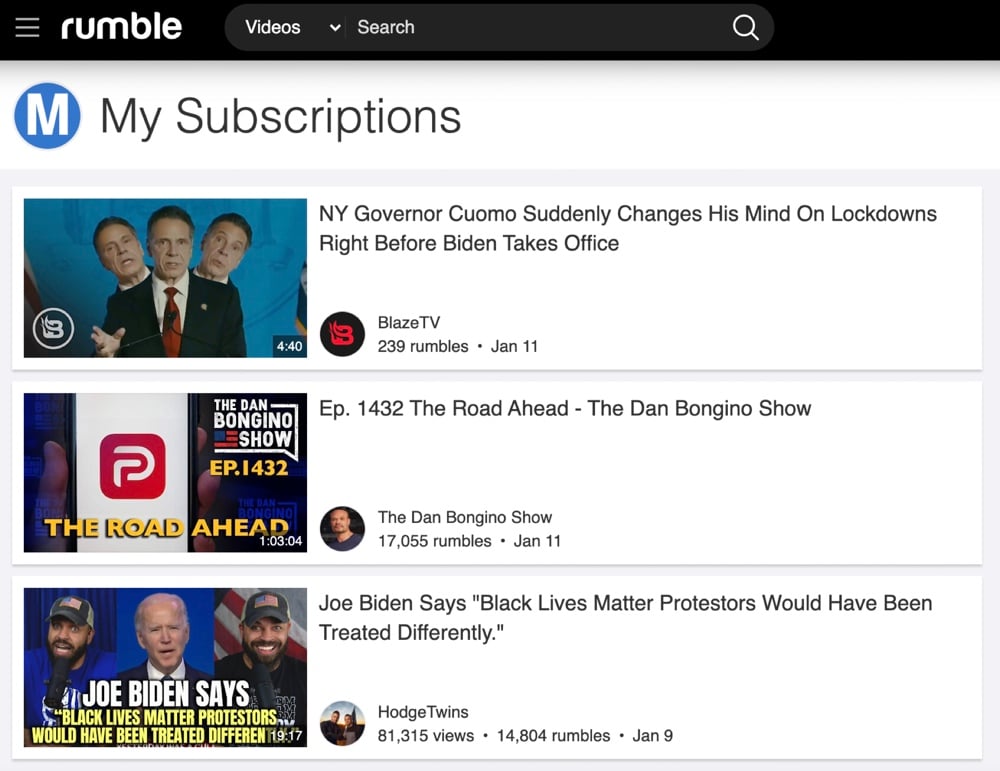 Rumble also promotes videos via its "Editor Picks" page (which displays a selection of curated videos), "Trending" page (which highlights some of the most popular videos on Rumble), and its homepage categories (which showcase videos from several of Rumble's topic-based categories).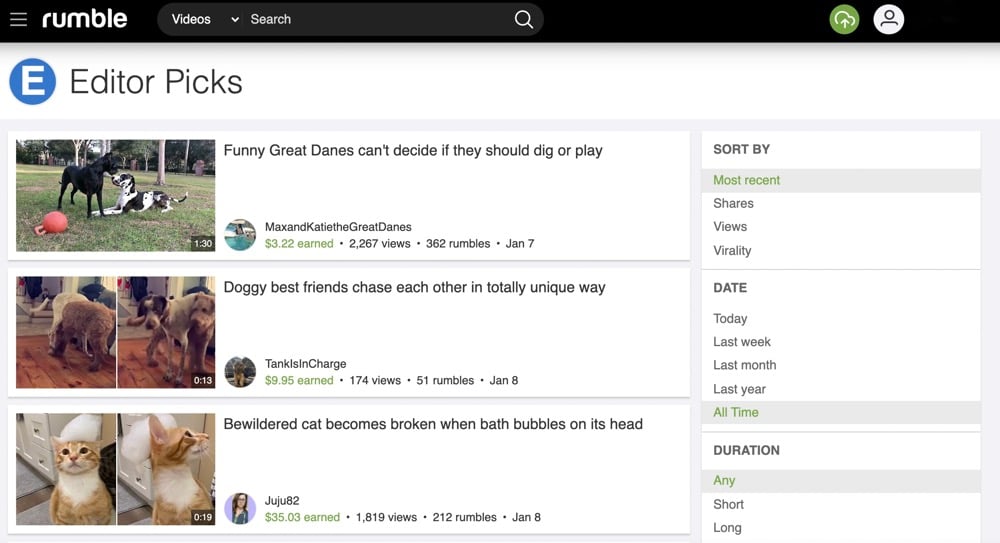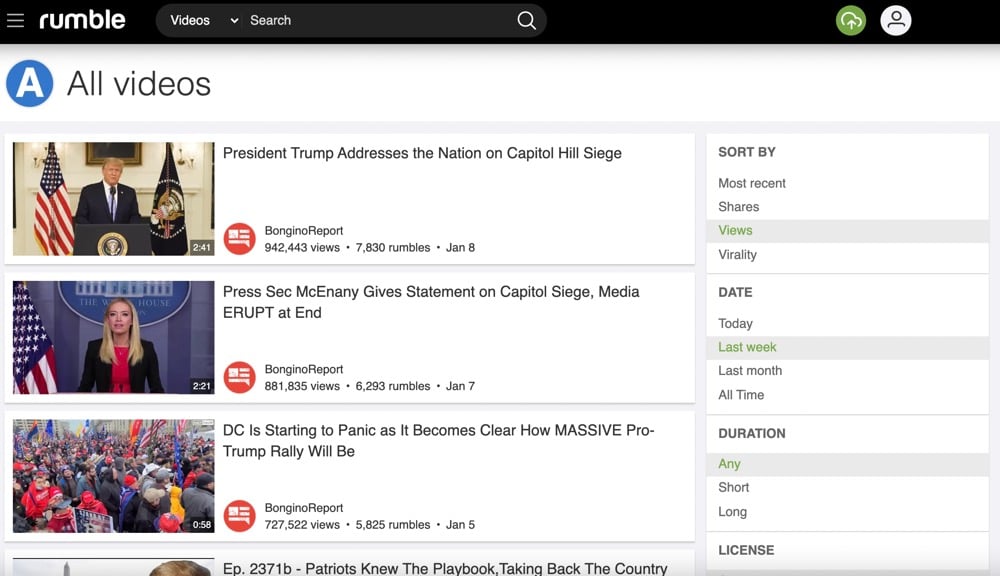 The videos on channel pages, the Editors Picks page, and the Trending page can also be sorted in various ways including by most recent, most shared, most viewed, virality, and date.
Native monetization options
If you're a creator, you can monetize your Rumble videos via three different licensing options:
Rumble Video Player license: The video is monetized on Rumble.com. It is a non-exclusive license which means you can still share the video on other platforms.
Exclusive Video Management license: Rumble takes care of the full distribution of the video across its networks which include Rumble.com, YouTube, and other third-party partners such as AOL, MSN, and Yahoo. This license has the potential to bring in the most revenue.
Video Management (excluding YouTube) license: This license is the same as the Exclusive Video Management license except the videos don't get distributed on YouTube.
If you don't want to monetize your videos, a Personal Use license is available. This license allows you to retain full control and all rights with Rumble only retaining the license to show the video on Rumble.com. Videos with this license receive no promotion and are only available via a direct link.
Video engagement and sharing features
Rumble has plenty of engagement and sharing features that you can use to interact with and stay up to date with videos and creators.
You can Rumble (Like/upvote) or downvote videos and comments, share videos, embed videos, and comment on videos. You can also subscribe to channels and categories to stay up to date with videos from your favorite creators and on your favorite topics.
Each video page also has a share button (which allows you to quickly share the video via several different mediums) and an embed button (which gives you instant access to embed code and direct links for hosting or linking to the video off-site).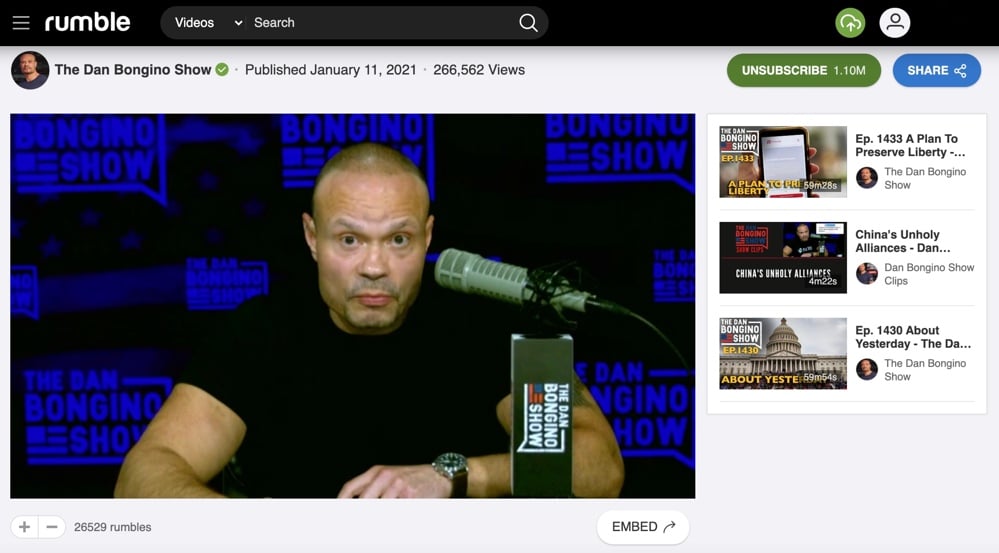 4K video support
Rumble supports HD video playback in up to 4K (2160p). You can also choose your preferred video quality with 360p, 480p, 720p, and 1080p playback available.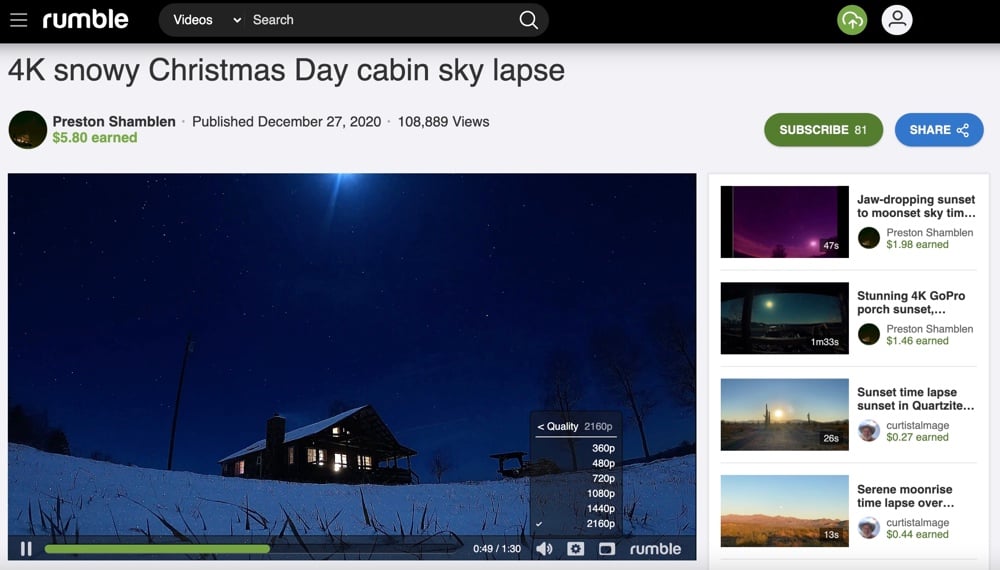 Customizable notifications
Rumble offers a range of customizable email and in-app notifications for creators and viewers.
If you're using the mobile app, you can choose to be notified when your video is placed on the front page, when you receive comments on your videos, when your video is trending, when other users comment on your comments, and more.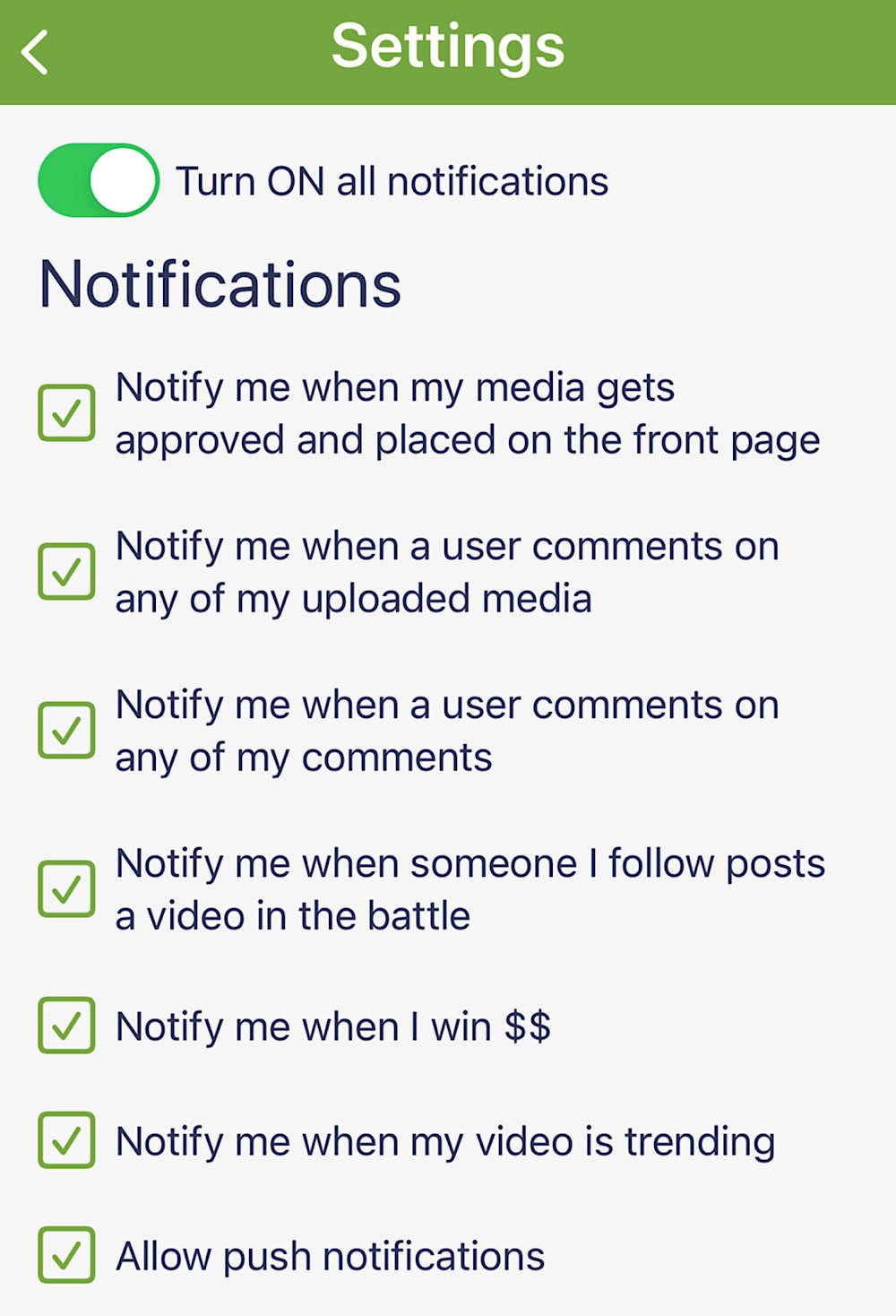 You can also set up instant, daily, weekly, or monthly email notifications on each of your channel subscriptions and category subscriptions. These notifications are fully customizable and allow you to set up instant notifications for your favorite categories and creators and less frequent notifications for your other subscriptions.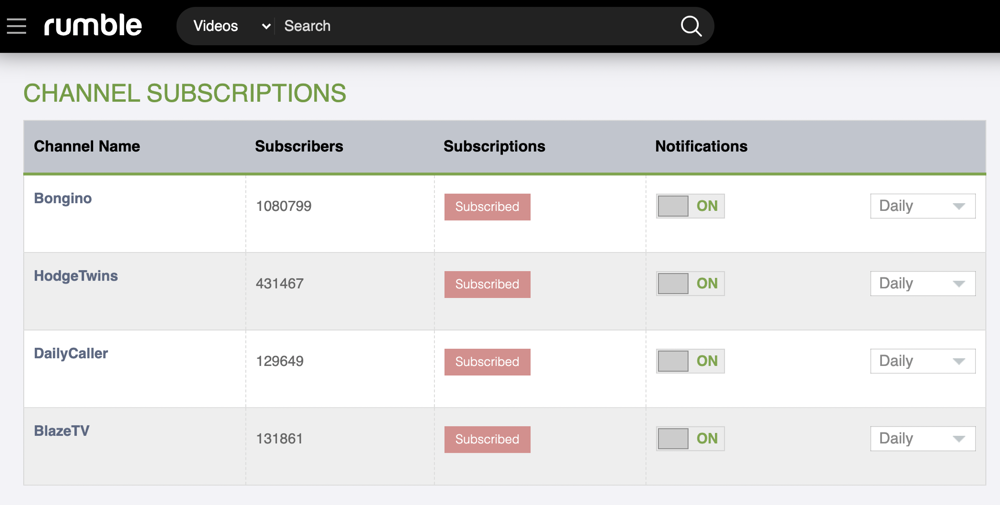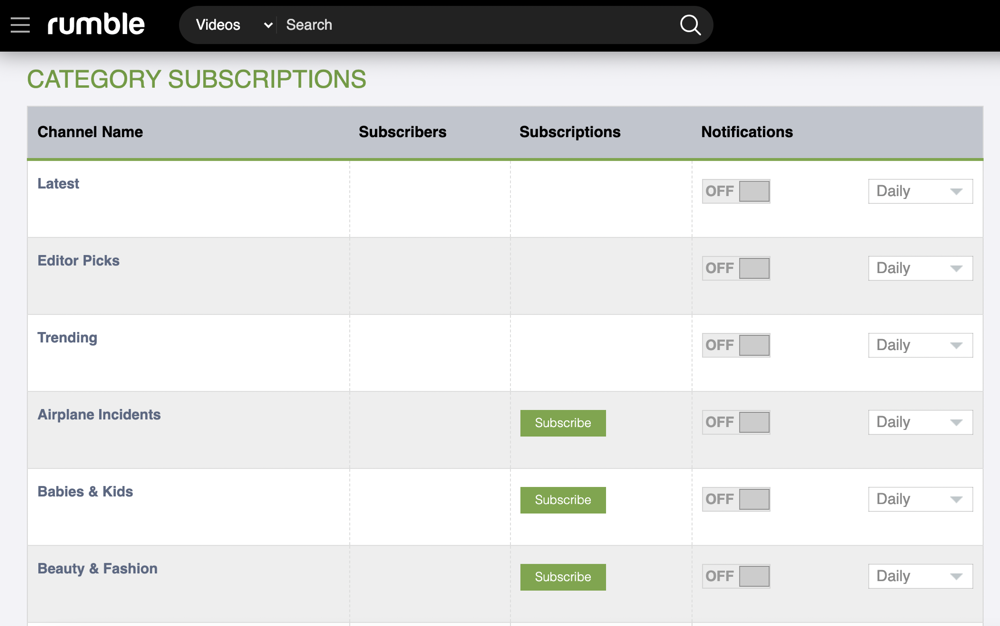 Upcoming features
Rumble is planning to add several new features in 2021 including live streaming, playlists, and improved monetization.
The company plans to roll out live streaming "slowly in 2021, hopefully, early 2021," according to its CEO.
Playlists are currently available when the Rumble Player is embedded on other sites and Pavlovski plans to introduce them on Rumble.com in 2021.
Rumble's plans to improve its monetization by building an internal ad platform that's similar to Facebook and Snapchat's ad system. This system should give Rumble more control over ads and improve user privacy.
Rumble Pro
The ad-supported version of Rumble is free for creators and viewers. However, creators and publishers who want access to advanced features when hosting video outside of Rumble.com can sign up for a paid "Rumble Player" plan.
Rumble describes the Rumble Player as the "fastest player on the market." The look and feel of the player can be customized, it can be used to organize unlimited channels, and it can be used to monetize embedded videos and earn 50% revenue share with every click.
Rumble offers four paid Rumble player plans:
Basic plan: $10 per month for a single custom video player, a single channel, 150GB storage, and 250GB of transfer.
Starter plan: $25 per month for five custom video players, five channels, 250GB storage, and 1TB of transfer.
Team plan: $100 per month for 25 custom video players, 25 channels, 1TB storage, and 4TB of transfer.
Small business plan: $500 per month for 100 custom video players, 100 channels, 5TB storage, and 20TB of transfer.
Website and apps