The Vice President of the San Francisco Education Board, Alison Collins, a supporter of the controversial critical race theory, is being asked to resign after the resurfacing of tweets from 2016 about Asian Americans. Collins insists that the tweets were taken out of context.
According to a report in the San Francisco Chronicle, there are calls for the resignation of Collins over "racist" anti-Asian tweets from 2016, a few weeks after former President Trump won the election. The tweets might have resurfaced due to the alleged increase in attacks of Asian Americans.
The Twitter thread started with Collins asking if there were "news stories highlighting hate speech or bullying of Asian students." She then clarified that she was "looking to combat anti-black racism in the Asian community" at her daughters' school as it has a large Asian-American population.
She proceeded to criticize Asian-Americans because they don't "engage in critical race convos unless they see how they are impacted by white supremacy." She further claimed that a majority of Asian-Americans "believe they benefit from the 'model minority' BS."
"In fact many Asian Americans Ts, Ss, and Ps actively promote these myths. They use white supremacist thinking to assimilate and 'get ahead,'" she added.
In another tweet, she insinuated that Asians join whites in the "disparagement of Black/Brown 'culture'" and do not support Black Lives Matter.
She added: "I even see it in my FB timeline with former HS peers. Their TLs are full of White and Asian ppl. No recognition #BlackLivesMatter exists."

She proceeded to question why Asian-Americans were not vocal about not supporting Trump. "Don't Asian Americans know they are on his list as well?" she asked, seemingly referring to Trump's anti-immigration stand.
After the tweets resurfaced, Collins said that they had been taken out of context.
"A number of tweets and social media posts I made in 2016 have recently been highlighted. They have been taken out of context, both of the specific moment and the nuance of the conversation that took place," she wrote on Twitter on Saturday.
She posted the full statement on Medium, where she tries to provide the context of her tweets. Apparently, at the time, one of her daughters had "experienced an incident in her school in which her Asian American peers were taunting her Latinx classmate about 'sending kids back to Mexico" and the KKK."
Her statement further reads:
"But whether my tweets are being taken out of context or not, only one thing matters right now. And that is the pain our Asian American brothers and sisters and siblings are experiencing. Words have meaning and impact. Trump showed us that clearly with his sowing of hate and pitting communities of color against one another for political gain. I acknowledge that right now, in this moment my words taken out of context can be causing more pain for those who are already suffering. For the pain my words may have caused I am sorry, and I apologize unreservedly."
"Let me be clear: I stand with the Asian American community against acts of violence," she added.
But the apology was not well received and did not make those calling for her resignation to back down.
"Don't use Chinese characters in your name when you went and disrespected our Asian American culture and had nothing good to say about Asian Americans," a Twitter user replied to her "taken out of context" tweet. You're only sorry that you got caught."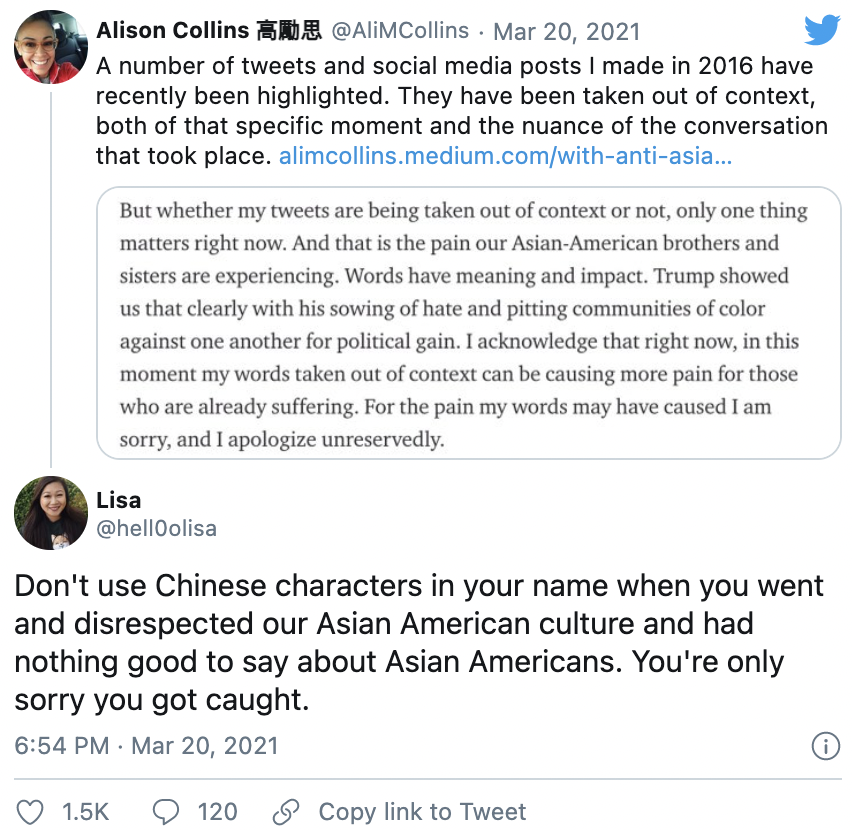 "We are outraged and sickened by the racist, anti-Asian statements tweeted by school board Vice President Alison Collins that recently came to light," reads a statement issued by a group of over 20 former and current elected officials. The officials went on to call for her resignation.
Fellow board member Jenny Lam said that the statement was not really an apology and, like others, Lam believes Collins should resign.
"She deflected the issue to former President Trump, and claimed her tweets were 'taken out of context' twice when it was made clear when and why she made those statements," Lam said.
The Black Student's Union at Lowell, her daughters' school, distanced itself from her for her tweets. A Lowell Black Student Union instagram post read:
"Based on recent news, we will be removing the Board of Education Commissioner Collins as a panelist for our event tonight. The Lowell Black Student Union stands with the Asian community and condemns all acts of Anti-Asian hate."