The Georgetown chapter of the National Association for the Advancement of Colored People (NAACP) has demanded the resignation of Mayor Brian Henry of Pawleys Island, South Carolina after he posted that the Black Lives Matter and Antifa movements must be "treated like the terror organizations that they are" on his personal Facebook page.
In the now-deleted post, Henry wrote that he was "sickened by the senseless killings" of Charles Nicholas Wall and his stepdaughter Laura Ashlee Anderson who were gunned down on Monday in an apparent road rage attack in Georgetown. Ty Sheem Ha Sheem Walters III has been arrested and charged with their murders.
"2 white people defenselessly gunned down by a black man. Tell me, where is the outrage?" Henry wrote.
Henry also commented on violence, looting, and rioting that has erupted across America:
"Why do we stand by and allow BLM to lawlessly destroy great American cities and threaten their citizens on a daily basis? Should they have a carte blanche license to pillage and destroy? Why? This has gone on too long. Rise up America. This BLM and Antifa movement must be treated [sic] like the terror organizations that they are. Law and order, protection of liberty, and right of peaceful enjoyment. If we don't have that, we no longer have a country."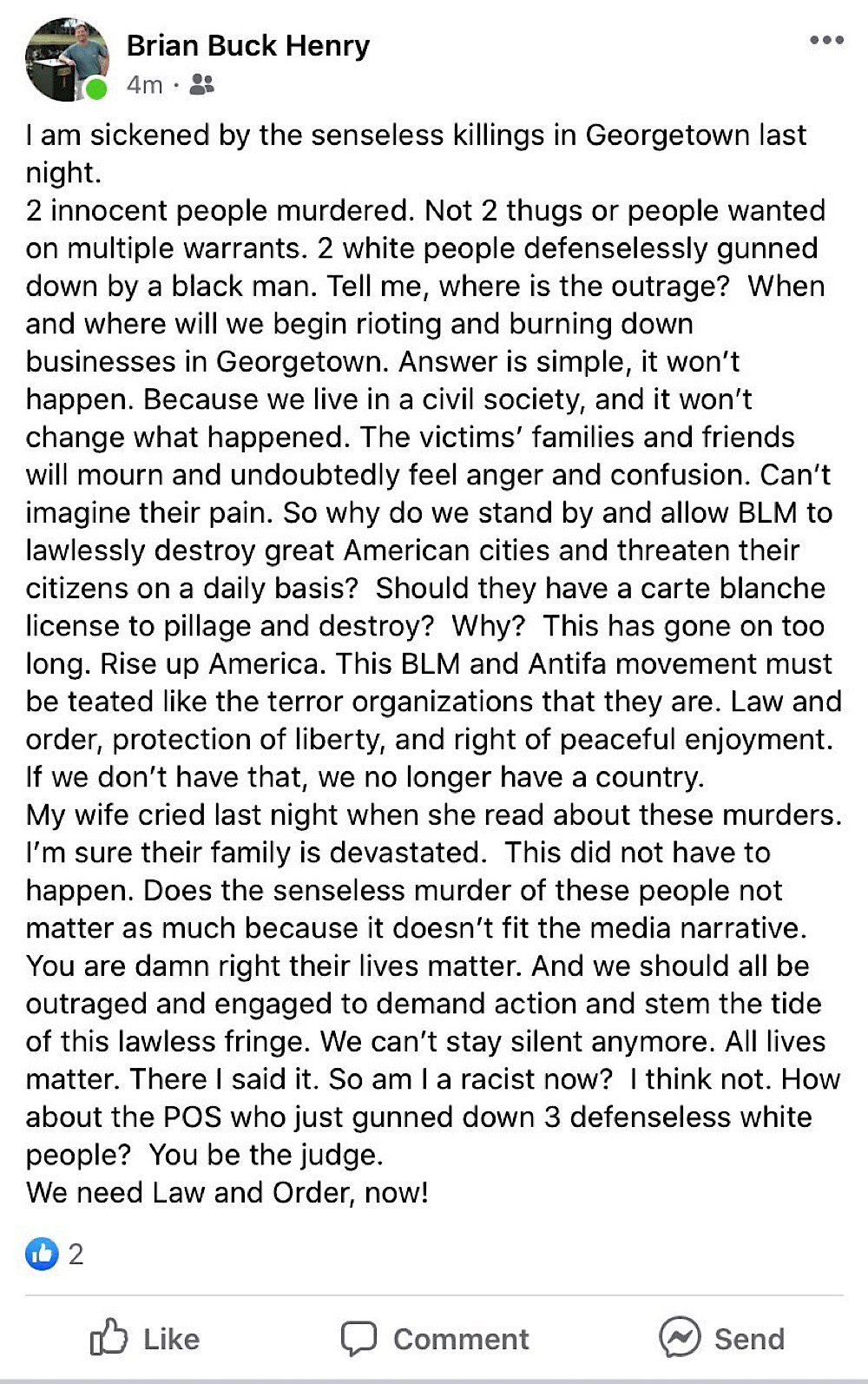 The head of Georgetown's NAACP chapter Marvin Neal said the post was "disturbing and inciteful" and called for Henry to resign.
Neal added that it's "irrelevant" that Henry made the statement on his personal page because he's the mayor "24 hours per day" and accused him of "partisanship" and "bias."
Henry was elected in 2019 and is also the owner of the pimento cheese business Palmetto Cheese.
After posting his comments to Facebook, Palmetto Cheese was also targeted by some internet users who called for a boycott of the company.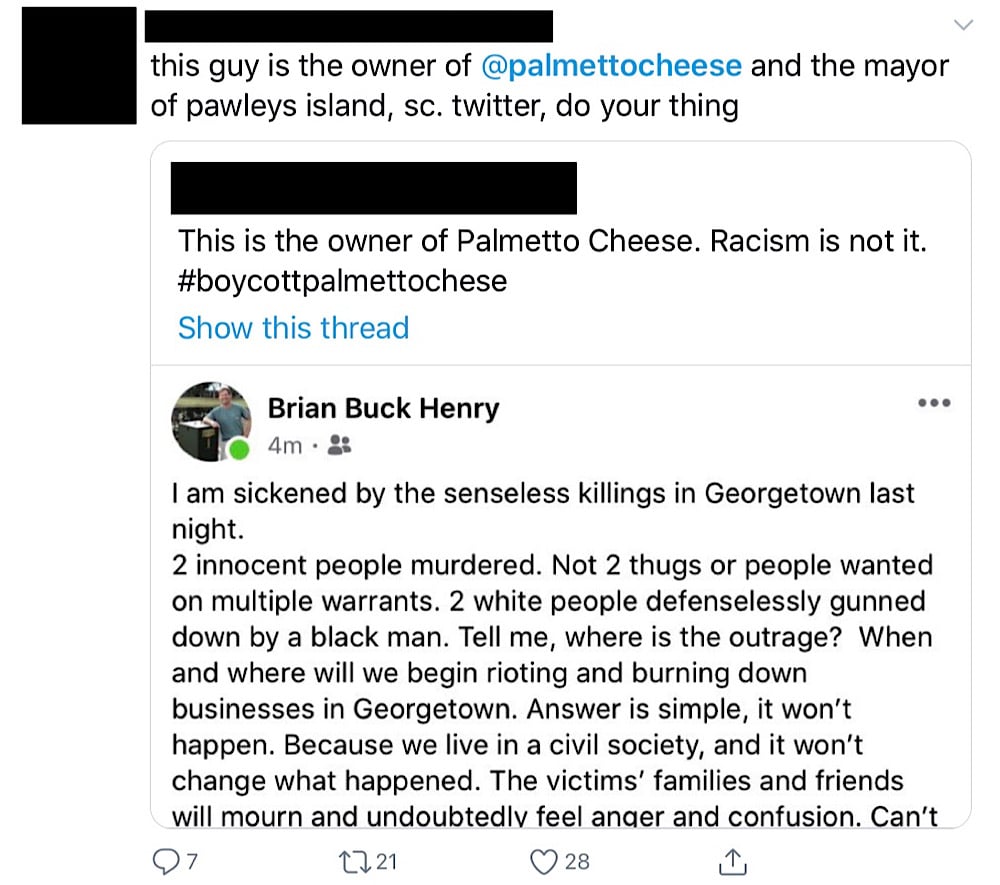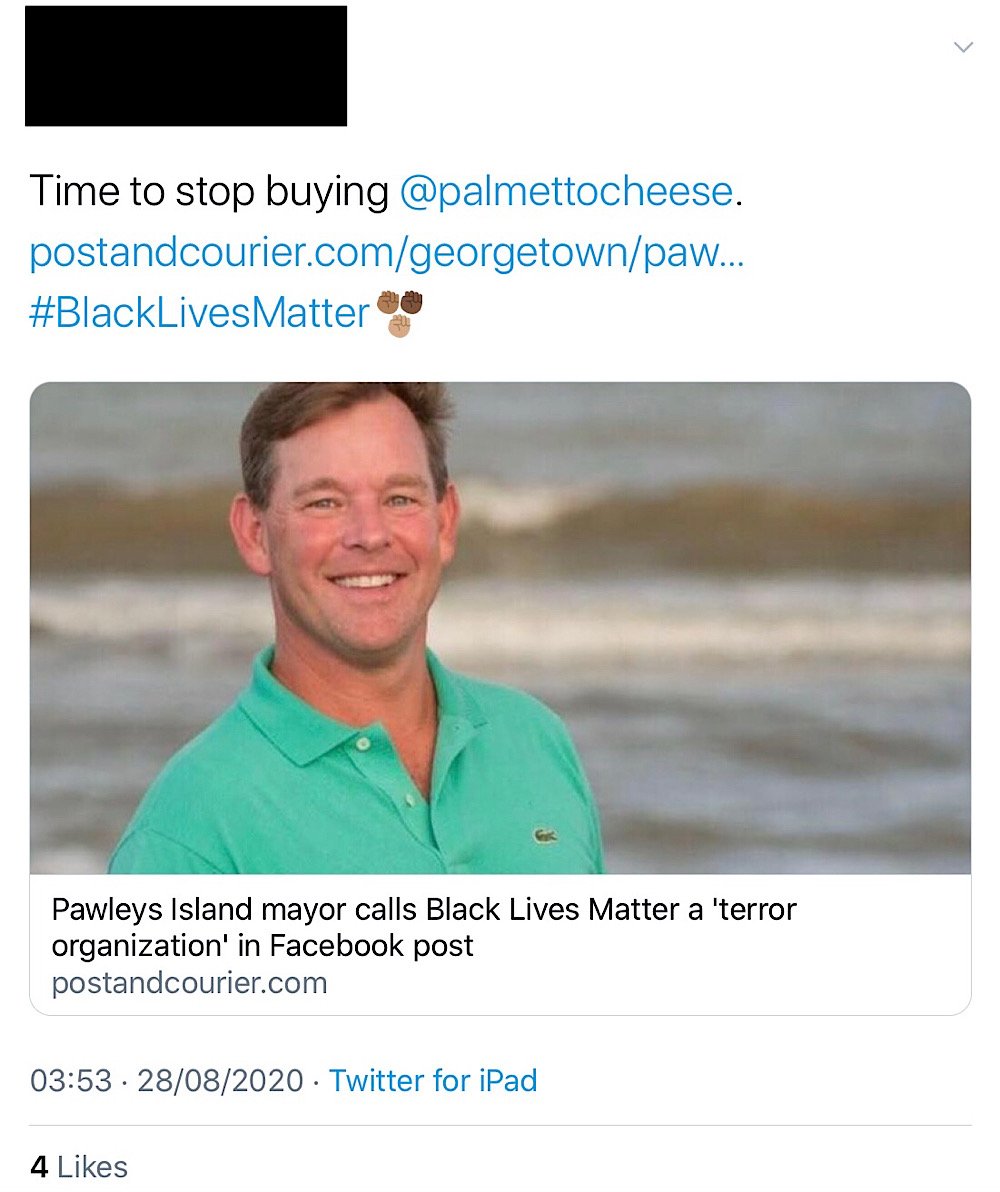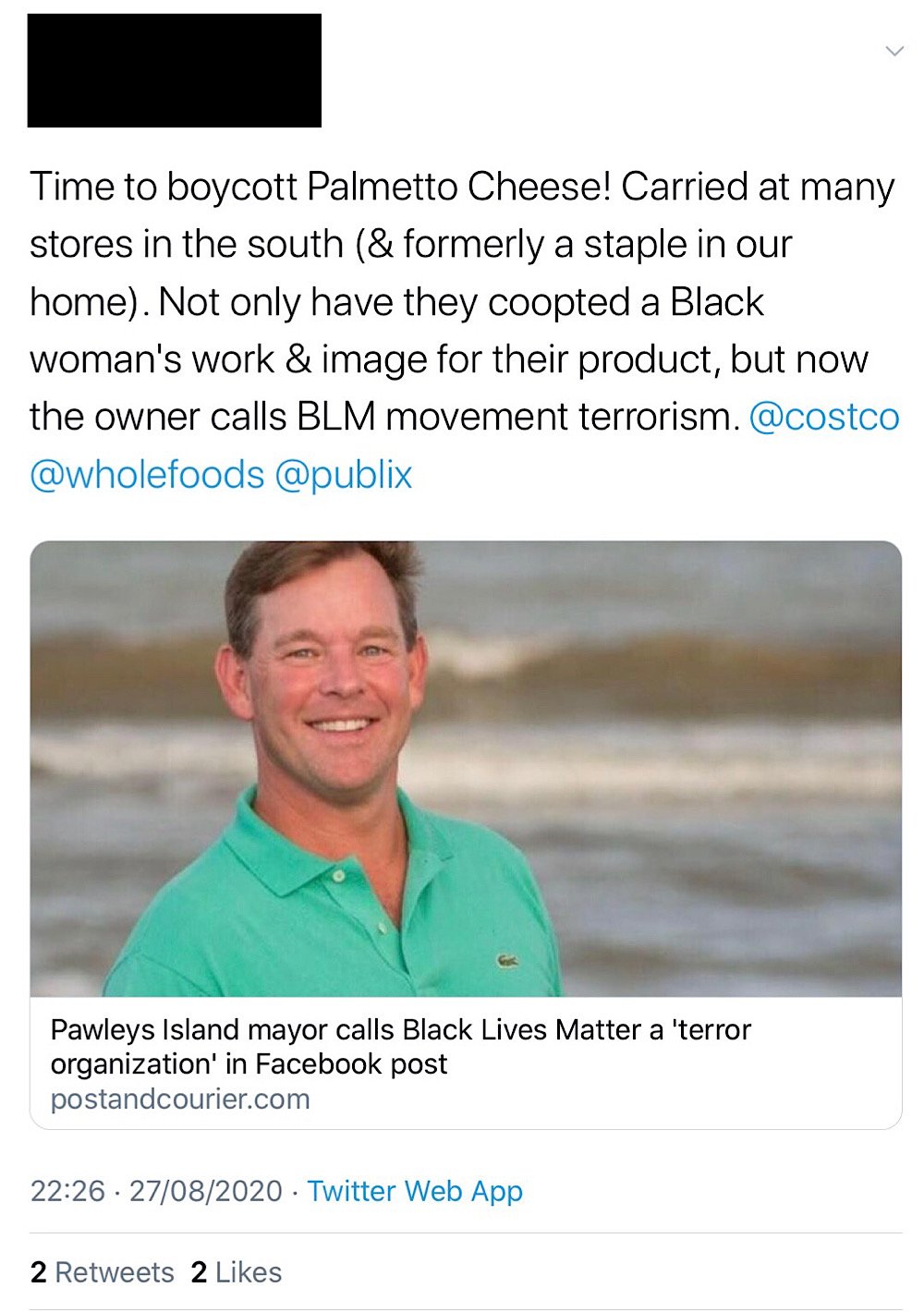 Henry has since deleted the post and apologized:
"Tuesday, I heard about the senseless killing of 2 Georgetown residents. My wife and I know the family of the victims. I was deeply saddened and angered by the gruesome nature of the killing and felt grieved for the family and this community. I typically refrain from social media because of my position as an elected official. But, in this case, I felt compelled to pour out my heart to this family and release some of the emotion I felt, so I drafted a post on Facebook.

I regret that my post was misinterpreted, and some perceived it as rationally insensitive. My wife and I care deeply about the black community in Pawleys Island and Georgetown County. Our employees and the many organizations that we support have been at the center of our lives since we moved here 20 years ago. I have removed the post because I believe it may have been offensive and insensitive to the very people we care so much about.

Just like everyone in America, I am deeply frustrated with the racial division and unrest in this country. This incident stoked raw emotion from this community, including me. We need more conversation and understanding, and it is my plan to pursue that.

I would also like to emphasize that my opinions and comments were posted on my personal Facebook account and in no way reflects the views of the Town of Pawleys Island."
Henry is the latest in a constantly growing list of individuals who have had their livelihood threatened because they criticized the Black Lives Matter movement online.
Some of the firings and resignations in the last two weeks alone include a swimming coach at a Milwaukee high school who was fired over Facebook comments, a police chief in Atlanta who resigned after a Facebook post, and an assistant coach at a high school in Illinois who was fired over Facebook comments.
Not only are many people losing their livelihoods or having them threatened over criticism of Black Lives Matter but in certain sectors, companies are facing heavy internal pressure to publicly support the movement. For example, 79% of tech employees expect companies to publicly support the movement.