A school district board member in the US state of Virginia has deleted a post on Facebook supportive of the late children's books author Theodor Seuss Geisel, who wrote as Dr Seuss, and apologized for posting it, after she came under attack.
Micky Ogburn, who is a member of the Three Chopt District School Board, last week shared the post decrying the hypocrisy of the canceling of six books authored by Dr Seuss by his own estate for alleged racism.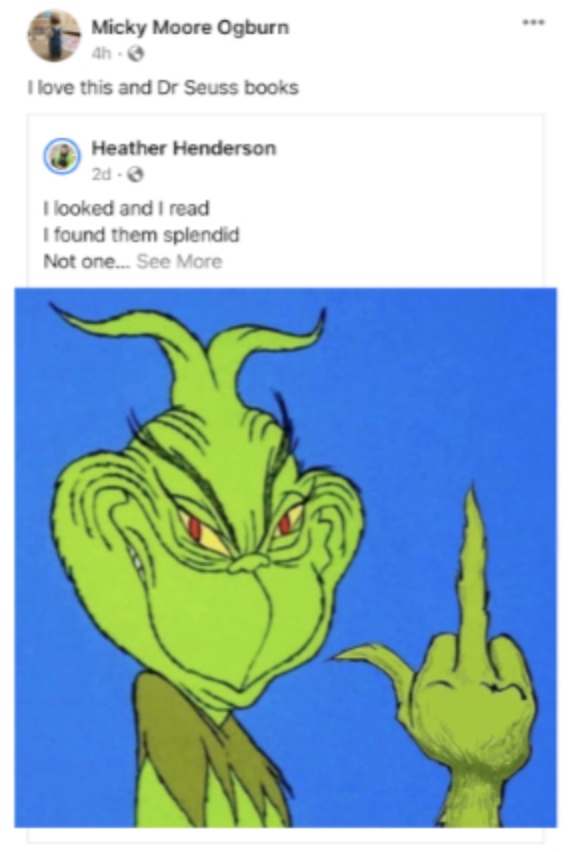 The original post contained a poem written in the Dr Seuss style, criticizing the canceling of the author after Hollywood profited from his books for nearly a century, and also mentioning "snowflakes" that are simply looking for somebody to hate and shame. Included in the post was also a depiction of one of Dr. Seuss' characters, the Grinch, who happened to have his "middle finger extended."
"When it made Hollywood millions
60 books to his name, For 84 years
& just now have sent whiners, crying in tears
With NO life to enjoy
They must find someone to blame
Someone to hate,
Someone to shame
Your goal is to hate
I do NOT condone,
go to hell Snowflakes
Leave Dr. Seuss alone."
Ogburn even added her own comment to the repost, stating, "I love this and Dr Seuss books." But now, in her apology to those she might have offended with the post shared and deleted only hours later, this school official claims she never read the whole poem or even saw the picture.
Ogburn had quickly come under criticism in the comments on Facebook when several users said her support for keeping the books available caused offense to Asians and other minorities, and they were letter joined by Henrico School's stakeholders who announced they would be writing letters and sending emails to the board.
The board made it clear that it considers employees' activities on social networks its business, and said others who made posts similar to Ogburn's would be "severely reprimanded."
In her apology, Ogburn asserted that she removed the post not because of pressure that was quickly mounting against her, but because she took the time to read the entire post she'd shared and upon realizing what it was, deleted it.
Geisel's estate, Dr. Seuss Enterprises, picked his birthday, March 2, to announce it would cancel six of his books for portraying people in a "hurtful and wrong" manner.
The decision was made last year, they revealed, and involved "a panel of people."